Weekend storms wreak havoc at Benalla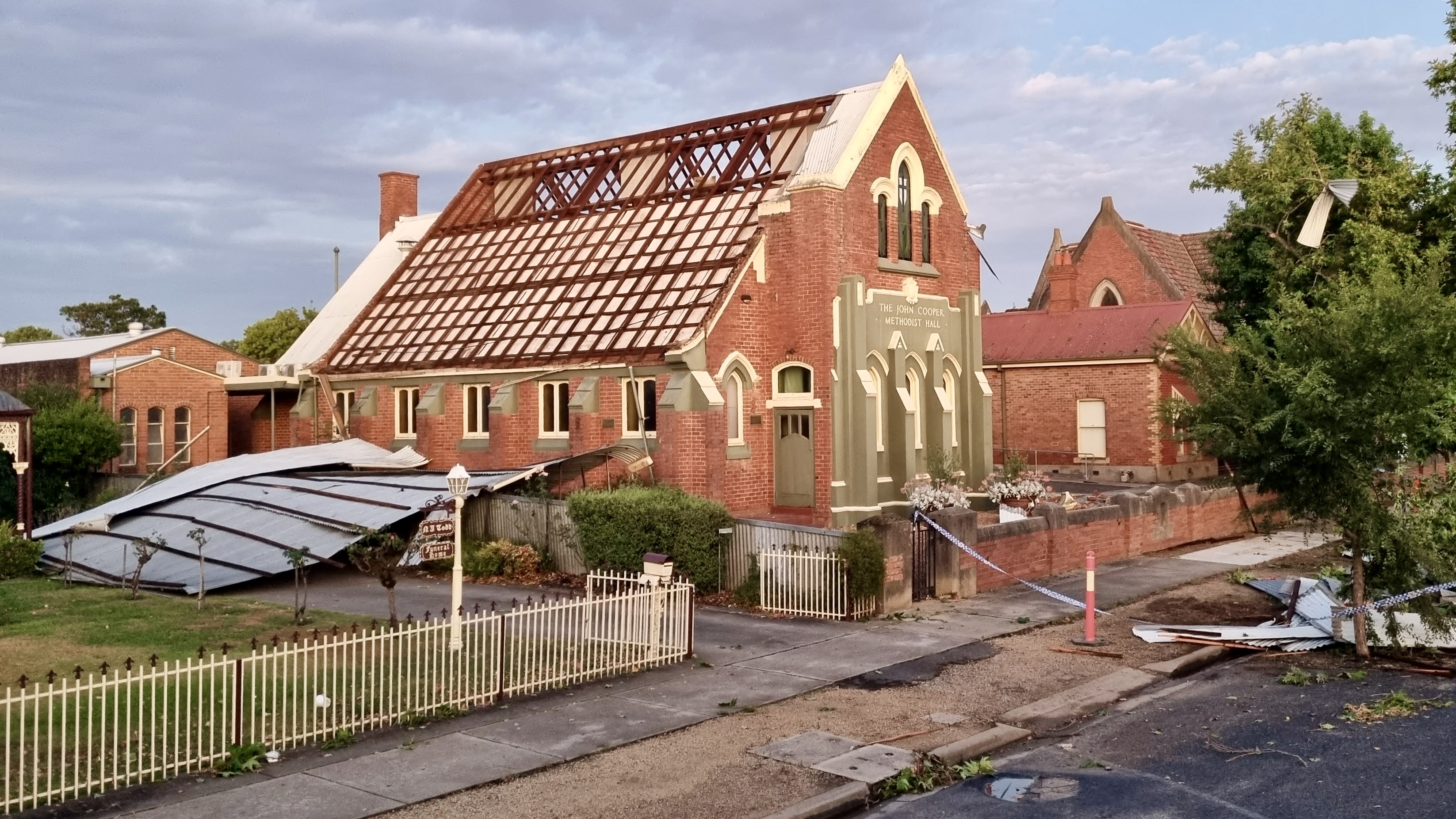 John Cooper Hall, Carrier Street, Benalla, Sunday 15th January 2023.
An intense area of storm activity formed over Benalla on Saturday night, prompting a flurry of Requests for Assistance (RFAs) to VICSES as the storm cell moved in a southeasterly direction through the area, towards Myrtleford.
Following an initial period of intense rainfall from 9:00pm - measuring 20 millimetres in just 20 minutes - high winds then hit Benalla, taking down trees leading to damaged properties and knocked over power lines, affecting over a thousand customers as late as Sunday evening.
Almost immediately following the start of this weather event, VICSES volunteers commenced the set-up of an Incident Control Point, to triage calls and manage the deployment of resources on the ground.
Volunteers from VICSES Benalla, Chiltern, Mansfield, Port Phillip, Seymour, Wangaratta, and Yarrawonga Units, worked alongside Shepparton Search and Rescue, Victoria Police, and local Country Fire Authority (CFA) brigades from the Benalla group to help to clear surrounding roads. This included the Hume Highway, which - being obstructed by debris - was closed from 9:30pm until shortly before 11:30pm. This work was carried out alongside Benalla Rural City Council.
Volunteer crews continued to work on a substantial number of RFAs from Benalla and the surrounding area until they were demobilised at 3:00am for a rest break, to return mid-morning. In the twelve hours from 9:00pm on Saturday, 76 RFAs came from Benalla residents. As of 10:00am Monday, that number had risen to 109 RFAs with 85 being for downed trees blocking roads and access routes and 19 for property damage from downed trees and their limbs, as well as high winds, causing damage to a number of properties; most notably the John Cooper Hall on Carrier Street (photo above). All of those RFAs have now been cleared by VICSES.
VICSES volunteers, with other agency crews and Victoria Police, worked until early evening on Sunday to manage the scene where live power lines had been broken, mainly by downed trees, as utilities providers worked to restore power to homes.
A big thank you to our VICSES volunteer crews, working through the night to assist with this storm event, and from a range of different units in the Hume region.
Each of our volunteers receives accredited, nationally recognised training as part of their role, ranging from first aid, general rescue, chainsaw operations, community engagement, and much more.
Our VICSES volunteers represent the communities they service, from teachers working alongside electricians, retirees, and university students.
The diversity of our members is the key to our success.
Interested? Join us.