Cross-border crews rescue man after truck rollover at Mumbannar
A truck travelling along the Princes Highway near Mumbannar rolled over on to its side earlier today, trapping the injured driver in the cabin and prompting an emergency response from both sides of the border.
Members from the Mount Gambier South Australia State Emergency Service (SASES) were accompanied by the Country Fire Service (CFS), commencing the rescue plan for the trapped truck driver.
Meanwhile, Victoria Police (VICPOL) and South Australia Police (SAPOL) worked to manage traffic and make space for the air ambulance, hovering overhead, to land in the middle of the freeway, with heavy canopy on either side of the road.
With six volunteers from the Victoria State Emergency Service (VICSES) Dartmoor Unit on site, the cross-border team worked to extricate the driver by cutting the roof open, making room for the extrication and getting the man on to a spine board.
Assisted by Country Fire Authority (CFA) and CFS volunteers, the two crews transferred the driver on to a stretcher and into the care of Ambulance Victoria. He was then conveyed to the air ambulance, which was waiting for him on the nearby tarmac.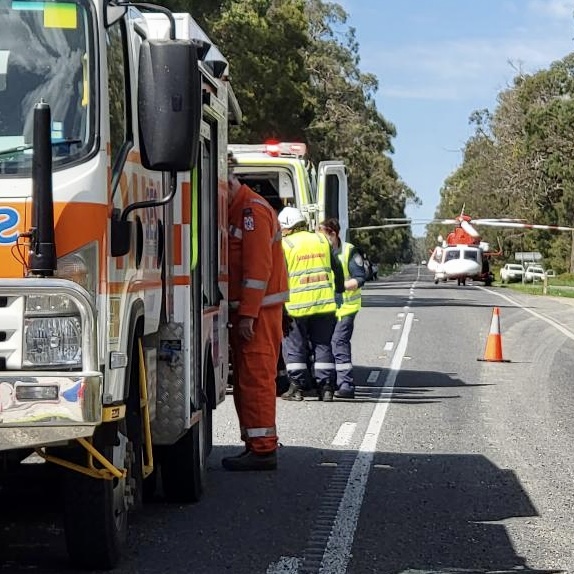 Air ambulance waits on Princes Highway at Mumbannar
Quote attributable to VICSES Dartmoor Unit Controller Dallas Oakley:
"We don't work with SASES much, only when it's up that way. So it's a narrow spot where we work with them, but they are great to work with."
"We were lucky, because his feet weren't trapped. Trucks can be really hard to deal with, so we were lucky we could cut a hole through the roof and get him out that way."
Quote attributable to SASES South East District Officer Brad Flew:
"The SASES Mount Gambier Unit responded to a vehicle accident at Mumbannar in Victoria; our volunteers working with Victorian agencies to render assistance."
"VICSES and SASES crews worked together to effect a successful rescue, which was another example of the states responding together to support the cross-border community."
"The truck involved was carrying bark chip that had spilled, and crews worked to partially remove those in order to effect the rescue."
To read more stories about our work in Road Crash Rescue (RCR), click here.