MEDIA RELEASE: VICSES recognises model dad Anthony White for Father's Day
Anthony White is a life member of the Victoria State Emergency Service (VICSES) Sunbury Unit.
He has been serving his community, as a volunteer, for 14 years.
On top of that, Anthony is also a father of three, and grandfather of one!
He is one of the many incredible dads who sacrifice their precious time with their family on Father's Day to help his community.
Now a Unit Controller, Anthony grew on a farm in Kerrie, where his parents produced the biggest crop of Peony flowers in Australia, at that time. At 18 he joined the Hesket Kerrie CFA Brigade as a volunteer, staying for 12 years.
After he married Tracey in 1999, he moved to Sunbury. After a chance meeting with VICSES Sunbury volunteer Sue in 2007, he was persuaded to join the unit.
For Anthony, signing up with VICSES, all those years ago was one of the best decisions he has made.
It seems helping his community is in Anthony's blood as his wife Tracey and their three girls Samantha, Vanessa and Rachael are all volunteers with VICSES as well!
Tracey is a staff member with VICSES, helping to manage the fleet of vehicles. Samantha worked as a project support officer for a fleet upgrade programme, while Vanessa is involved as a junior squad leader at the VICSES Sunbury unit, where Rachael is a junior member.
Anthony became a grandfather on Easter Saturday, when Samantha had a baby boy she called Maverick. The whole family were out fundraising the day before, while Samantha was having contractions!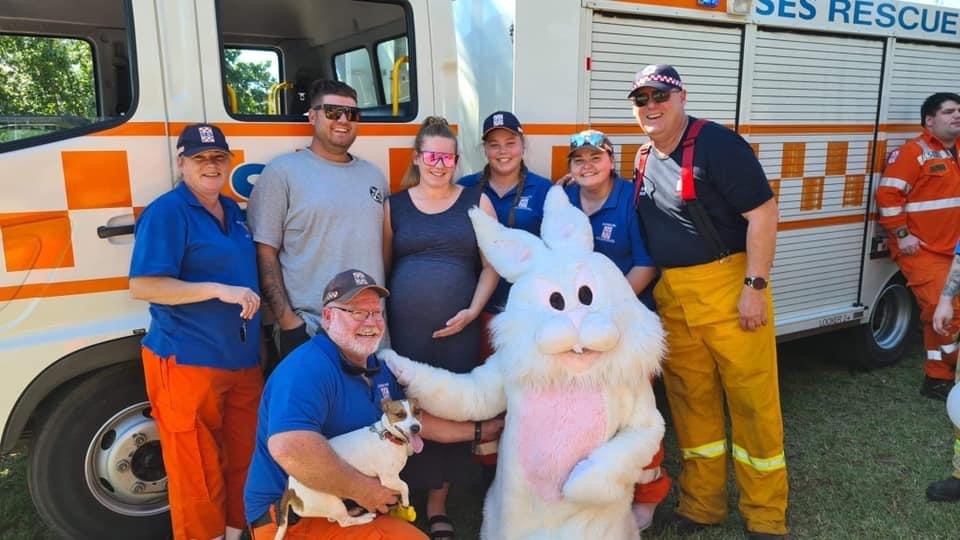 L-R (back row) Tracey White, Jayden Cross, Samantha White, Rachael White, Vanessa White, Murray Cross | L-R (front row) Jenny Cross (as bunny) Anthony White and Storm the dog | photo taken Good Friday, 2021
This kind of passion and dedication from volunteers like Anthony, and his wife and their daughters, is what makes VICSES the organisation it is today.
From all of us at VICSES - happy Father's Day to each and every dad.
For information on how to volunteer with VICSES, visit www.ses.vic.gov.au.
Quote attributable to Tracey White, VICSES Community Resilience Coordinator:
"He is as dedicated to the VICSES as to his children. Sometimes I wonder if VICSES is a bit like his fourth child. He is a wonderful husband and father. As for the whole family becoming volunteers, I guess it was case of if you can't beat them, join them!
Quote attributable to Samantha White, VICSES Sunbury Unit Volunteer
"My dad has always led by example. At the unit, he would never ask us to do anything he wouldn't do himself. He taught us that you do this work because you love it and because you care."
"We are definitely a family known for volunteering! We also volunteer with SunFest, the Sunbury Community Festival which is normally in the third weekend of March."