Plan your Driver Reviver rest stop today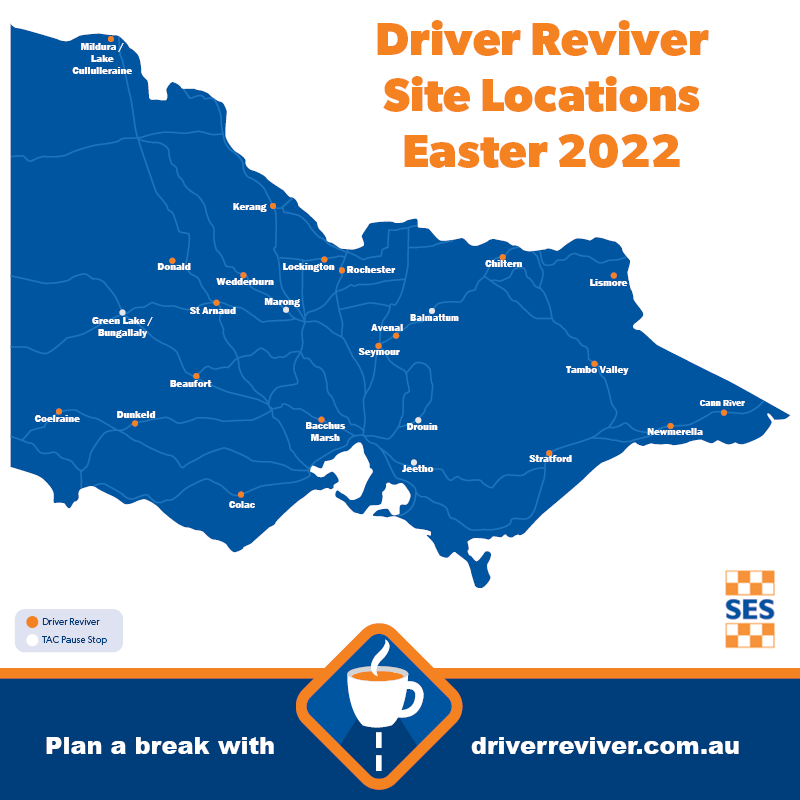 VICSES volunteers will be stationed at Driver Reviver sites across the state, during the Easter long weekend, to ensure Victorians make it safely to their destination.
With many people getting ready for long journeys to see friends and family, our volunteers will be serving tea, coffee and biscuits from Driver Reviver locations ; giving weary drivers a chance to stop and refresh.
The 30-year-old program, which is a partnership between VICSES and Lions Club volunteers, aims to save lives with 17% of road fatalities in the last year thought to have been caused by fatigue.
This Easter, more than 30 sites will run across the state where drivers and their passengers will be greeted by volunteers, offering a free cup of tea or coffee and a biscuit, and most importantly, the chance to stop and rest.
Participating units this Easter include VICSES Bacchus Marsh, Cann River, Kerang, Marong, Maryborough, Mildura, Morwell, Orbost, Ouyen, Rochester, St Arnaud, Tambo Valley, Euroa, Chiltern and Benalla Units.
VICSES provides the largest road rescue network in Australia, with 104 accredited principle Road Crash Rescue provider units across Victoria, and another 22 Rescue Support Units. On average, VICSES volunteers respond to 1,300 road crash rescues each year.
Motorists are encouraged to get a good night's sleep before travelling, take extra care while driving and plan journeys to include stops on the way to avoid fatigue.
VICSES volunteers contribute hundreds of hours each year towards hosting Driver Reviver sites, as a way to reduce driver fatigue and resulting car crashes.
Do the right thing and pull over if you're feeling drowsy for a hot cuppa with our VICSES volunteers.
Tips for a long car journey:
- It is critical before leaving on long trips to be well rested
- Plan trips so that you will stop at least every 2 hours; 15 minutes is a good break
- Share the driving with someone else
- Don't let the temperature inside the car make you drowsy
- Keep the radio or music at a low level; loud music can interfere with concentration
- Be flexible, if you feel you are getting tired, don't wait, find somewhere safe and have a quick nap
Plan your rest stop today with our interactive map: https://tinyurl.com/5bm69etm