2023 Emergency Service Medal recipients announced
Two VICSES volunteers have been recognised with an Emergency Service Medal (ESM) for their distinguished work in this year's honours list.
VICSES Heywood Unit, Deputy and Former Controller, Charles Debono, VICSES Ouyen Unit, Controller, Leanne Boyd were today's deserving recipients.
Awarded by the Governor-General, the Emergency Services Medal was instituted in 1999 to recognise distinguished service as a member of an Australian emergency service.
In their long and illustrious careers, our two medal recipients have garnered over 80 years of experience and dedication to their communities.
They have worked in leadership roles during large-scale operations; expanded and retained their unit's membership; developed and upskilled new and existing members, and built constructive and lasting relationships with their communities.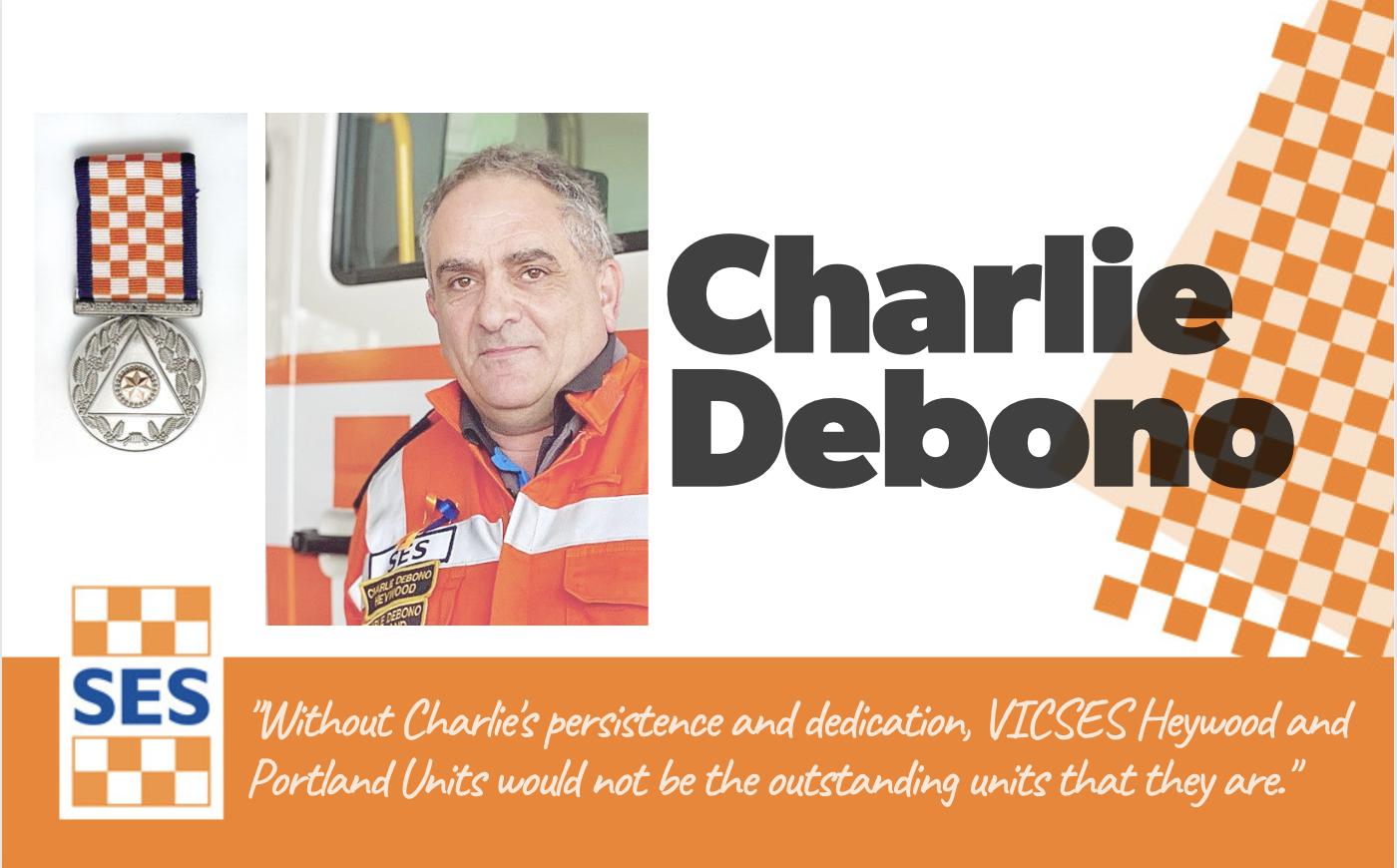 Charles Debono ESM
Since joining VICSES in December 1982, Charles Debono has supported and contributed to VICSES and to the wider community for 40 years as a dedicated volunteer, and as a Deputy Controller and Controller within VICSES, for the Heywood and Portland Units.

Charles' commitment to managing large-scale emergencies goes above and beyond the call of duty. Charles contributed significantly to the response efforts as an Incident Agency Commander, and Taskforce Leader, during major flood events in 1993, 2007, 2010, 2012, and 2016 across Gippsland. Charles was a Taskforce Crew Leader to Cyclone Seroja in Western Australia in 2021, and during deployments to provide flood support in New South Wales.

During his volunteer career, Charles has made a valuable contribution as a strong advocate of Road Rescue training, and skills maintenance, for volunteers. Charles has competed at the highest level, representing VICSES at the Australasian Road Rescue Challenge in New Zealand and the United Kingdom. He has also been an instrumental leader in rope rescue training and practice, involved in many cliff rescues.
Charles continues to use his skills and experience as an active volunteer and as a mentor, giving leadership, direction, emotional guidance, and support to others. He has been key in driving the Heywood and Portland Units membership to thriving community-based organisations, having established strong relationships with other local emergency services and community groups.

Charles has worked to ensure that both units are robust emergency services, capable of providing a response twenty-four hours a day, every day. Without his persistence and dedication to VICSES Heywood and Portland Units, they would surely not be the outstanding units they are.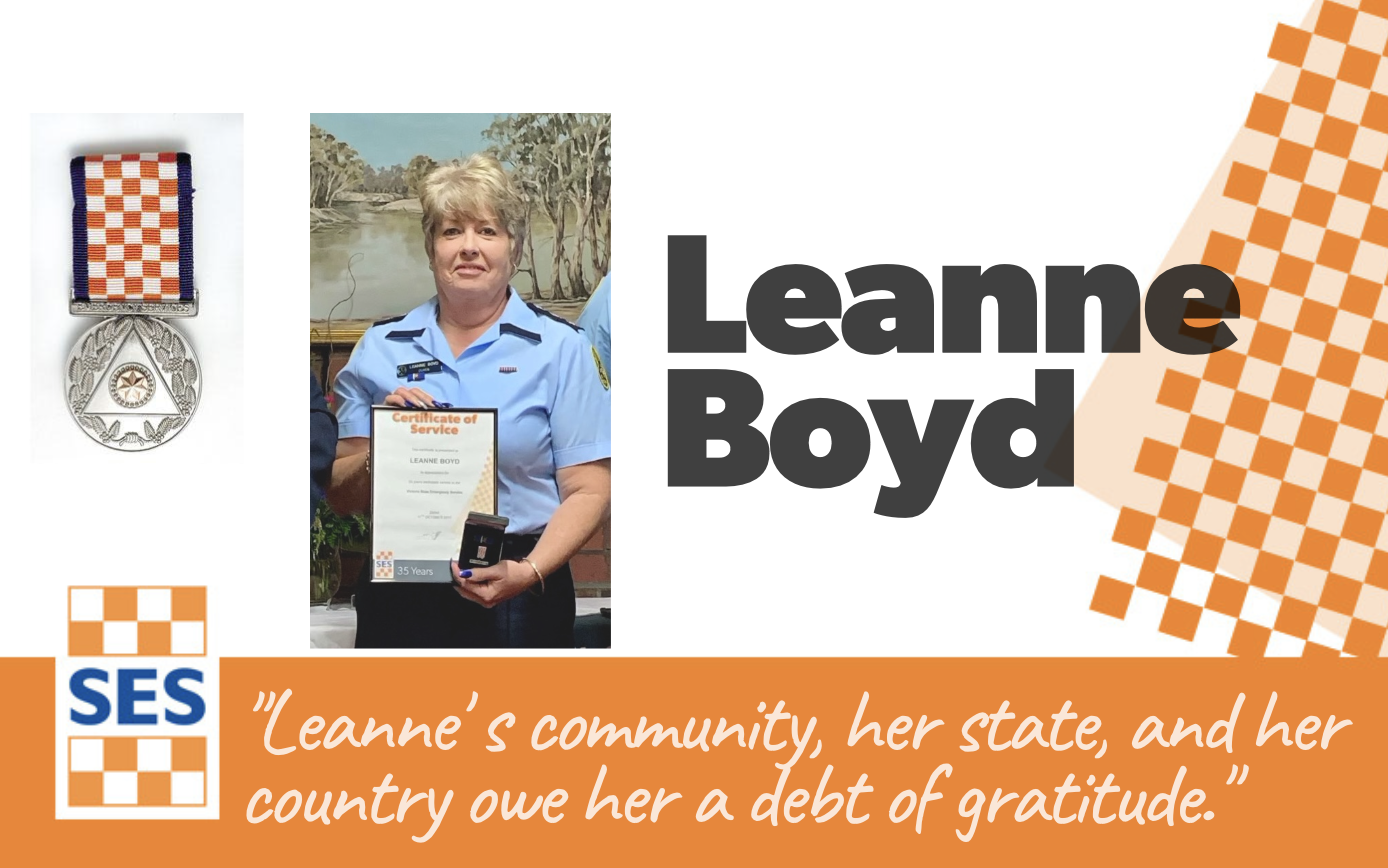 Leanne Boyd ESM
Commencing in October 1982, Leanne Boyd has supported and contributed to VICSES as a dedicated volunteer for forty years, and as a leader of significance at her unit, across the Sunraysia District, and in the wider region.

She has demonstrated her commitment to large scale emergencies, often going above and beyond the call of duty. She has contributed significantly to the response efforts as an Incident Agency Commander, as well as by maintaining her unit's capacity to send crews outside their response boundary and throughout the region. This included major floods during 2009, 2010, 2011, and significant storm events in 2016 at Mildura, and Ouyen in 2017 and 2019.
Leanne's work has been the key driver in moving VICSES Ouyen Unit from a very small membership to a thriving community-based organisation, building relationships with other emergency services and local community groups to ensure her unit is robust and capable of providing an emergency response, at any moment.

Leanne has made her service at VICSES a key priority in her life, with the understanding and support of her family, and of her workplace, to ensure that their local unit - under her leadership - is ready to respond to emergencies; at all times, on any day of any week.
Leanne's dedication and commitment represents the passion she shows for her work, for which she is well respected by her peers throughout the state.
Without Leanne's persistence and dedication to VICSES Ouyen Unit, it would not be the outstanding unit that it is. Her continued sacrifice of personal time, over decades, goes beyond what is expected of a volunteer. Her community, her state, and her country owe her a debt of gratitude.
Quote attributable to VICSES Chief Officer, Operations. Tim Wiebusch:
"We are proud of, and pleased for, our Emergency Service Medal recipients who are well-deserving of this prestigious medal. To receive such an award is a tribute from the people of Australia, to those who dedicate their lives to service."
"Charles and Leanne have both have played a big part in helping VICSES grow and develop as an organisation, over the last four decades, as well as being instrumental leaders in their units and communities."
"To manage the sort of emergency response we undertake at VICSES takes exceptional leaders like Charles and Leanne. VICSES is grateful to them both for their dedication and self-sacrifice, and we thank them."