Horsham Unit passes road crash test, as youth members prepare to qualify
The Victoria State Emergency Service (VICSES) Horsham Unit has been re-accredited to perform Road Crash Rescue (RCR) operations, following a tri-annual capability assessment.
VICSES provides 85% of RCR coverage across Victoria with each of our 104 accredited units tested every three years, along with other agencies providing RCR coverage across the state: Fire Rescue Victoria (FRV); Country Fire Authority (CFA); Echuca Moama Search and Rescue Squad, and Shepparton Search and Rescue. All agencies involved work to the same exacting standards to qualify to provide the RCR service.
Assessors arrived at the VICSES Horsham Unit on Sunday 24th October, with the assessment process taking place in two parts; the 'capability assessment' - which involves a live simulation of a crash - and 'administrative assessment', which looks at the vehicles; equipment; personnel; response statistics, and overall performance. VICSES has recently overhauled the Road Rescue Capability Assessment program ensuring all the assessments include key stakeholders, so that improvements are actioned without delay.
During the simulation, assessors look for good command from the volunteers and a safe and systematic approach to extricating the patient. Volunteers from the unit demonstrated these skills during the simulation, by showing they can work with other agencies to plan the best outcome for the patient, utilising the tools available - such as hydraulic cutters and spreaders (the "jaws of life") - handling the patient safely and mitigating hazards, such as fuels, airbags and seatbelt pre-tensioners.
The vehicle used for the simulation was made safe by disabling the electronics and draining the vehicle of fluids, so that it is ready for use. They are then delivered to the units in the lead-up to the assessment. Volunteers also receive information packages beforehand which set out the requirements of participating in the assessment process.
All assessed units receive a targeted treatment plan similar to continuing professional development, following their assessment. This process is intended to encourage units to keep meeting key performance metrics, while promoting ongoing improvements to its RCR capability.
Members who participated in the simulation were Jarrod McLean; Adam Cox; Ben Woodhart; Steve Roberts; Karl Mitton, and Ryan Emmerson. Eight members of the VICSES Horsham Unit are qualified to attend RCR operations with a further six to come online by the New Year, including youth members Ben Woodhart, 18, and Zen Wearne, 18.
VICSES Edenhope and VICSES Warracknabeal units were also assessed on the same weekend as VICSES Horsham Unit, with each also passing their assessment.
Quote attributable to VICSES Road Rescue Capability Assessor, Caroline Taylor:
"We review their performance, but also their preparation and capability."
"I have a real passion around road rescue, so seeing our volunteers put their best foot forward is really important to me."
"The turning point for me was in 2010 when I put my hand up to compete in a road rescue competition. That's simulated road rescue scenarios - completing those in set time frames- and being assessed from the point of view of command; medical treatment; extrication plan, and technical abilities demonstrated. In 2014, I was fortunate to travel with the VICSES team to the U.K. for the World Rescue Challenge, as part of a team with the Australasian Road Rescue Organisation (ARRO)."
Quote attributable to VICSES Regional Officer Training, Midwest Region, Jarrod McLean:
"I think succession planning is really critical. As leaders within the service we develop people to the point where they can come in and do our role. That way you've got more people to facilitate and deliver what you need.
"The community might not know these capability assessments exist, but they are very important. From an agency point of view, to have met this standard is equally important. We are professionally-trained and we can deliver what we say."
"Years ago my family was involved in an accident and someone helped us. That's why I do what I do today."
Quote attributable to VICSES Horsham volunteer, Ben Woodhart:
"Me and Zen and some others in the unit are in the process of doing our RCR training."
"The accreditation is for the unit, and their ability operate as a RCR unit. The RCR course is an individual training opportunity, to gain the ability to be an operator. To qualify for that, you do two hours of training each week over a two-month period, which amounts to around twenty hours. The course is delivered by Jarrod McLean: our regional trainer. There is some theory, which is around understanding procedures on scene - such as scene preservation - and an understanding of the command and control structure across agencies attending a crash scene."
"The practical training involves going out with the trainer who organises a vehicle for us, practising different techniques removing a door; cutting into a roof."
"Just go down to your local unit and give it a try. There's lots of different skills you can learn. Even if you like walking through the mountains, there's a job for that. If you're more of a hand on type you can do storm jobs; road crash rescue. If you're not the physical type, your unit could use administrators; recruitment. There's something for everyone."
Quote attributable to VICSES Horsham volunteer, Zen Wearne:
"I've been a member since I was 15. Ben and I were friends and he got me interested. The thing that appealed to me was being able to help people in need when I can. That's the main reason I'm staying. I'm about to start university at the start of next year."
"The assessment is an actual car crash scenario. We drive to the truck yard, do a windshield assessment, look at the possible dangers when entering the scene, while trying to keep everyone safe and preserve the scene. We cooperate with each other and do it as if it were a real job."
To read more stories about our work in Road Crash Rescue (RCR), click here.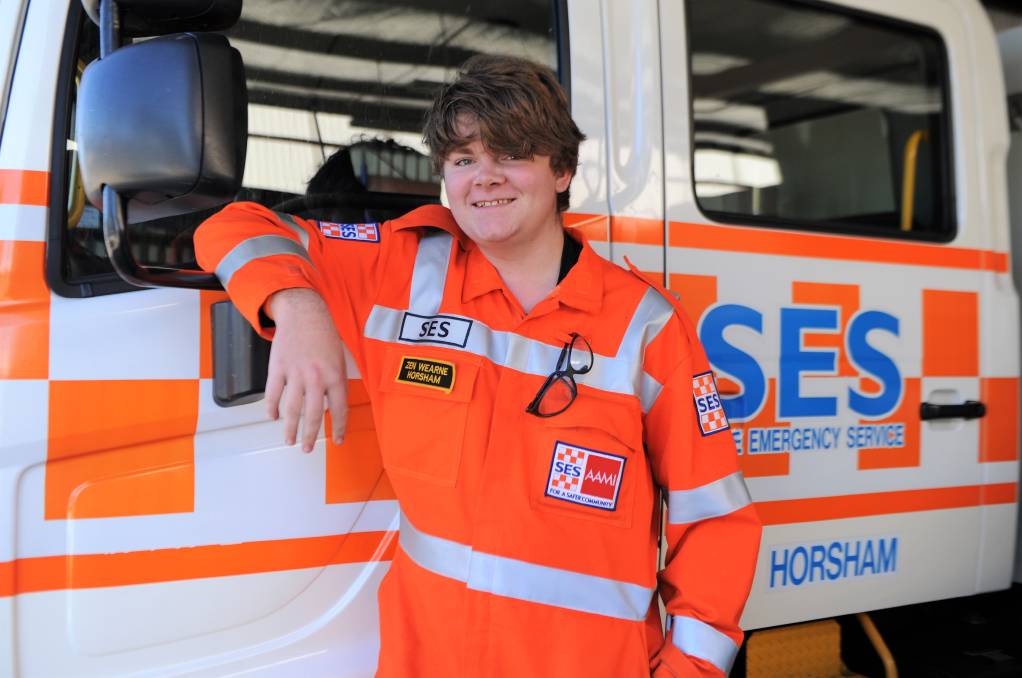 ​
​​
​
​​​
VICSES Horsham volunteer, Zen Wearne