On Sunday, the Victoria State Emergency Service (VICSES) was proud to participate in the annual Midsumma Pride March. VICSES volunteers joined more than 350 groups, represented by 13,000 people, who marched through Fitzroy Street in St Kilda. An estimated 50,000 people applauded from the terraces and waved from the balconies as they lined the streets along the route.
VICSES is a long-time participant in the Midsumma Pride March, reflecting the diversity of the communities we serve, and within our ranks. 20 VICSES units were represented at the Pride March this year; from Kerang, on the Loddon River to Moe, in the Latrobe Valley.
A rainbow-adorned heavy rescue truck loaned from VICSES Malvern Unit brought up the rear, and delighted the crowd by tooting its siren in a call-and-response with the volunteers, who made liberal use of their whistles.
The streets of St Kilda have come alive for the annual Midsumma Pride March.

Tens of thousands took part in the fun as they celebrated Victoria's LGBTQIA+ community.@ShubaSKrishnan #9News pic.twitter.com/p9Xh1OfUmB

— 9News Melbourne (@9NewsMelb) February 5, 2023
Midsumma is an annual celebration of the lesbian, gay, bisexual, transgender, queer and intersex (LGBTQI) community, starting with the Midsumma Carnival and running about three weeks, drawing tens of thousands to Melbourne for their calendar of events, many of which are free.
For Sarah Brennan-Dunn, the first openly out, transgender, VICSES volunteer, the march was, "an amazing experience, not just to have the camaraderie of other VICSES volunteers there, but also embracing our diversity within the service and with others in the community."
"This journey I have been on is not just my journey," says Sarah, "but everyone who is connected to me as part of my unit, region, state, and those who I meet on deployments."
Sarah joined VICSES nineteen years ago and is an active volunteer at VICSES Sunbury Unit. She mentors new volunteers and has undertaken more than 300 road crash rescue incidents. Sarah was deployed interstate to Newcastle, in 2015, for the Hunter Valley flood event.
VICSES Deputy Chief Officer, David Baker, who marched with the volunteers alongside Chief Executive Officer Stephen Griffin, has regularly attended Pride events for the last decade.
"I first attended Pride with the Country Fire Authority, and now I'm here as a VICSES senior officer," said David. "The diversity of our volunteer workforce, which is made possible by an inclusive culture, is what gives us our strength and capability now, and in the future."
VICSES also hosted a marquee at Midsumma Carnival, alongside other agency partners, to engage with the community about the work we do, and to promote recruitment opportunities at VICSES for LGBTI Victorians. Volunteers from Heidelberg, Knox, Malvern. Moe, Fawkner, Narre Warren, Wyndham, and Pakenham, alongside staff members were available to answer questions from revellers.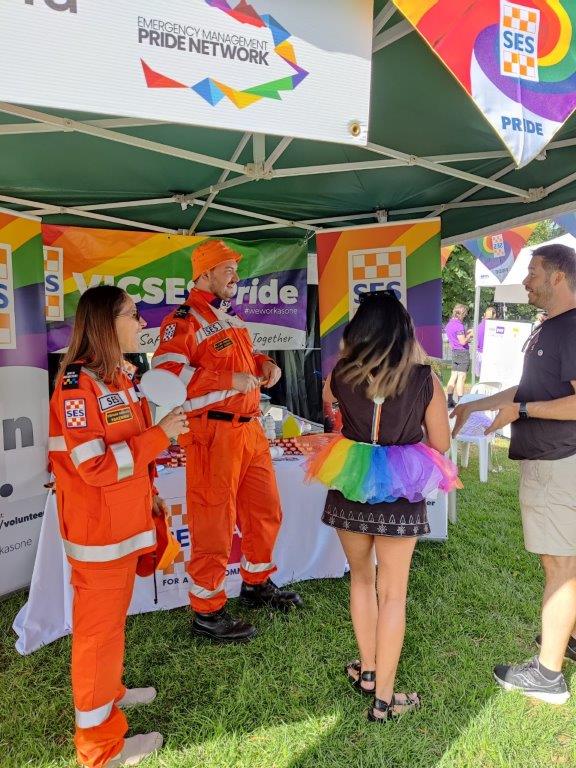 VICSES volunteers engage with community at Midsumma Carnival, 22 January 2023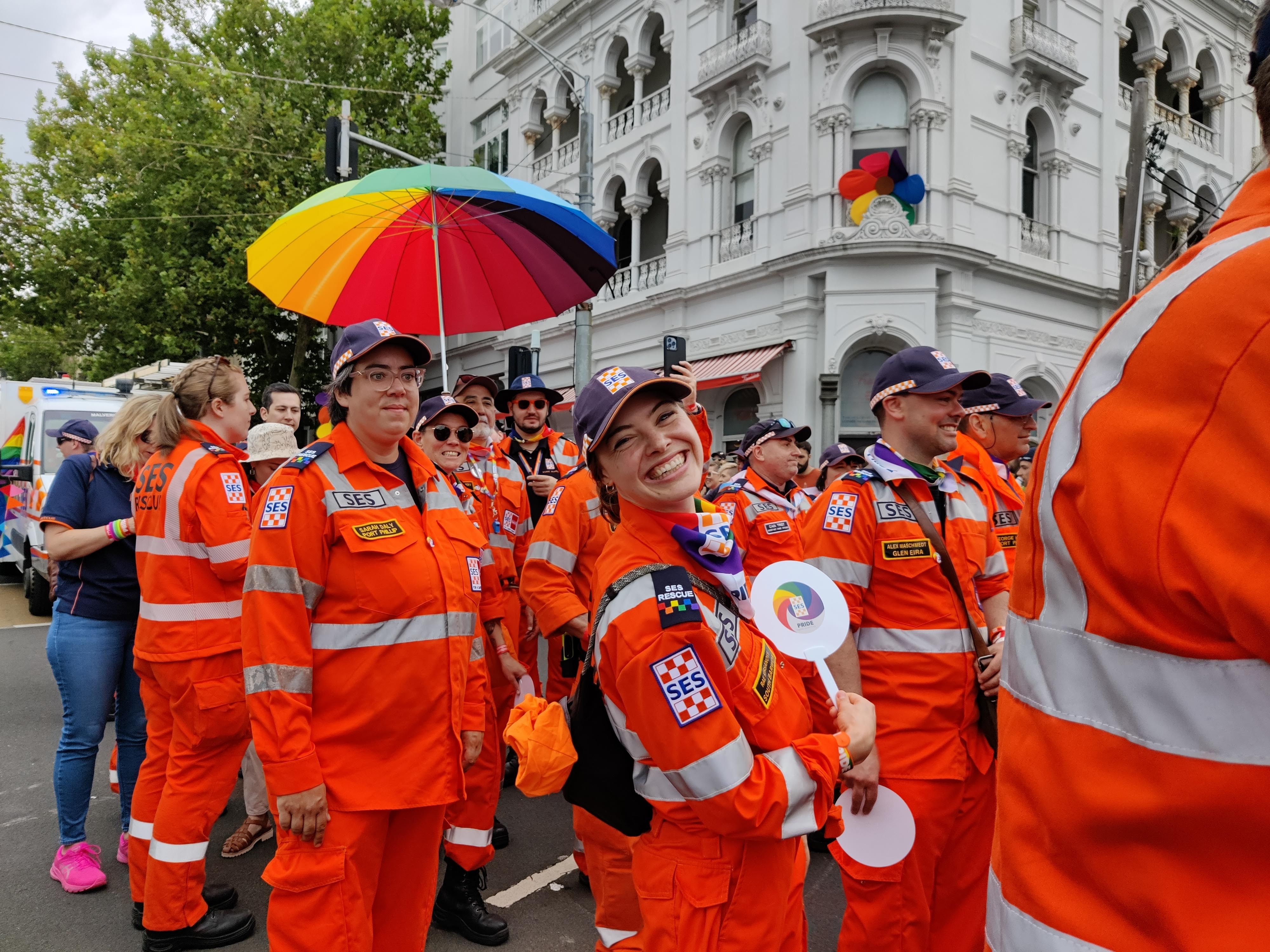 VICSES volunteers at Midsumma Pride, 6 February 2023

VICSES volunteers and staff at Midsumma Pride, 5 February 2023