MEDIA RELEASE: School trips provoke slew of snow rescues
A busy day for our Victoria State Emergency Service (VICSES) Falls Creek Unit volunteers who performed three different snow rescues yesterday, all in one day.
All incidents involved members of school groups who had been camping close by to the Falls Creek Resort, in Falls Creek. Our volunteers were called to assist police in search and rescue, and patient extraction.
At 11.01am our VICSES volunteers were called to their first job, to assist police with a teen who had injured themselves in the snow. The crew was made up of the VICSES volunteers and two Victoria Police members.
Our volunteers attended in snowmobiles and provided first aid at the scene, before taking the teen to a medical centre close by in Falls Creek.
A second incident occurred at around 04:00pm, with another teen who had fallen, sustaining injuries which rendered the patient unable to ride on the snowmobile. Though a non-ambulatory case, the teen was spinally immobilised with a backboard, and secured in the trailer for transport to Falls Creek Medical Centre.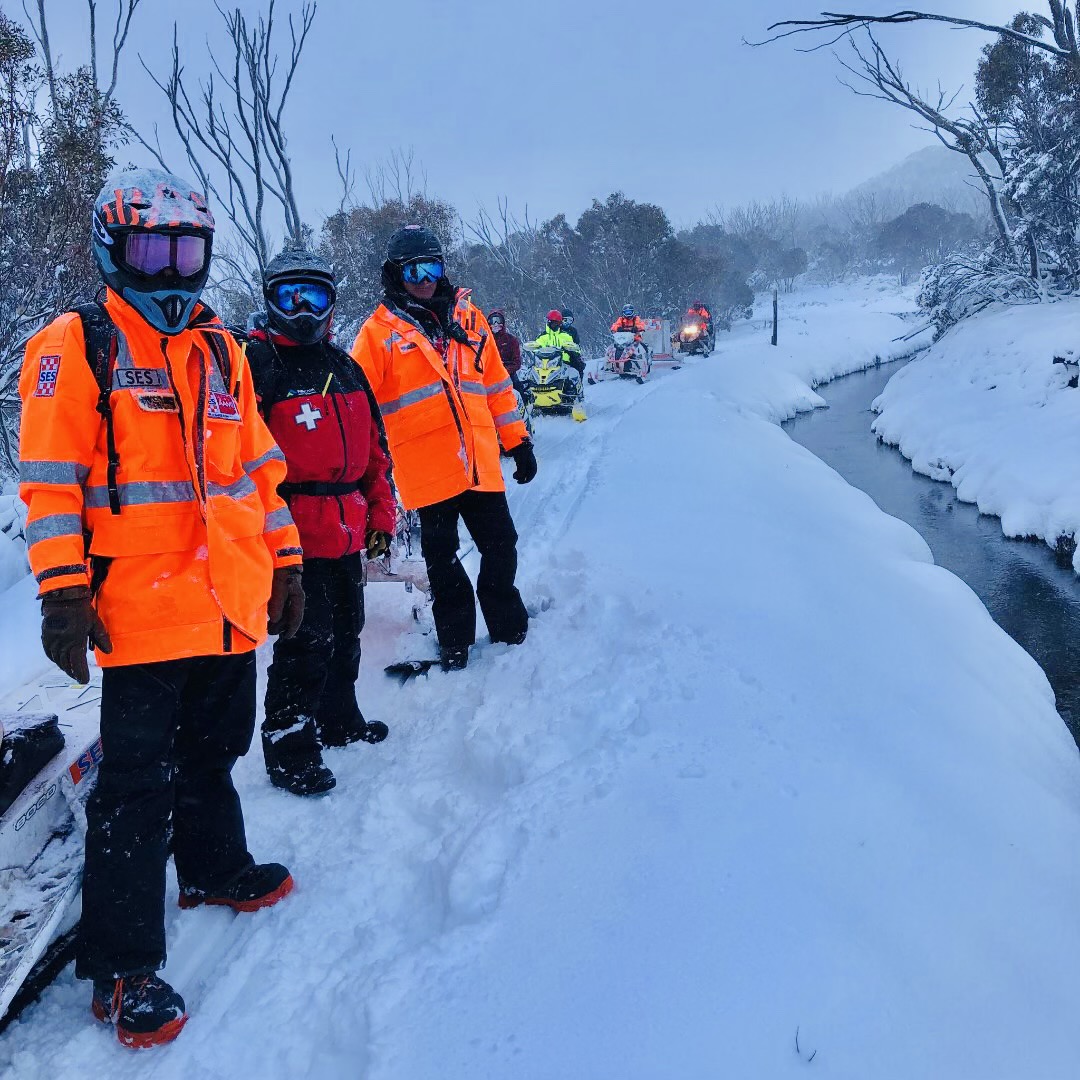 (L-R) VICSES volunteers Anthony Johnson, Craig Moegel and Simon Allen
The third incident for the day, flagged by Victoria Police shortly before 10:00pm, related to another teen who had been camping overnight as part of a school group, and had dislocated their knee.
Though the group had coordinates of their location, the location at Watchbed Creek lay approximately 10 kilometres from the unit, along Paul's Track - a cross-country trail. The location necessitated a lengthy trip by snowmobile. Conditions were favourable with a clear night providing visibility and our volunteers were able to successfully get the teen back to medical care.
Quote attributable VICSES Falls Creek Unit Controller, Craig Moegel:
"Persons who are intending a trip out into the high plains should ensure they have the proper safety equipment, warm clothing navigation skills, at a minimum one form of communication - like a working mobile phone - and a back-up battery."
Quote attributable VICSES Falls Creek Volunteer Anthony Johnson:
"I'm used to working nights. I work for the lift company, and we work for the slope maintenance team. We groom the surface of the slopes, which is not done during the day so we're already out on the mountain. The majority of the unit are shift workers so we have coverage 24 hours a day during busy periods."
"Just make sure you know the coordinates of where you are. This makes it easier for us to find you quickly."