VICSES celebrated at AFL Emergency Services match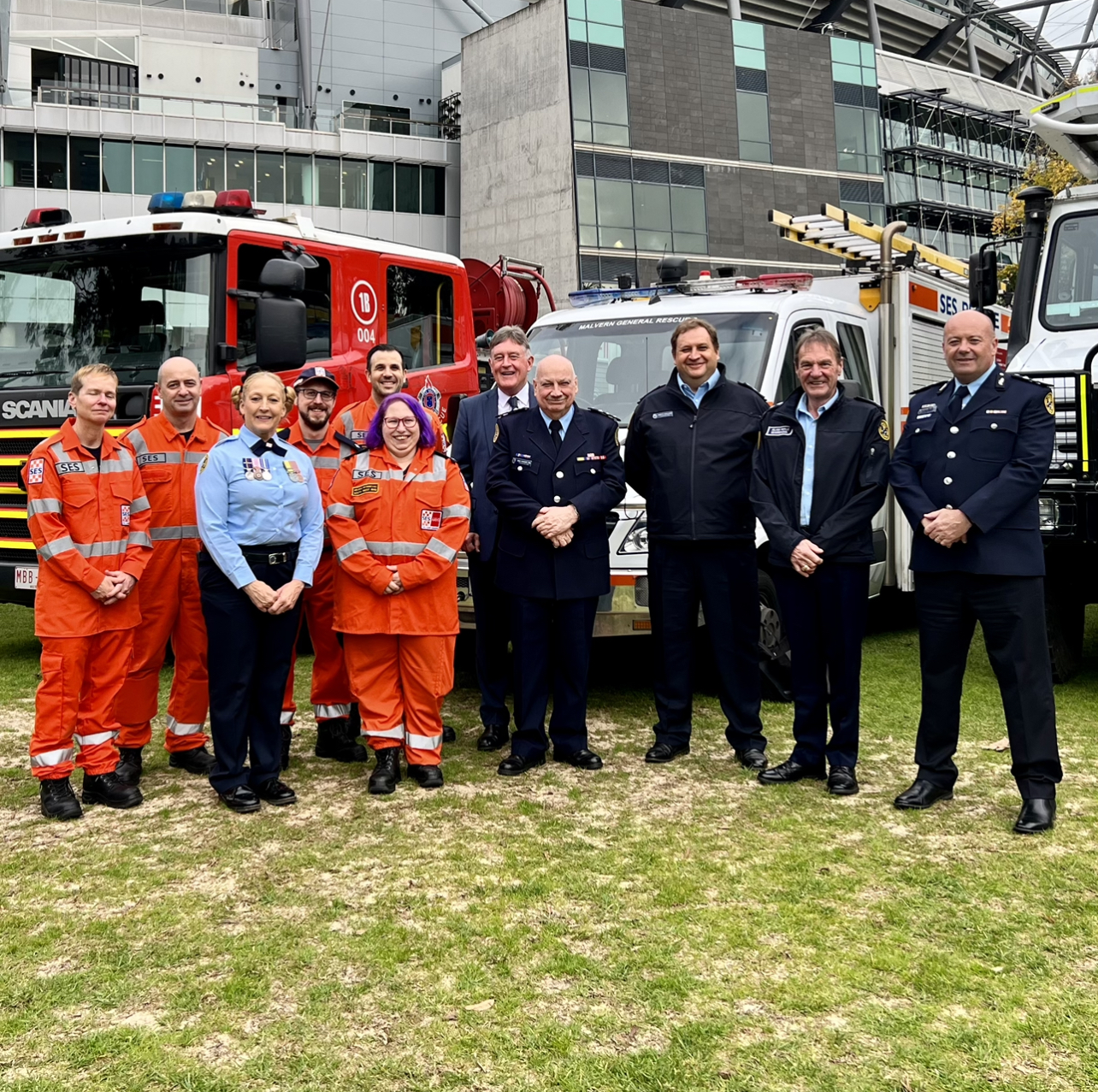 VICSES volunteers and staff at the MSC, earlier today.

Victoria State Emergency Service (VICSES) volunteers are teaming up with the Hawks, and our partner emergency service agencies, at the MCG for our second annual Emergency Services Match.
First held in 2019, the match is an important opportunity to not only raise funds for the Emergency Services Foundation (ESF), but to also spread awareness of the mental health challenges faced by both our current serving emergency service workers, and also past.
Most of all, it is to celebrate the work of all 14 of Victoria's emergency service agencies.
38 VICSES volunteers will have the opportunity to take to the field at the MCG in their orange uniforms, and celebrate the emergency services community, as well as being part of a guard of honour as the Hawthorn and Richmond players come out on ground.
With 5,000 members in the service, it is a great opportunity to give thanks to our members with an experience on the 'G. This year howver is especially specia, with next week host to official celebrations regarding our annual 'Wear Orange Wednesday' (WOW Day), a national day of thanks for the 5,000+ volunteers who serve the community 24 hours a day, seven days a week through storm, flood, road crash rescue, landslides, and more.
Taking place days prior to the kick off of National Volunteer Week, we are especially pleased that our volunteer emergency workers are participating, including members from VICSES, CFA, St John Ambulance, Red Cross and Lifesaving Victoria.
In attendance were the Emergency Management Commissioner, Andrew Crisp, the President of Hawthorn Football Club, Jeff Kennett; BankVic CEO Anthony DeFazio, and ESF CEO Susan MacKenzie.
The work of the ESF is to get ahead of the mental harm that many emergency services workers experience, in the course of their duties.
The Emergency Services Match will take place on Saturday 14 May at 1:45pm, with the pre game ceremony starting at 1pm. Members of the public can head to Yarra Park (near Gate 3 of the MCG) to explore some of the VICSES fleet before the game, with a fan zone open from 11am.