VICSES Pride Network: Meet David
Between volunteering with VICSES and working as a full-time primary school teacher, life's pretty busy for Monash Unit Officer David Michalowsky. As a member of our VICSES Pride Network, David shares with us his personal journey in orange and as part of the LGBTIQA+ community. This is David's story.
"I first joined VICSES in February 2015, seeking an opportunity to gain new experiences and give back to my community. Since then, I can't believe how much I have accomplished as a volunteer, and am grateful to have made lifelong friendships along the way. Some of my personal highlights include being deployed to assist the floods in South Australia in 2016, supporting the response for the 2020-21 Victorian Bushfires, and most recently representing VICSES as part of the 'Portraits of Strength' exhibition in Melbourne at Crown Riverwalk.
Being a volunteer with VICSES is something I am immensely proud of. I'm also openly proud to be a member of our VICSES Pride Network, and the LGBTIQA+ community.
I began to come to terms with my sexuality in my teens, coming out as gay when I was 16. At first, I struggled to find support from people within my school. But even so, most people had positive reactions to my coming out, and many people said it made no difference to how they viewed me as an individual. Personally, that really made me feel accepted. As for those who weren't supportive, I soon grew to realise that their opinions simply weren't important to me.
Being gay is only a small aspect of my life and who I am. Having people acknowledge that my sexual orientation isn't a representation of my entire identity, has been really important to my coming out. Now, I feel comfortable enough in myself that when my sexuality is raised in conversation, I consider it the same significance as to whether I'm asked if I am left or right-handed. To approach my sexuality in this way really speaks volumes about the amount of support that I've received over the years.
My biggest support system has definitely been my mum and dad. They raised me with the belief to follow my dreams and be myself. They have always supported me, and believed that the most important thing is that I'm happy. Without their support, I wouldn't have been able to live my life as an openly gay man.
Over the years, I've seen many progressions across Victoria and Australia in greater support for the LGBTIQA+ community. The passing of the marriage equality bill and developments in tolerance, acceptance, and protections for LGBTIQA+ people, are all great steps forward.
Similarly, I've seen our organisations support for our LGBTIQA+ members and the wider community also progress in a very public way. The expansion of our involvement in the annual Midsumma Festival, the establishment of the VICSES Pride Network, as well as our representation as part of the Emergency Management Pride Network Victoria, have all shown VICSES' commitment to celebrating the diversity of our organisation and the communities that we serve.
Although these are all great initiatives, there are still opportunities for even greater inclusion at VICSES. By continuing to celebrate the diversity of our people, we create a safe space for members to be their true selves. This also gives us the opportunity to harness a whole range of different lived experiences and points of view, which means we can better support the community. Diversity really is our biggest strength.
Six years on since first joining VICSES, I can honestly say it's one of the best decisions that I've ever made. Looking into the future, I'm excited for the experiences and opportunities that lie ahead within our organisation and the sector, both operationally, and proudly as part of our VICSES Pride Network."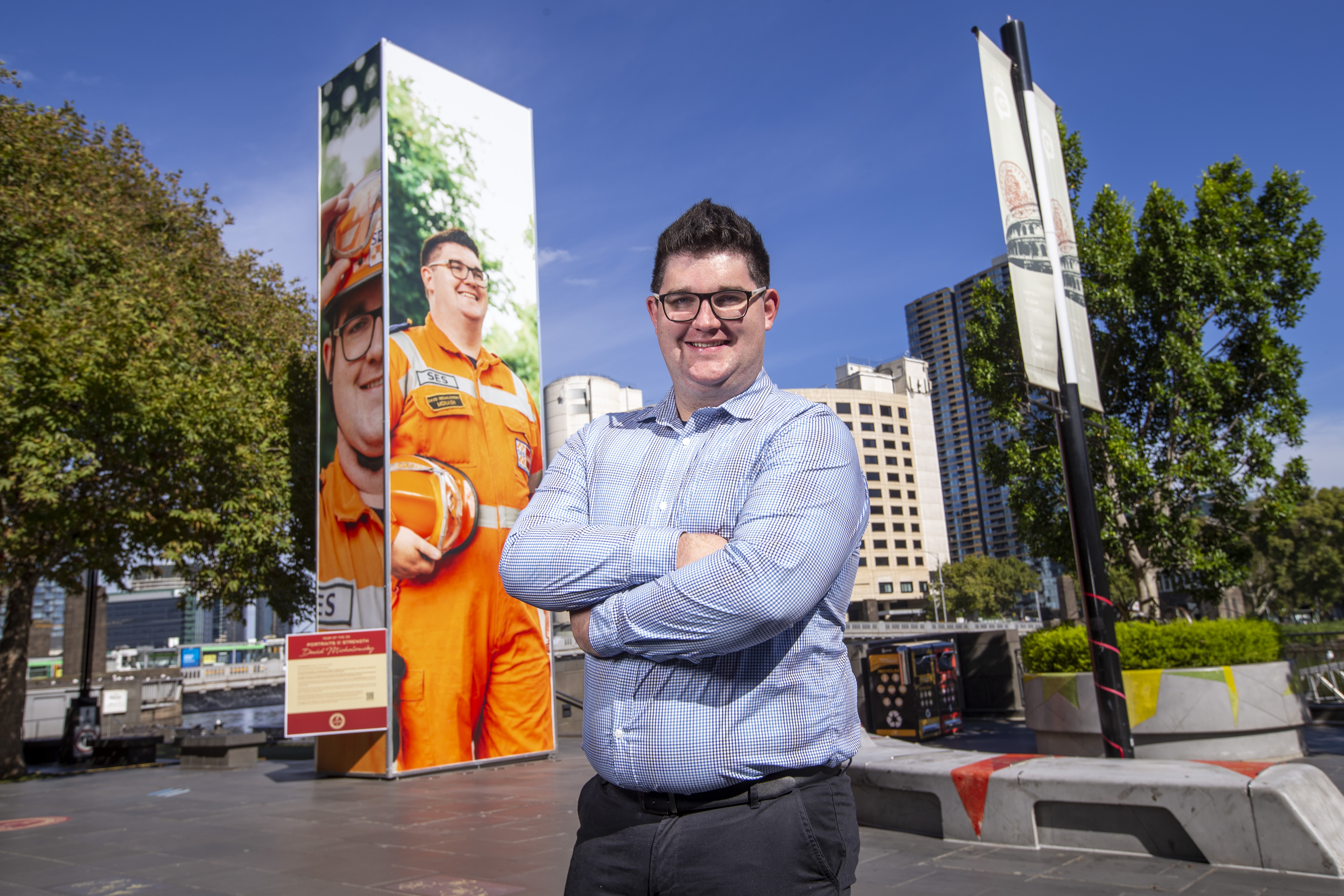 Image: David Michalowsky featured as part of Melbourne's 'Portraits of Strength' exhibition.