VICSES says "thanks a bunch" with flowers for family, friends of volunteers
The Victoria State Emergency Service (VICSES) has been grappling with its busiest year ever as the control agency for flood, storm, tsunami, earthquake and landslide.
That's why this year, our annual Your Family, Our Family campaign has never meant more.
Your Family, Our Family highlights the sacrifices family members, friends, and employers make to ensure VICSES volunteers are able to support their communities in times of need.
Over the weekend of November 13 to 14, Your Family, Our Family will highlight the support these folks give to more than 5,000 VICSES volunteers across the state; immediate and extended family; employers; housemates, and colleagues.
In 2021, friends, family and employers stood by our volunteers through a pandemic, and the two busiest periods in our organisation's history following the June and October storm events. Without this vital support, our volunteers could not respond to emergencies every hour of every day of the year.
This year, with the support of our sponsor Australian Associated Motor Insurers (AAMI), we decided to say "thanks a bunch" with five beautiful bouquets from Flower Jar in Richmond, a locally grown mix of seasonal flowers with a pop of VICSES orange, which included dogwood blossoms; seasonal celosia; roses, pinwheels and snapdragons.
We caught up with VICSES Northcote Unit Controller Luke Francis at his home in Bundoora. Luke has been Controller at VICSES Northcote Unit for three years, having joined VICSES in 2007 as a volunteer. Sarah and Luke were married in 2013 and have two children. While Luke helps the community with their preparedness and response, Sarah works in emergency management for the local council, doing relief and recovery. What a family!
Quotes attributable to Sarah Francis:
"I'm an emergency support worker for local government and we get deployed to the relief and recovery centres to help the community; make sure they get the support they need. My role when I went was to do wellbeing check-ins, to see how they were going; whether people had what they need, or if they need referrals. My job is also to problem solve any issues people raised that didn't fall into the normal categories for help by the other agencies."
"Our extended families are really good. For the storm that was predicted today, I called my mum in Bendigo and said, "look, if it actually does get nasty can you come and look after the kids?" Luke will probably have to go and there's only me and another team member from emergency management this weekend, so the two of us will be running the meetings and everything, my mum said, "sure! not a problem." So, it's quite a big network. We're lucky both sets of parents are happy to step up and help us with the kids."
"Even before I was working in emergency management, we've always been a point where if the crew was in the area, they could stop and get a drink or something to eat; I always made sure there as extra food for them, or sending food for meetings. They give up their time and I know how hard it is for families so, that's what I do."
Quotes attributable to VICSES Northcote Unit, Controller, Luke Francis:
"Thank you so much for being so understanding Sarah. I really love the way that you've been able to look after our kids during the last three-and-a-half years, between deployments and being the controller. I greatly appreciate what you do and that's why I thought this token of appreciation is well and truly deserved."
"Without the families behind the people who are actually volunteering, it just doesn't happen. The volunteers have children, other commitments they need to allow for; with families that are flexible and are able help with that, it makes it possible to do the things we need to do."
"Thank you very much for all that you do, without it we couldn't provide the help to the community that we need."
"Being able to provide help to the community is extremely enriching, as is seeing people at their best."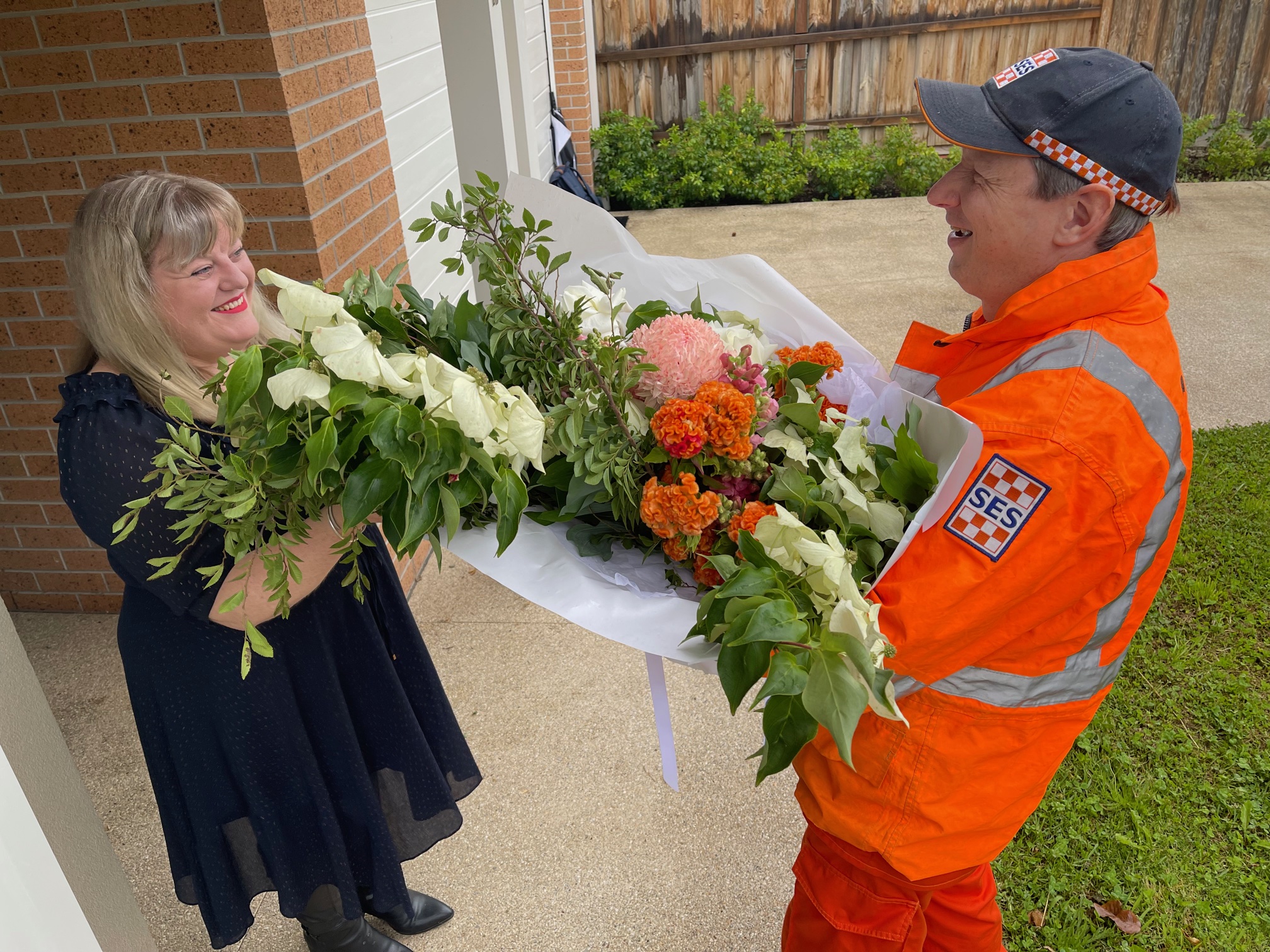 VICSES Northcote Unit Controller Luke Francis and wife Sarah Francis