Victorian SES volunteers deployed to assist with WA cyclone relief effort
Dozens of Victoria State Emergency Service (VICSES) personnel have now been deployed to Western Australia (WA), to continue supporting the state's Cyclone Seroja response and recovery effort.
The category three cyclone, which tore through more than one thousand homes, made landfall as a category three storm late on Sunday April 11, bringing wind gusts of up to approximately 170 kilometres per hour.
Support from Victoria was requested through the National Resource Sharing Centre. The Victorian taskforce didn't hesitate to assist, with initially twenty-two SES personnel, largely made up of volunteers, deployed first.
Three other deployments have since left Victoria – one on Tuesday 13 April, Sunday 18 April, Tuesday 20 April and Wednesday 21 April.
The Victorian taskforce includes largely SES volunteers and incident management teams comprised of personnel from Country Fire Authority (CFA), Forest Fire Management Victoria (FFMV) and Emergency Management Victoria (EMV).
Emergency Management Commissioner Andrew Crisp said the State Control Centre is supporting this deployment of front-line operators.
"The scale of damage we're seeing in WA is quite significant, and so we expect a big job ahead for our teams heading over. We're preparing what we can do to help now, with a member already deployed last night to assist with a smooth transition of our members in WA.
I want to thank those who have volunteered and their employers who let them go at such short notice," said Commissioner Crisp.
"Victoria will do whatever we can to support our colleagues and communities affected in WA and work with all relevant agencies to help with recovery efforts as we can," added Commissioner Crisp.
VICSES Chief Officer Operations, Tim Wiebusch, said SES is proud to help communities from across the country.
"VICSES is proud to be able to assist with both personnel and vehicles and we'll try to do so for as long as is required.
"The commitment is significant across a wide area of impact with SES members assisting with a range of storm response operations, from roofing to chainsaw work."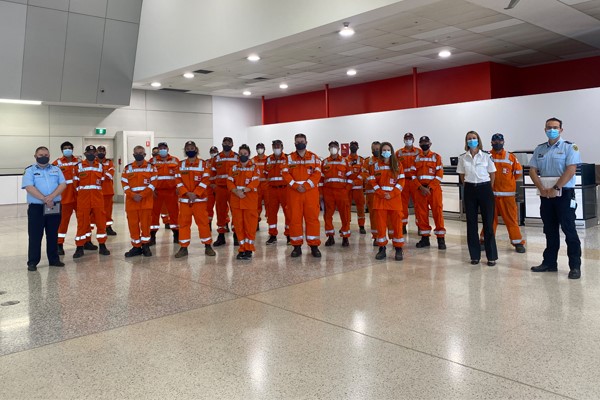 SES members have been deployed from various regions across the state, including Loddon Mallee, Mid West, North East, East, North West, South West, Far South West, Central, Hume, Grampians, Gippsland and Barwon South West.
The WA Department of Fire and Emergency Services has commended the work and attitude of Victorian personnel. Crews are in good spirits and are working in mixed teams with locals.