Volunteers overcome obstacles in remote rescue
Last week, seven volunteers from the Victoria State Emergency Service (VICSES) Yarram Unit responded to a call for help from a person trapped under a tree, at Blackwarry in the state's east, shortly after 1pm on Thursday.
The multi-agency response involved four VICSES volunteers in a rescue truck, with added assistance from a support vehicle.
An injured man had been lying under a fallen tree for two hours, on uneven ground under thick canopy. Local Country Fire Authority (CFA) crews from Callignee and Traralgon South units eventually located the man, along with Victoria Police, and Ambulance Victoria personnel in a helicopter and four-wheel drive mobile intensive care ambulance (MICA).
The crews worked to free the patient from the fallen tree, placing him on to a spine board, a stretcher, and finally through a narrow gate at the top of a steep hill - delicately passing the stretcher out to the other side - to the waiting MICA.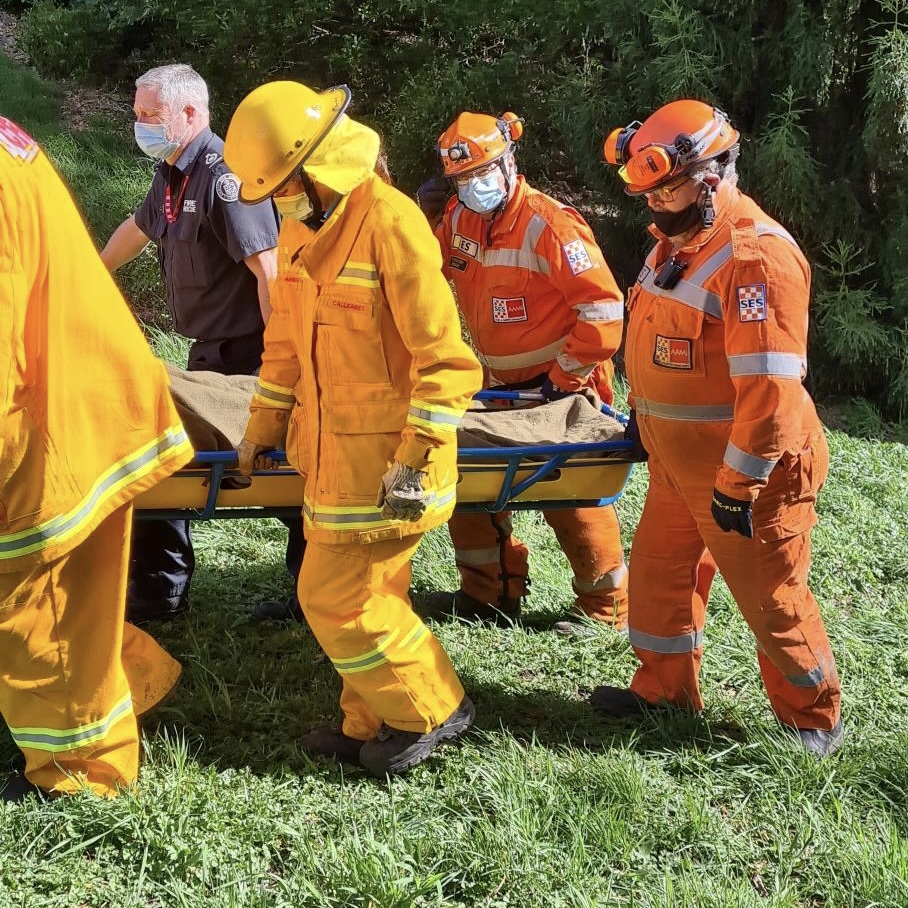 VICSES Yarram and CFA volunteers at Blackwarry, last Thursday
High winds had made access to the emergency call-out hazardous for the first responders with fallen trees along the main access routes - Hyland Highway and Grand Ridge, Yarram Blackwarry, and Mack's Creek Roads.
After the rescue, the two SES Yarram crews were tasked to clear eight fallen trees from these roads on their way back to Yarram. Two more trees over roads in Won Wron and Binginwarri added to their workload before they finished about five hours after their initial dispatch to Blackwarry, returning to the unit at 6pm.
The rescued man, David Vaux, is Emeritus Professor of Molecular Biology at Walter and Eliza Hall Medical Research Institute, recently retired after a thirty-year career researching the causes of cancer.
His research contributed to the development of a lifesaving cancer drug which is used to treat patients with chronic lymphocytic leukemia.
His contribution to science was acknowledged when he was awarded the Order of Australia in 2017.
Quotes attributable to Tracy Smyth, VICSES Yarram Volunteer:
"Our VICSES Yarram volunteer Tim Waugh is a nurse, so we had that extra skill set available to us on the day. The patient was under thick bush but it wasn't steep enough to require the high-angle rescue. We initially used the spine board to perform the extrication so the paramedics and Tim worked with VICSES volunteer Barry and the ambulance crew to transfer the patient from the spine board on to the stretcher."
Quotes attributable to Tim Waugh, VICSES Yarram Volunteer, Registered Nurse
"The CFA crew got the tree off his leg and the paramedics were already in attendance when we arrived. It was a great effort all-round."
"I would remind the public to let somebody know where you are, so if you don't turn up when you're expected, we can send out a search party. If no one had known he was there, he might have been in trouble, but someone knew he was there."
"A good first-aid person is as good as a nurse in situations like that, where you can't give a pain relief or, if they're trapped, you're supposed to wait for a paramedic."
Quotes attributable to Emeritus Professor David Vaux:
"You know in the old Western movie, when you hear the bugle from the cavalry and you know everything is going to be okay? That's how I felt when the angels from VICSES, CFA and paramedics called out to me, as I lay under a fallen tree with cracked ribs, sternum, vertebrae and bilateral haemopneumothoraces!"
Quotes attributable to David Vaux's wife:
"My husband David continues in his retirement to advocate and support the scientific community, advocating for a National Office for Scientific Integrity and lecturing to science students locally and nationally."
"Thanks to the efforts of the CFA, VICSES, Victoria Police and the Traralgon Ambulance Service he can continue to contribute to the community. Thank you so much!"