Busiest week on record as VICSES supports the Victorian community
The Victoria State Emergency Service (VICSES) has had the busiest week in the history of the service, with over 9,000 requests for assistance across the state as VICSES responded to wild weather and riverine flooding, which caused significant damage.
VICSES crews and partner agencies have been continuing to respond to and clear outstanding requests, and we thank the community for their patience. Our VICSES volunteers and staff have been working around the clock to assist the community, along with our partners from other emergency services. #weworkasone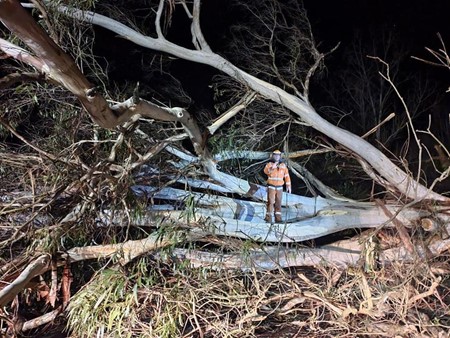 The most common requests for assistance have been related to trees down, building damage, and flooding. In the last 24 hours, the busiest VICSES units have been Lilydale, Emerald, and Maroondah. The situation in Gippsland has eased, but the impact is still being felt as recovery is underway.
For those who are impacted by the current floods or power outages, you can always leave your home and travel more than 25 km in an emergency to stay safe, at a family member or a friend's house. You can also travel to get the supplies you need, no matter how far.
The Victorian Government has announced Personal Hardship Assistance Program emergency relief payments are available to help meet immediate needs, including emergency food, shelter, clothing and personal items.
Information on how to access the relief payments, along with other recovery information can be found on the Vic Emergency website www.emergency.vic.gov.au/relief
The storms and power outages across Victoria may cause feelings of anxiety and concern in some people. It's important you look after your mental health, and check in on their friends and family. Support is available 24/7 from Beyond Blue and Lifeline.
If the coverage of our response has inspired you to volunteer and play your role, this is your opportunity to be part of our organisation. Each of our volunteers receives accredited, recognised training as part of their role, ranging from first aid, general rescue, chainsaw operations, community education, media training and much more. From floods, storms, search and rescue, road crash rescue and much more – there's a position for everyone at VICSES, and anyone can make a valuable contribution. If you're interests, head to the Join Us page on our website.