Experience shows that those who plan and prepare for emergencies can reduce the impact of the emergency, and can recover quickly afterwards.
About storms in Victoria
Information about storms
Storms can happen anywhere, at any time of year and are often accompanied by strong winds, large hailstones and lightning. Storms cost Victorians an average of $28 million each year, and can cause significant damage to homes, businesses and community infrastructure.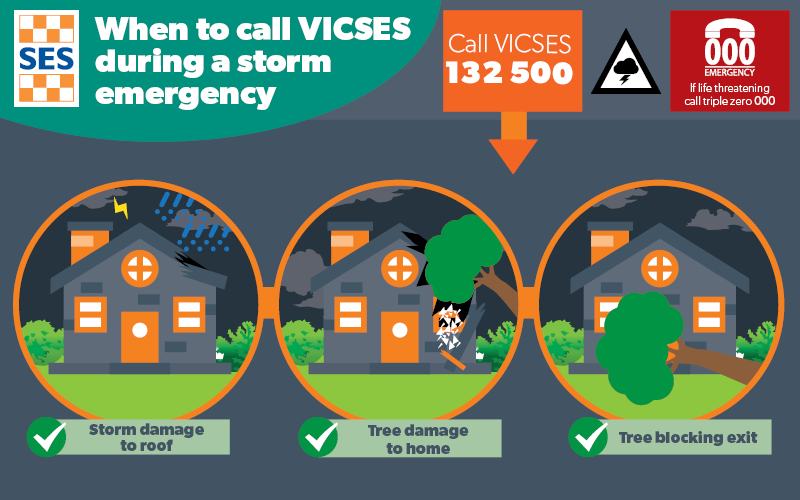 What is a severe thunderstorm?
Watch below to find out what a severe thunderstorm is and how it can impact you:
Get ready. Know what to do.
Victoria State Emergency Service (VICSES) respond to around 20,000 requests for assistance as a result of storms each year, which equates to approx. 80% of all requests for assistance. Much of the damage has been the result of tree branches, trampolines, outdoor furniture or other loose items such as roof tiles becoming flying projectiles in strong winds.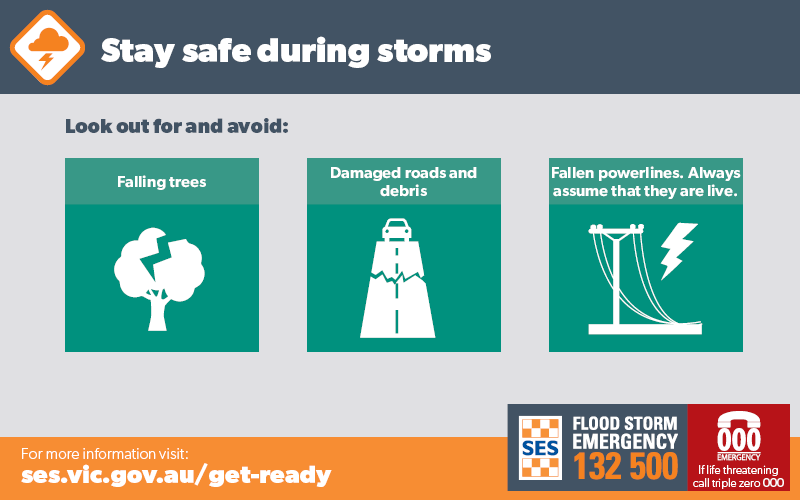 Flooding due to blocked drains, cars damaged while parked under trees and falling overhanging branches are some of the other major causes of preventable damage during a storm.
It's important to be aware of the dangers of severe weather and learn some simple, useful ways you can take responsibility for your own safety and that of your property.
For more information on preparing your home or business from flooding see:
Prepare your home and property
We've put together some important information that can help you learn more about what you can do to prepare your home for storms. You can use the sub-navigation or click on one of the questions below to start preparing now.
Storm warnings
The Victoria State Emergency Service (VICSES) and the Bureau of Meteorology work together to warn the community about storms. Severe thunderstorm and severe weather warnings for Victoria can be found on the Bureau of Meteorology website.
Severe Weather Warnings are provided for potentially hazardous or dangerous weather that is not solely related to severe thunderstorms, tropical cyclones or bushfires. They are issued whenever severe weather is occurring in an area or is expected to develop or move into an area.
Severe Weather Warnings are issued for:
Sustained winds of gale force (63 km/h) or more.

Wind gusts of 90 km/h or more (100 km/h or more in Tasmania).

Very heavy rain that may lead to flash flooding.

Abnormally high tides (or storm tides) expected to exceed the highest astronomical tide.

Unusually large surf waves expected to cause dangerous conditions on the coast.

Widespread blizzards in Alpine areas.
Severe Thunderstorm Warnings are provided to warn communities of the threat of dangerous thunderstorms. They are issued when a severe thunderstorm is occurring or likely to occur.
Severe thunderstorm warnings are issued for:
Large hail (2cm in diameter or larger).

Damaging or destructive wind gusts (generally wind gusts exceeding 90 km/h).

Heavy rainfall which may cause flash flooding.

Tornadoes.