Even if you're heading out on an adventure, it's important to plan ahead so you can stay safe when enjoying time away with family and friends.
Plan for emergencies on your trip before you go
Before you go on an adventure, take the time to learn about where you're heading, and be prepared if an emergency happens.
Have you set up a watch zone around your campground or holiday destination using the VicEmergency app?
VICSES and other emergency services can provide assistance, but you can make sure that you don't need us by taking steps to be prepared before you go:
Tell someone your plans, including where you are going and when you expect to return.

Consider packing an emergency kit:

Watch Have you packed your emergency kit? to find out what to include.

If you get stuck without access to help, have adequate supplies with you for 3-5 days (e.g. food, water, matches, torch, first aid kit, clothing, footwear).

A portable charger / power bank can recharge your mobile phone or tablet and help keep you connected in an emergency.

Check the weather any sever weather warnings or elevated Fire Danger Ratings before you go.

Check out the local flood guide for the area you are heading to, to see if there is any riverine/waterway flooding risks.

Ensure you have ambulance cover in case you have an accident.

Know how to describe where you are if you need to call for help.
Going camping?
If you are camping, consider the conditions when you set up and know what you'll do if a storm or flood occurs:
Conditions in rivers and lakes may have changed due to recent flooding.

Choose camping sites that are under a clear sky. Never camp under trees or branches.

Camp on higher ground away from creeks, rivers, streams, and other waterways.

Find out from the camping ground or holiday park what their emergency plan is.

Set a watch zone to include your camp location on the VicEmergency app so you receive warnings.

If a flood warning is issued, follow the advice within the warning and leave before the water starts to rise.

Consider the information about what to pack before you go!

If visiting national parks or walking tracks, check with Parks Victoria via parkweb.vic.gov.au ahead of time for closures.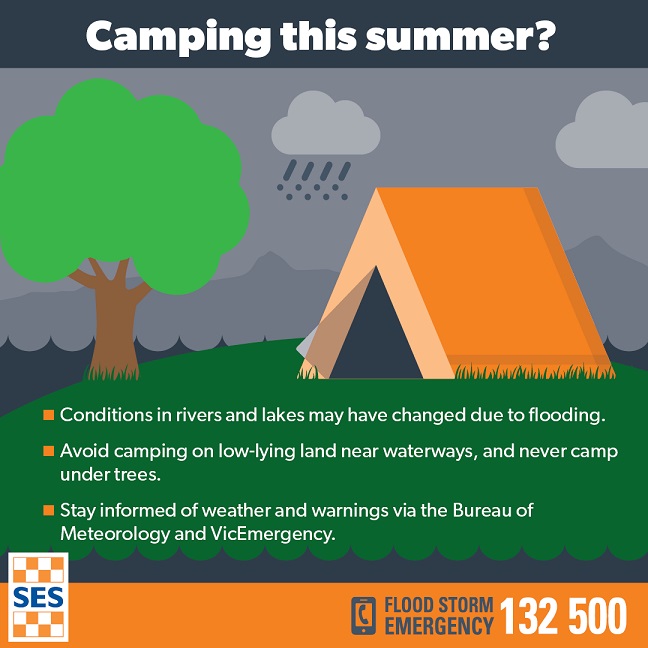 Going hiking or bushwalking?
Each year, VICSES responds to many requests involving people who need assistance after heading out on a hike, assisting with carrying out injured people or searching for people who have gone missing when bushwalking.
If you were out hiking, camping or bike-riding and you had to call triple zero in an emergency, would you know how to tell the operator exactly where you are?
Before you head off on a hike, take a moment to plan ahead:
Know your limitations – consider the degree of difficulty of any walks or hikes you are taking and ensure you don't overdo it.

Pack a map and a compass, or know your route via GPS, and know any common location names.

Become familiar with emergency markers located along bushwalking tracks. They are designed to pinpoint your exact location during an emergency in public open spaces or a hard to define places. They display three letters and three numbers which gives an exact location of where the markers are.

Ensure you keep away from hazardous trees in the wind.

Take plenty of water and some food.

Wear appropriate footwear and clothes for the conditions.

Have communications equipment that will work where you are going – like a satellite phone if you're going for extended periods across low coverage areas. Consider if you'll need radio backup, a Personal Locator Beacon, a copy of any important phone numbers, a phone charger, battery pack or other communications supplies.

If visiting national parks or walking tracks, check with Parks Victoria via parkweb.vic.gov.au ahead of time for closures.
Heading out on the road?
Have you planned to stop at least every two hours of driving to avoid driver fatigue?
Driver Reviver sites across the country operate on busy holiday periods and long weekends to offer drivers free cuppas and biscuits to help you rest, revive, and arrive alive. For site locations and operating hours visit: http://www.driverreviver.com.au
Stay safe on the roads by following some basic advice:
Be a planner: Plan your trip in advance and allow it to be flexible. Always remember to factor in regular breaks so you can stop and recharge.

Get a good night's rest: Don't leave your packing until late the night before. Go to bed early and start the day feeling fresh.

Keep the kids busy: If you have a long road trip ahead, try and keep the kids occupied with activities such as games, colouring in, or watching a movie in the back seat.

Don't get distracted: When you're behind the wheel of a vehicle, driving in your number one priority. The safety of you, and your passengers is in your hands.

Listen to your body: Are you yawning, rubbing your eyes or feeling restless? These are all symptoms of fatigue. If you're feeling tired, don't try and fight it - pull over for a power nap.
Learn more about staying safe on the road.