At VICSES, we pride ourselves on being a part of our communities.
About Neighbour Day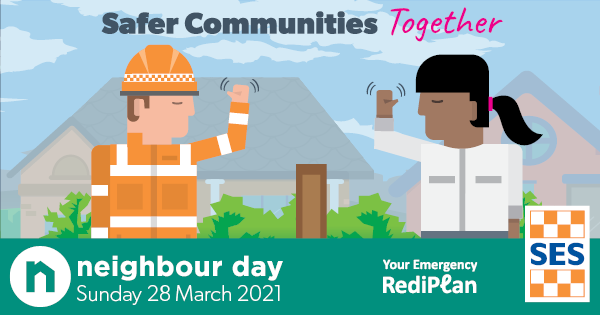 Research shows, those who have strong relationships within their communities and with their neighbours are more likely to help one another and have better outcomes when faced with emergencies.
That's why VICSES is supporting Neighbour Day – an annual celebration of community with the aim of fostering strong personal connections that last the whole year-round.
By looking out for one another, we can continue to create safer communities - together.
Tips and safety instructions for connecting with neighbours
Due to the current circumstances surrounding COVID-19, people are following the social-distancing advice and may be unable to hold or attend the usual face-to-face Neighbour Day events or activities.
However, there are still many ways to create or maintain connections that are not face-to-face and can make a positive difference. This could include:
Checking in on neighbours over the fence, phone or via text.

Leaving a note or calling card with a kind message and your contact details.

Providing neighbours with a household or food item if you have extra you can spare.

Joining a local online community/neighbourhood group.
In the current pandemic environment, it has never been as important to maintain social connections and look out for one another.
For more ideas and information, visit the Neighbour Day website.