Victoria State Emergency Service (VICSES) is a volunteer-based organisation, providing emergency assistance to minimise the impact of emergencies and strengthen the community's capacity to plan, respond and recover, when emergencies occur.
VICSES at a glance
Victoria State Emergency Service (VICSES) provides emergency assistance to thousands of Victorians every year.
In 2019-2020, VICSES responded to 33,742 emergency incidents across the state, contributing a total of 382,141 hours helping Victorians in need.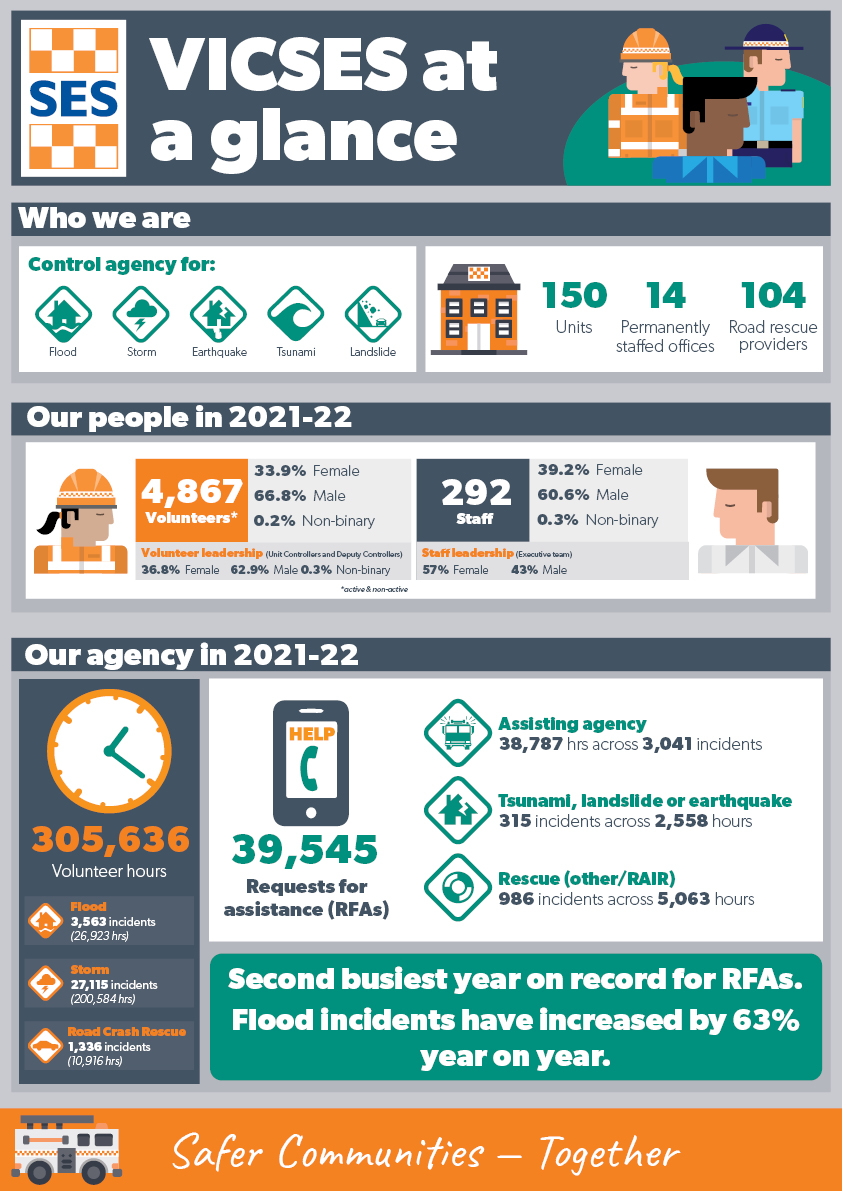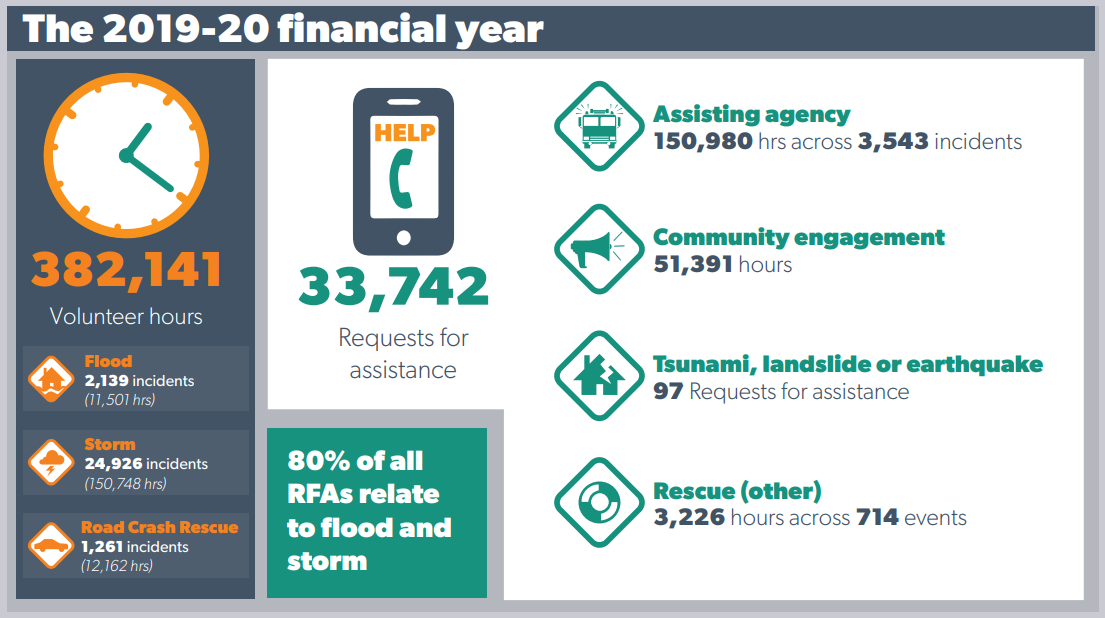 How we help in emergency situations
We are the control agency for flood, storm, tsunami, earthquake and landslide throughout Victoria, and provide the largest Road Crash Rescue network in Australia, with specialist teams in 103 of our 150 units across the state.
We also provide support for other incident response activities, including:
Road, air, industrial and rail (RAIR) – vehicle extrication.

Fire support.

Search and rescue including alpine rescue – missing or injured persons, and vertical and high angle rescue (specific locations only).

Structure – industrial incidents and Urban Search and Rescue, building damage or collapse.

Land – missing persons, evidence search, crime scene protection, lighting (crime scene, vehicle accident area), lighting points during traffic management.

Lakes/rivers/caves – missing persons, evidence search, marine rescue.

Swift water rescue (land based).

Marine/offshore rescue (VICSES Inverloch Unit only).
We operate under the Victoria State Emergency Act (2005) and the coordinating agency for emergency management, Emergency Management Victoria (EMV). As a Statutory Authority, VICSES is governed by a Board, which is accountable to the Minister for Police and Emergency Services.
VICSES is an emergency services agency and may undertake emergency temporary repairs to your property and crown land if required. For minor leaks, superficial damage, removal of debris and cutting down of trees that are still standing, please contact a professional tradesperson.
Other ways we support the community
VICSES is a significant contributor and leader in emergency management. We strive to develop and lead best practice by focusing on further developing our core business activities and strengthening our relationships and partnerships in developing a resilient Victorian community that knows what to do before, during, and after an emergency.
We support our communities to better understand the 'who, what, when and how' for emergency events by:
Building competency in knowing what to do in the future – Believe they know how to do it.

Increasing individual capacity and capability to respond – Believe they can do it.

Increasing awareness of the community's role and the role of VICSES and others – Believe everyone has a role to play.

Realising the positive outcomes and relevance of preparing for future emergencies – Believe it will make a difference.
VICSES also provides significant contributions and expertise to national and state governing bodies, including but not limited to committee membership and specialist advice to the Australasian Fire and Emergency Service Authorities Council (AFAC), Emergency Management Victoria (EMV) and the Victorian Road Safety Network.