Each SES unit in Victoria will receive new computers thanks to the 2014-15 VESEP grants.
Minister for Police and Emergency Service and Bushfire Response Kim Wells alongside Victoria State Emergency Service (SES) CEO Stephen Griffin and Member for Carrum Donna Bauer have announced that every SES unit in Victoria will receive a new computer as part of the 2014-15 Volunteer Emergency Services Equipment Program (VESEP) grants.
"We are providing our volunteers with extra resources and the latest equipment which will increase their capacity to respond to emergencies and ensure the safety of our volunteers," said Mr Wells.
"SES volunteers at more than 150 units across the state will benefit from having the latest computers to help them carry out their vital work."
In addition, 36 units will receive funds to purchase vehicles, equipment and upgrade facilities. SES units were beneficiaries along with other volunteer organisations such as CFA, Life Saving Victoria and St John Ambulance.
Stephen Griffin said that the grants were a key avenue for SES units to purchase new vehicles or buildings, make enhancements to existing buildings and purchase specialist equipment to help them serve their local communities.
"VESEP is another example of the support available to the emergency services in Victoria and it is greatly appreciated."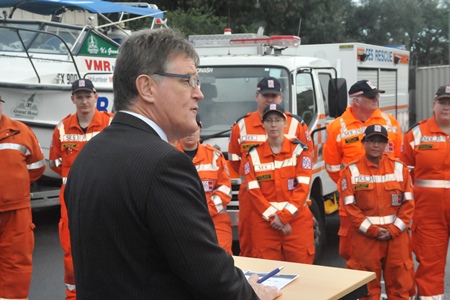 SES CEO Stephen Griffin addressing SES volunteers.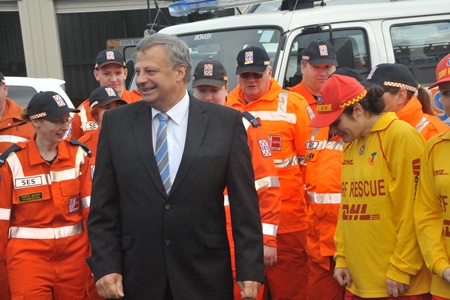 Minister for Police and Emergency Services and Bushfire Response Kim Wells with SES and Life Saving Victoria volunteers.