MEDIA RELEASE: NSW SES volunteers to assist Victorian crews with storm response
NSW State Emergency Service (NSW SES) is sending 46 of its members to Victoria today (Monday 1 November) to assist with the response to the severe storm that impacted state on Thursday night and Friday morning.
The crews comprising 42 volunteers across two strike teams as well as four support staff and liaison officers will work from Tuesday (2nd) to Thursday (4th) before heading home to NSW on Friday.
VICSES volunteers have been working diligently since Thursday evening responding to 7,700 emergency calls for help and clearing 7,365 of those in conjunction with partner agencies and other services.
As at midday on Monday, 335 emergency calls for assistance still remained active. Many of those remaining are on the Mornington Peninsula which saw the brunt of this storm event and include large and complex roof incidents that require several hours work and multiple personnel with specialist skills to assist.
Calls for emergency assistance from the storm continue to come into the SES on 132-500 as people return home to discover damage or as their power services are restored.
Some of the busiest VICSES volunteer units have been Frankston (704 calls for help), Sorrento (463) and Narre Warren (404).
Each NSW SES strike team (2) will consist of five teams of four plus a strike team leader and support officer for each strike team, comprising volunteers with skills and qualifications in height safety, chainsaw use and general storm and flood response.
Melbourne will see sunny weather on Monday and Tuesday ahead of rain developing on Wednesday and the chance of isolated thunderstorms and elevated winds returning.
NSW residents who are fully vaccinated are free to enter Victoria without the need for quarantine.
VICSES and other Victorian agencies were able to support NSW with personnel during their significant floods in March 2021.
As at 1030hrs on Monday, there are just over 20,000 households and businesses remain without electricity, including just under 1,000 who are power dependent. Power to more than 500,000 customers have been restored since Friday morning.
NSW SES Commissioner Carlene York said she was only too happy to help VIC SES in its hour of need.
"We are always happy to support our neighbours across the border, just as they have been willing to help us," Commissioner York said.
"We have more than forty members that specialise in responding to storm damage and they will be able to support the members of VICSES help their communities," she said.
Quotes attributable to Victorian Emergency Management Commissioner, Andrew Crisp:
"Another incredible effort from VICSES volunteers, all our emergency services and local government who continue to support communities impacted by Thursday's storm."
"Thank you to NSW SES for stepping up and providing additional support to the Victoria SES and to our communities."
Quotes attributable to VICSES Chief Officer Operations, Tim Wiebusch:
"It's been an incredible response to a significant storm and such a large number of calls for help.
I'm really proud of the work our VICSES volunteers have done and continue to do to assist so many people with great support from our partner agencies.
To have some additional capacity from NSWSES to complement our crews will be really valuable with potential further inclement weather on the way from Wednesday".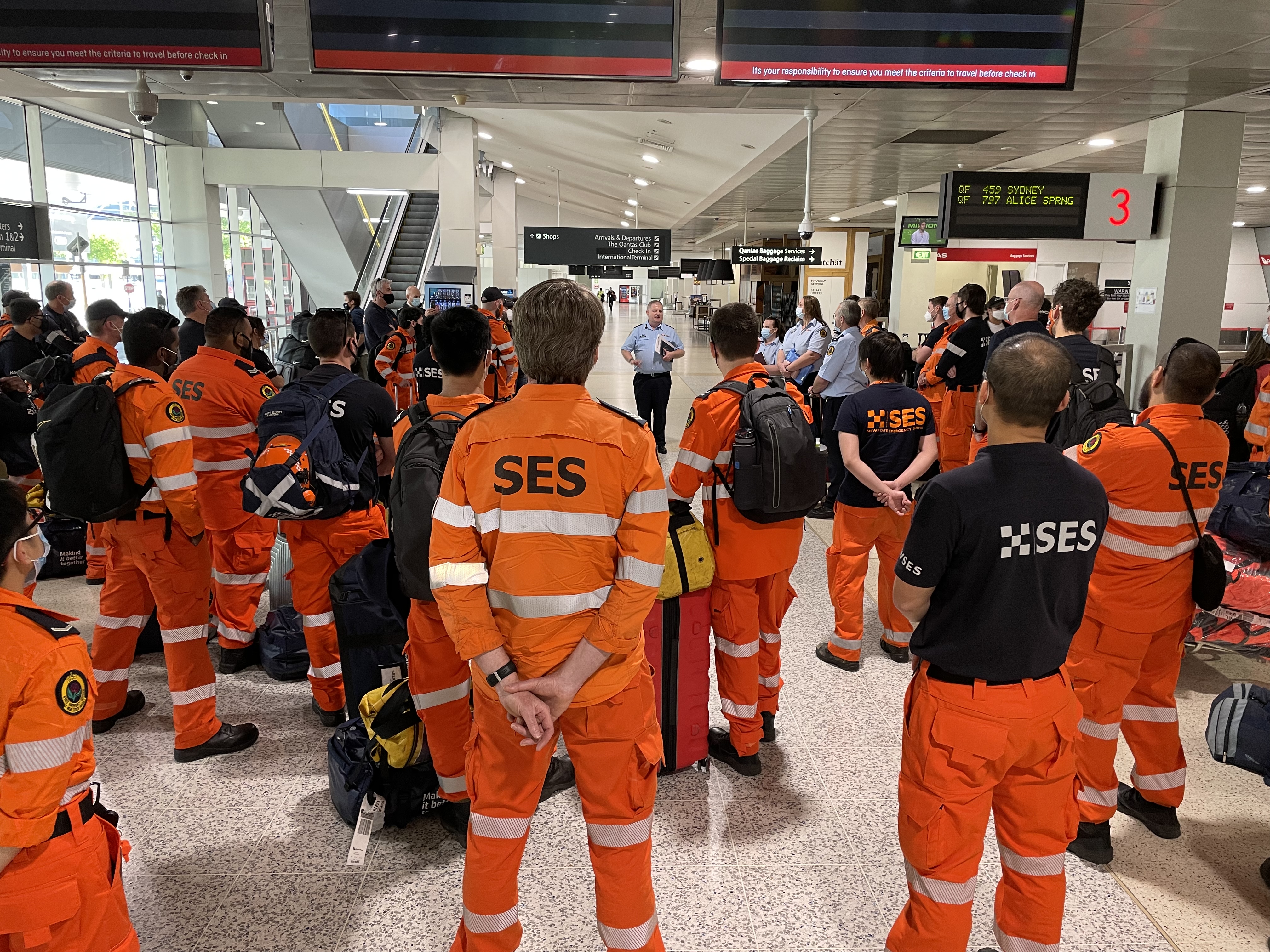 NSWSES volunteers welcomed by VICSES COO Tim Wiebusch at Melbourne Airport