Two outstanding Victoria State Emergency Service (SES) volunteers have been awarded with Emergency Service Medals (ESM) in this year's Queen's Birthday Honours.
Des O'Meara (Yarrawonga SES) and Michael Vanderzalm (Rosedale and Morwell SES) are among 11 Australians and the only two Victorians to receive the award in yesterday honours announcement.
The ESM was introduced in 1999 to recognise distinguished service relating to emergency management, training or education within Australia's emergency services.
Des was awarded the medal for exceptional leadership acting as Unit Controller for Yarrawonga SES from 1993 to early 2014. After working tirelessly through the 2012 floods in north eastern Victoria, the 2013 tornado and ongoing road rescues, Des has decided to pass the Unit Controller baton on whilst still remaining an active member of the Yarrawonga Unit.
Michael is widely accepted as an expert in all aspects of road crash rescue representing SES at the Australian Road Rescue Organisation. Michael has also racked up 24 years of volunteer service at SES providing exceptional leadership and dedication as Unit Controller for Morwell SES and also, briefly, Unit Controller at Rosedale SES.
It's fair to say, neither of these recipients are in it for the awards and the glory, however there is no doubt in anyone's mind that they are highly deserving of this honour.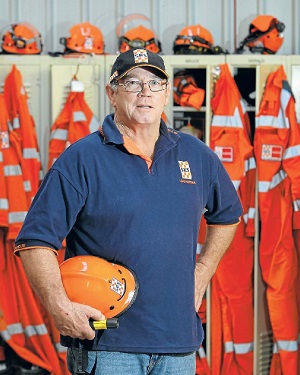 Left: Des O'Meara (Photo Credit: Boarder Mail, Albury Wadonga and Matthew Smithwick) Right: Michael Vanderzalm (Photo Credit: Latrobe Valley Express and Laura Ferguson)