Last month, Victoria State Emergency Service (VICSES) volunteers and staff joined the emergency services contingent at the 2021 Midsumma Pride March. The annual march processed down Fitzroy Street in St Kilda to Catani Gardens.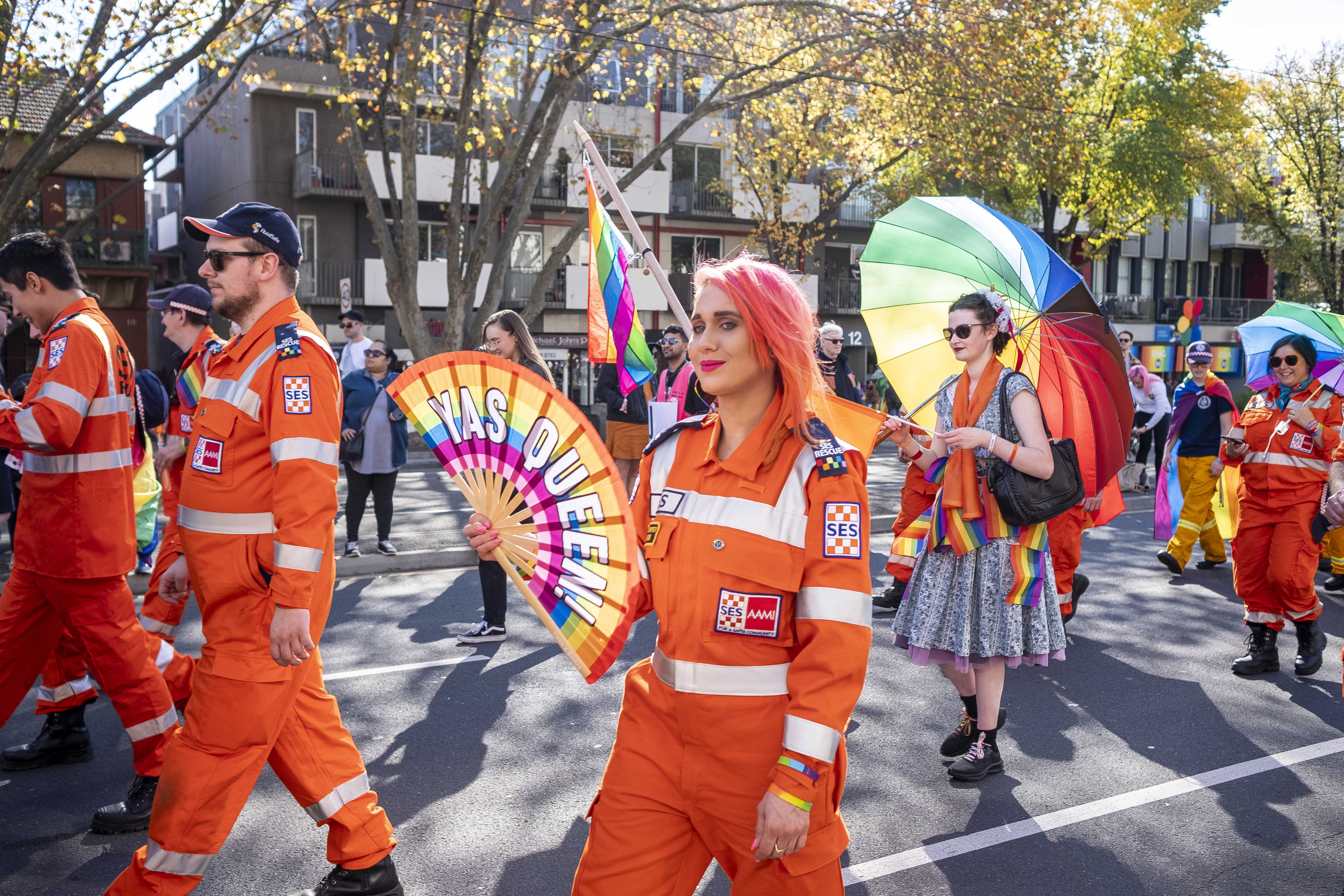 The usual 45,000 spectators were not permitted to line the parade route, but local venues lining the parade route bulged with brunch-time patrons who had booked in advance; many sported rainbow-themed tops, wigs and other knick-knacks.
Others attended registered viewing parties, or followed the coverage through a YouTube live stream where organisers also showed exclusive video footage of the first-ever Pride March in Victoria, in 1996.
The march, divided into waves, saw our orange-volunteers walk alongside our officers in blue, the Country Fire Authority (CFA), Ambulance Victoria and Emergency Management Victoria (EMV).
"I was the only person from my unit going so when I got down I looked for all the folk in orange," says Sarah Dempsey, who has been volunteering with the agency for a year (pictured).
"Everyone was really welcoming. It was my first time being a part of the march and usually I watch it and see all the services come through. It felt incredible; really, really amazing. I felt really lucky this year because there were a lot of people who had been going for all the years before.
"Because we were limited with Covid, there were only twenty or thirty of us. There were 93 last year so, in the future, when we don't have restrictions it would be nice to see as many people come as possible. If they're allies or whatever they may be, it's a great feeling."
SInce 1988, the Midsumma Festival has been an annual celebration of lesbian, gay, bisexual, transgender, queer and intersex Victorians. Reflecting the diversity of our volunteers, VICSES is a proud, long-time supporter and participant in the Pride March.
The march itself was led by Boon Wurrung Elders and followed by VICSES volunteers as well as 240 other marching groups made up of diverse communities, pride organisations and allies. The march concluded with a Welcome to Country ceremony at Catani Gardens.
The livestream also showcased performances by drag performer Olympia Bukkakis; He's Every Woman stars Justin and Jamie performing ABBAlicious; Georgie Munroe who was performing an original composition and Elvin Lam, performing 'I Am What I Am'.