South Barwon Unit challenges the world best
Six volunteers from the Victoria State Emergency Service (VICSES) South Barwon Unit will be travelling to the United Kingdom to represent Australia in the World Rescue Challenge (WRC) from 9 - 12 October.
The team earned their place on the back of a fabulous result at the Australasian Road Rescue Challenge held in Canberra, last year.
The WRC is the most prestigious international competition for fire and rescue services worldwide. Teams from across the world will compete in various disciplines demonstrating leading advancements in road rescue techniques. Over four days, the Challenge will expose competitors to realistic and challenging scenarios designed around practical training areas in the Fire Service College to enhance the intensity and realism for the teams.
The WRC 2014 will feature two categories; Extrication and Trauma. Racing against the clock and competing against teams from around the world, each team will be assessed on their skills of command, technical ability in the use of a wide range of tools and the medical care they offer to each casualty.
The VICSES South Barwon team have committed to a busy schedule of training and fundraising for this trip in addition to day-to-day operational roles at the unit and full-time employment.
Team Leader Caroline Taylor said "Representing VICSES at this competition has been the culmination of many years of training and hard work by those involved. Without the commitment of each individual we would not have come so far. The team is very excited to learn new skills, meet other rescuers from around the world and take on the world's best extrication teams. We hope that we can bring back new ideas and learnings that can be shared."
The team is comprised of a Team Leader – Caroline Taylor, the Technical Team – Joshua Hutton, Andrew Murton, Tim Hutton and the Medical Team – Jordan Kehoe and Andy Pitchford. In addition to their roles in the extrication team, Jordan and Andy will also be competing in the Trauma Challenge.
Follow the South Barwon Rescue Teams progress on Facebook by visiting: facebook.com/vicses/Vicses-South-West-Rescue-Team
Further details of the World Rescue Challenge can be found at: fireservicecollege.ac.uk/up-coming-events/world-rescue-challenge-2014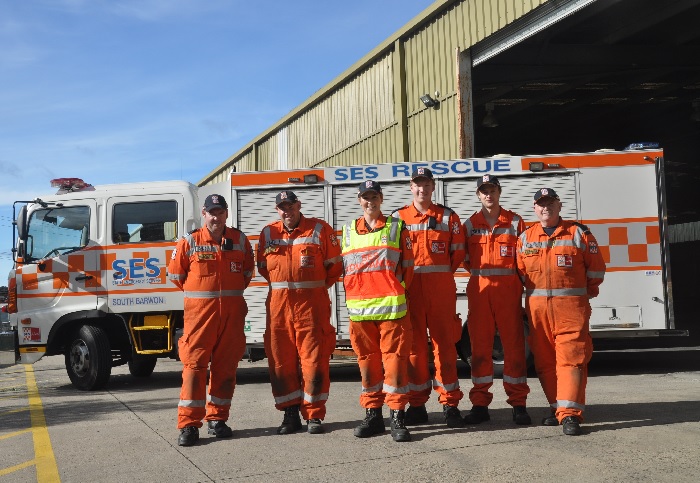 L R - Andrew Murton, Josh Hutton, Caroline Taylor, Tim Hutton, Jordan Kehoe, Andy Pitchford