Crash site collapse prompts multi-unit effort in Melbourne's west
In the early hours of Sunday morning, a car collided with a fire hydrant, before colliding with a supporting wall of a building off Pascoe Vale Road, resulting in its structural collapse, necessitating the dispatch of two Victoria State Emergency Service (VICSES) Units.
Volunteers from VICSES Essendon Unit and VICSES Broadmeadows Unit, worked closely with Fire Rescue Victoria (FRV) to make the scene safe, including the stabilisation of the building, using timber planks screwed into acrow props to support the roof.
With ten volunteers from two units attending in three general rescue trucks and one support vehicle, the huge multi-agency effort also involved Ambulance Victoria, Victoria Police, FRV, VicRoads, Moonee Valley City Council, Jemena Electricity and City West Water.
Thankfully no one required extrication when VICSES volunteers arrived on the scene. However, the damaged fire hydrant limited access to the building with the fountain of water shooting into the air and in contact with power lines, requiring isolation of the site.
Once FRV set up a perimeter, VICSES volunteers checked on neighbouring properties to ensure there was no flooding as a result of the damaged fire hydrant.
With the building already partially collapsed, VICSES crews worked on clearing debris to make the site safe, before assisting FRV in stabilising the building and assisting police to keep the general public away from the scene along Pascoe Vale Road.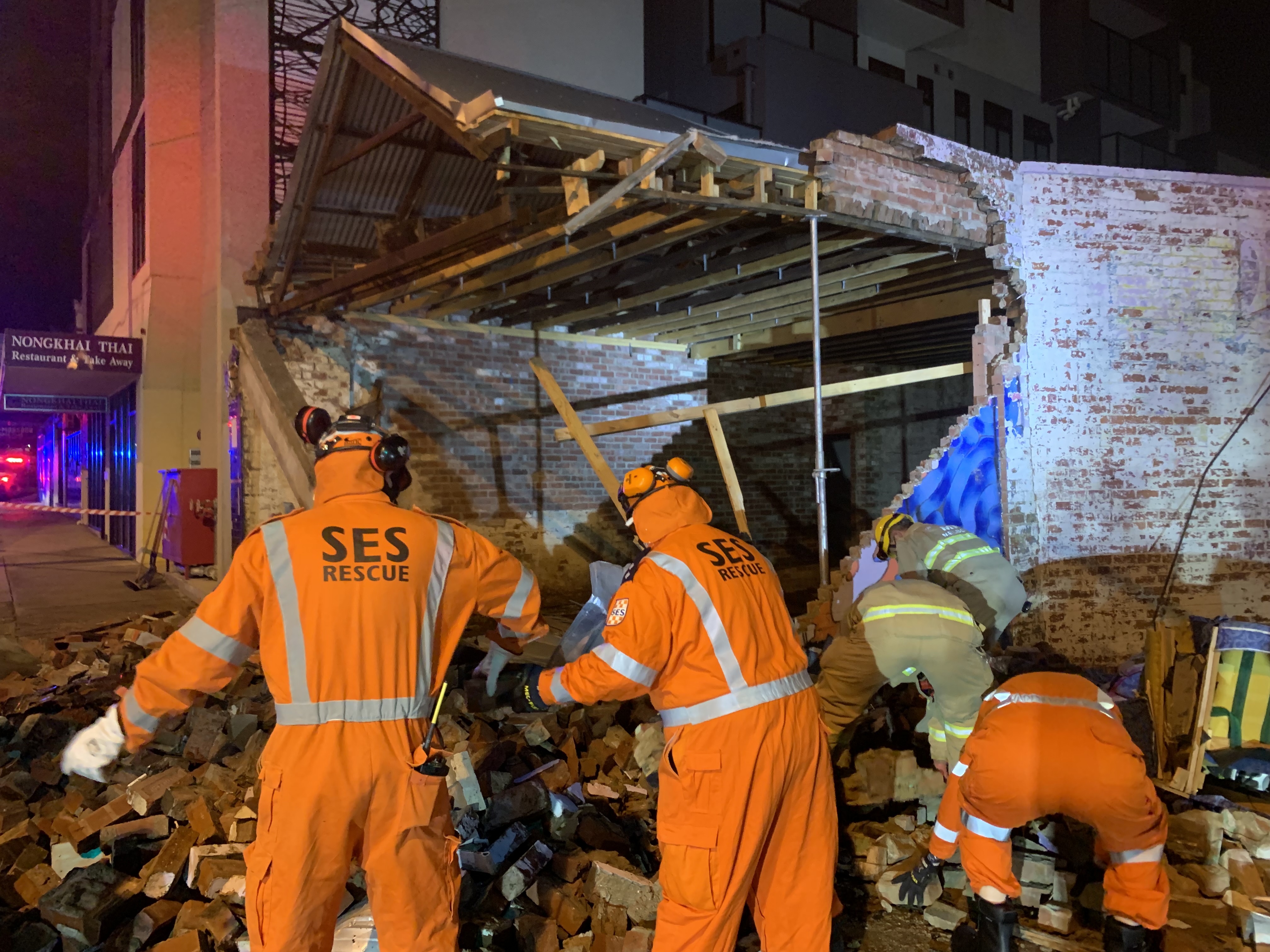 VICSES volunteers at the site of the collapsed building in the early hours of Sunday morning
Quote attributable to VICSES Essendon Deputy Controller Essendon Unit Kevin Carlisle-Stapleton:
"We often work with VICSES Broadmeadows Unit, have a good relationship with them and it was great they were able to assist us in the early hours of yesterday morning."
"The scale and complexity of the job required enhanced VICSES human and technical resources and thankfully we could call on our neighbouring unit to provide these."
"It was an incredible effort by all the agencies involved and represents a great example how well we work, when we work as one."