Flood information for the Greater Dandenong City Council, encompassing local flood guides and a Municipal Flood Emergency Plan.
Greater Dandenong City Flood History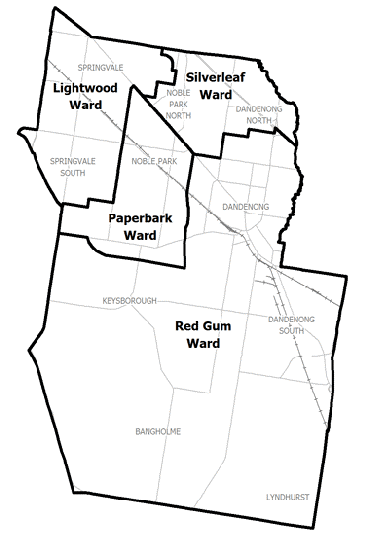 The municipality is located predominantly in the Dandenong catchment, in which DandenongCreek is the major creek and tributaries include Bungalook Creek, Blind Creek, Eumemmerring Creek, Corhanwarrabul Creek and Mile Creek.
Significant major flooding occurred on the Dandenong Creek in 1984 and 2005 with many minor flood events occurring.
Dandenong Creek is the largest waterway and the main floodway through the City of Greater Dandenong region. It traverses approximately north-east to south-west from the Dandenong Ranges National Park and discharges into Mordialloc Creek and the manmade section of the Patterson River.
The urban characteristic of the area also means that rain water is not easily absorbed and tends to run off towards lower lying areas. During high intensity rainfall the amount of run off can lead to stormwater drains overflowing, causing flash flooding. Flash flooding occurs with little warning, only lasts a short time and can cause severe localised damage.
Noble Park Local Flood Guide
Are you at risk of flood?

High Intensity, short duration rainfall events are the primary concern for the area of Greater Dandenong.
Heavy rainfall run-off can cause creek levels to rise, causing the creek to overflow. These types of events can lead to flooding in low lying areas. Flooding from storm events can be difficult to predict as floodwater can rise and fall with little warning and damage can be severe.
About Flood Guides
Communities can use local flood guides to identify and better understand their local flood risk. They include information about: flood history, how to prepare & respond to floods and who to contact.
Contact Information
Local VICSES Unit
Greater Dandenong VICSES Unit:
42 Mills Road,
Dandenong, Victoria, 3175
Municipal Flood Emergency Plan (MFEP)