Flood information for the Latrobe City Council, encompassing local flood guides and a Municipal Flood Emergency Plan.
Latrobe Flood History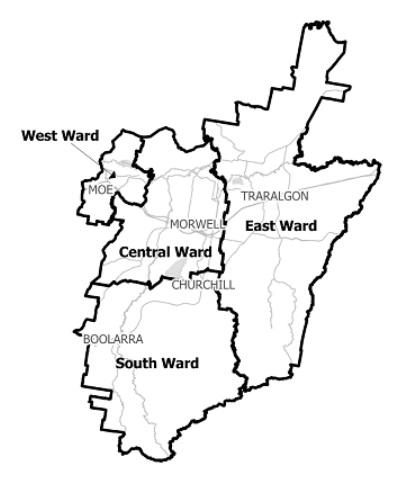 Latrobe City Council has a history of flooding including significant flood events in June 2012,
November 1995, September 1993, June 1978, June 1952, February and August 1951 and December 1934. The flood event of September 1993 resulted in flooding above floor to 24 residential and three commercial properties and caused extensive damage to vast extents of rural areas.
The Traralgon Creek Catchment upstream of Traralgon is characterised by steep, heavily forested valleys which can result in a rapid rises and high rates of runoff in the catchment.
One of the predominant riverine flooding risks in Latrobe Shire is the township of Traralgon.
Short duration, high intensity rainfall (usually associated with thunderstorms) can also cause flash flooding throughout Latrobe Shire including in Traralgon.
The Bureau of Meteorology provides flood warning services for river systems within Latrobe Shire including for the Traralgon Creek at the Traralgon gauge.
Due to the highly variable nature of flooding within Traralgon Creek, the lead time to respond to a flood event may be limited. All households and businesses at risk of flooding should develop an emergency plan and beware of their flood risk.
Traralgon Local Flood Guide
Are you at risk of flood?
Traralgon Creek is the main waterway through the township where floodwaters enter from the south. There are also a number of other smaller streams which can contribute to the movement of water flows around the town.
When Traralgon Creek floods, it follows a fairly defined path. Flooding in Traralgon and its rural surrounds can occur quickly at any time of the year as a result of prolonged heavy rainfall in the upstream catchment around Mount Tassie.
Traralgon Creek can flood within approximately six to eight hours of the start of heavy rain. Localised rainfall throughout Traralgon is likely to cause flash flooding but will generally cause only a minor rise in Traralgon Creek levels.
Throughout the Traralgon Creek catchment, there are number of areas that have significant rural flood risk. Though these areas are not highly populated, rural properties are susceptible to isolation or inundation.
Roads inundated during floods include the Princes Highway through eastern Morwell and Traralgon and a large number of rural roads such as the Hyland Highway south of Traralgon, Glengarry West Road, Tyers Road, Traralgon-Maffra Road and Traralgon Creek Road, that are near and/or cross waterways. Areas on the eastern side of the town near the Princes Highway and Liddiard Road are particularly prone to flash flooding.
The map to the right shows the expected flooding extent in Traralgon during a 1% flood, measuring 5.99 metres on the Traralgon flood gauge.
About Flood Guides
Communities can use local flood guides to identify and better understand their local flood risk. They include information about: flood history, how to prepare & respond to floods and who to contact.
Contact Information
Local VICSES Units
Moe VICSES Unit:
265 Monash Road,
Newborough, Victoria 3825

Morwell VICSES Unit:
75 Airfield Rd,
Morwell, Victoria 3840
Municipal Flood Emergency Plan (MFEP)
Municipalities can use Municipal Flood Emergency Plans to prepare, respond and recover from flood and storm events.
Latrobe City Flood Emergency Plan
- Updated Sep, 2013.