Flood information for the Maroondah City Council, encompassing local flood guides and Council Municipal Flood Emergency Plan.
Maroondah flood history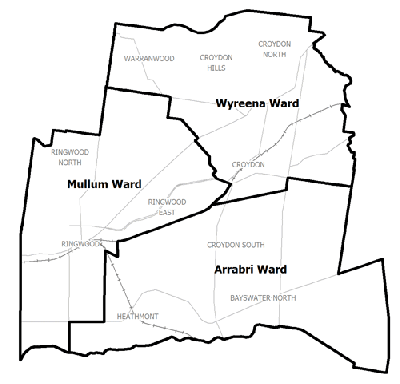 Maroondah City Council has a history of flooding (riverine and flash flooding) including a significant flood event in February 2011.
Locations at risk of flooding include:
Bayswater North
Croydon
Kilsyth South
Ringwood
Ringwood East
Heathmont
The lead time to respond to a flood event may be limited. All households and businesses at risk of flooding should develop an emergency plan and beware of their flood risk.
Households and business should refer to their Local Flood Guide or Maroondah City Council Flood Emergency Plan for more information.
Maroondah Local Flood Guide
Are you at risk of flood?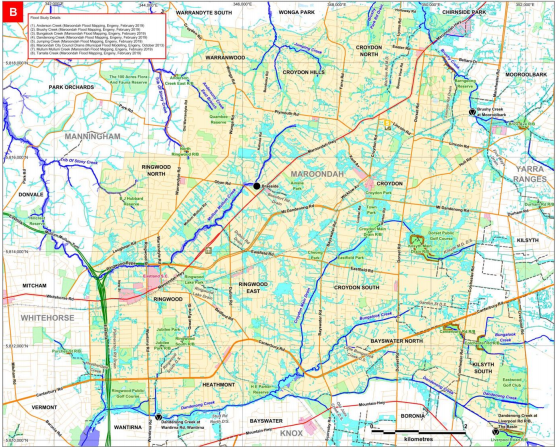 Brushy Creek forms part of the north eastern boundary of Maroondah, with flows from the Creekand its associated drains passing through Croydon and Croydon North, entering the Yarra River in the City of Manningham.

Flows along the Yarra can have a great impact on the ability of waters form Brushy Creek to enter the Yarra.

High intensity, short duration rainfall events can cause local flash flooding in Croydon and Croydon North, particularly around Lincoln Road Drain and Warrien Road Main Drain affecting residences and public land.
About Flood Guides
Communities can use local flood guides to identify and better understand their local flood risk. They include information about: flood history, how to prepare & respond to floods and who to contact.
Contact Information
Local VICSES Unit
Maroondah VICSES Unit:
26 Lincoln Road,
Croydon.
Municipal Flood Emergency Plan (MFEP)