Flood information for the Warrnambool City Council, encompassing local flood guides and a Municipal Flood Emergency Plan.
Warrnambool City Council Flood History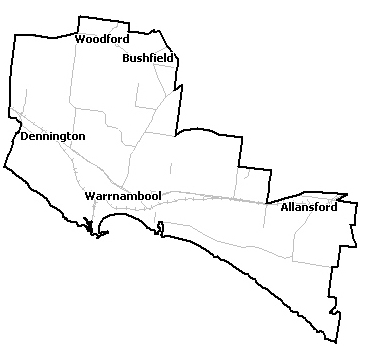 The Warrnambool area is at risk of flooding as a result of its location between the Merri and Hopkins River catchments coupled with estuary and tidal impacts.
The largest flood on record is the 1946 flood; which peaked at 8.55m against the local gauge height. The most recent floods in 2001 saw flood waters surge to 7.75m against the local gauge height.
Flooding in the Warrnambool area is heavily impacted by storm surges. For example the 1946 floods saw a 1 metre storm surge adding to the riverine flooding.
Warrnambool Local Flood Guide
Are you at risk of flood?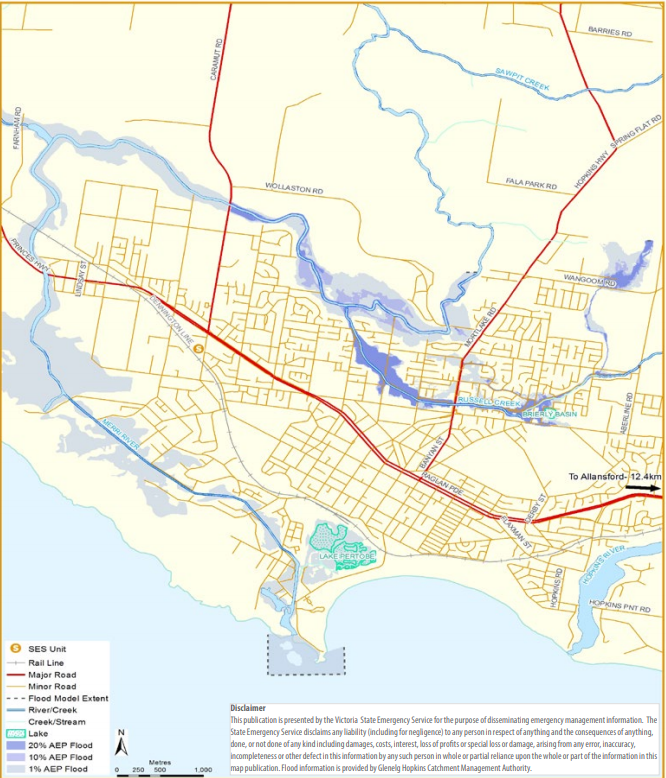 Many homes, businesses and farmland in and around Warrnambool are at risk from flooding
from:
Heavy rainfall causing river and or flash flooding in the surrounding catchments including the Mount Emu, Yangery and Russell's Creeks, Kelly's Swamp, and the Koroit, Macarthur, Woolsthorpe, Hawkesdale, Penshurst, Ellerslie, Warrnambool and Allansford areas.

Sea level rise or king tides affecting the Merri River.

Storm surge where sea water is pushed toward the shore by the force of the wind.

Occasionally, the reasons for flooding listed above may combine to increase the effects of flooding. For example, in 1995, high sea levels caused more flooding in areas of South Warrnambool.

Past floods in the Warrnambool area have:
Affected low-lying parks, the Rail Trail and properties.

Closed the Princes Highway at Panmure and Allansford, Hopkins Highway, Mortlake Road and streets including: Bromfield, Queen, Landman and Japan Streets.

Caused flooding of Queen Street, Whites Road, the northside of Wollaston Road and the former BMX Track as well as other areas such as in 2009.
Warrnambool has experienced flooding in: 1946, 1960, 1978, 1984, 1995, 2001, 2009, 2010 and most recently in 2011.

The map to the right shows the extent of flooding in a 1% flood, a 10% flood and a 20% flood.
About Flood Guides
Communities can use local flood guides to identify and better understand their local flood risk. They include information about: flood history, how to prepare & respond to floods and who to contact.
Contact Information
Local VICSES Unit
Warrnambool VICSES Unit:
40 Walsh Road,
Warrnambool.
Municipal Flood Emergency Plan (MFEP)