How to triple your volunteer workforce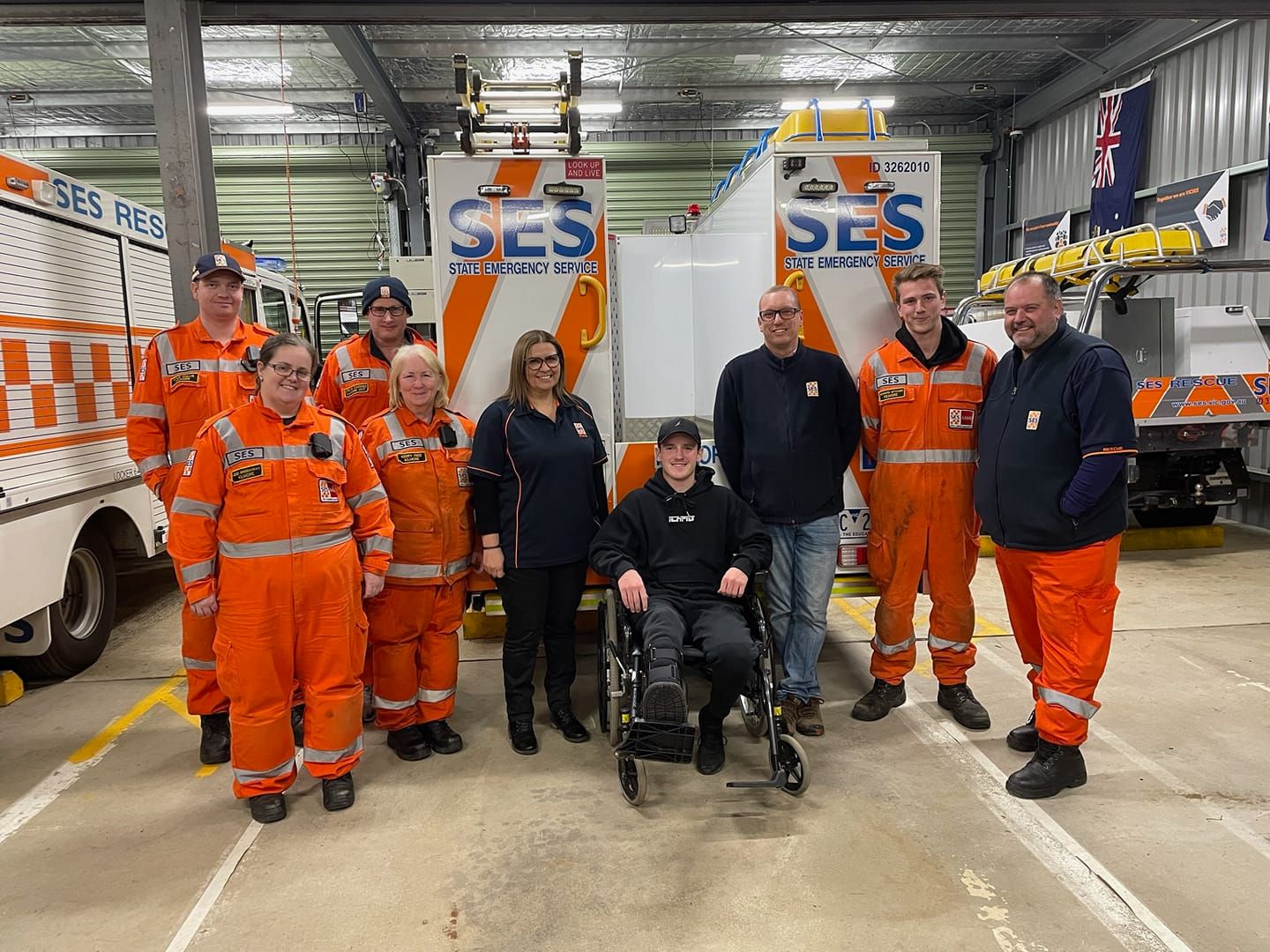 (R-L) John Koutras, Brandon Sipthorp, Simon Halman, Brody Thrum, Cheryl Abela, Kerry Free, Steve Caddies, Jessica Greenaway, and Kyle Cullis
John Koutras took over VICSES Kilmore Unit as Unit Controller in the middle of the pandemic, expanding his workforce from around a dozen volunteers to more than forty in just two years.
John shared his remarkable story recently at a unit controllers' seminar during a session about leading with inclusion and the unconscious biases, and privilege. This can cause leaders to miss the chance to create an inviting and safe environment, and to draw from wider range of people in the community.
By instituting a program of structural and cultural change, reimagining the management structure, promoting gender equality, and greater inclusion in the leadership, John was able to transform the unit.
When he moved to Kilmore three years ago John wanted to get involved in his local community, so he joined VICSES. Having completed crew training and the four-wheel drive upgrade program, he worked as a driver on the unit's light rescue vehicle. This gave him the opportunity to visit other units at Craigieburn, Sunbury, and Gisborne where he learned about the expectations of their communities, and the kind of work they were doing.
Inspired by these examples, John realised that some elements of the culture of his unit went back to the Civil Defence-era, in which VICSES has its roots. During that time, the focus was on response and competence with tools and the membership was predominantly male, with an explicitly hierarchical structure.
With the VICSES taskload and mission having expanded, to include community resilience and preparedness, John knew that the unit needed to better reflect changes in society and attitudes, and get the right people, to fulfil this expanded mission.
When John applied to be the volunteer Unit Controller, with these ideas in mind, he didn't have any experience of the command-and-control structure of VICSES beyond his 18 months as a volunteer member.
Notwithstanding this, John had worked as a board member at community volunteering organisations, in finance management, as a local government councillor, and as a two-term mayor with the City of Whitehorse. Having studied management and organisational theory, he was able call on this education and experience at interview.
Once appointed, John set about expanding the size of the management team, working with Region Management and staff to establish a structure that set new cultural standards and expectations. This has helped to reduce delays in processing new membership applications, and issues with obtaining equipment and uniforms.
Having created a deputy controller for new members and another for buildings and facilities, he also created a deputy controller for administration. A fresh approach to administration included designing new systems, so tasks could be easily meted out, based on transparent processes which could easily be understood by the volunteers. This meant that incident management reports, that had previously been processed by Volunteer Support Officers, could now be completed at the unit.
Though he inherited a unit that was on dual-response, meaning it was reliant on assistance from neighbouring units, John's new approach to recruitment meant that - within months - VICSES Kilmore Unit had the capacity to offer assistance itself to nearby units. Moreover, their callout time within their own response area has improved and, with a larger workforce, they have attended a record 513 requests for assistance in the last year, including 27 critical road crash rescue incidents.
The unit now has the capacity to run outreach programs, prepare the community for adverse weather events, and dispatch its members to the wider region when required.
Of the more than forty members now volunteering at VICSES Kilmore Unit, sixteen are female, and eight are juniors. Leadership of the juniors program is rotated within the management team, with five of the adult members leading the juniors. Juniors are supervised, but go through the full adult training program.
Having volunteered for a deployment to New South Wales (NSW) to support the flood response earlier in the year, John saw how crucial it was that the community was well prepared for flood, storms and other emergencies. Preparedness lessens the consequences of an emergency, saving lives and property.
The State Emergency Service is known for responding to emergencies, but its preparedness determines how far a unit can spread its resources, during a large-scale operational event.
On his return from NSW, John and four other others from the unit signed up to become Community Engagement Facilitators (CEF). Once trained, the CEF crew were the first to be invited to the new supermarket at Kilmore where they ran a stall, providing preparedness advice and sample emergency kits to the local community.
John and the CEF team went on to give presentations at the local high school about road safety, providing a program of activities so the students could be better prepared for emergencies. John and his team went on to visit scouts, kindergartens, and primary schools with similar presentations.
Since John began innovating at the unit as controller, two years ago, donations have increased to a record level. A member from the local RSL has given a donation of $5,000 for the unit, and plans to do this on an annual basis. Bendigo Bank has given VICSES Kilmore Unit $50,000 over the last two years. The unit is using the money to accommodate the larger volunteer workforce, by expanding the training area. This will involve realigning the roof, insulating it, and waterproofing it for extra comfort and space.
Looking ahead to the future, John wants volunteers at the unit to specialise by leveraging the experience they bring to the role. Several new volunteers at VICSES Kilmore Unit have a medical background, with others - like John - bringing experience of management, and of finance.
John and his colleagues at the unit are collaborating with the community and sharing their knowledge, and living the VICSES values. With his diverse volunteer workforce, he empowers people to work within their capability while being adaptable. As the values say, "all our people contribute to, and enhance our ability to prepare for, respond to and recover from emergencies".
It is when we live these values that VICSES is well placed to build a truly diverse and inclusive volunteer workforce, that is reflective of our changing society.
If you would like to know more about joining VICSES, click here.
To read more stories about the culture at VICSES, click here.