66 VICSES units deploy as storm sweeps state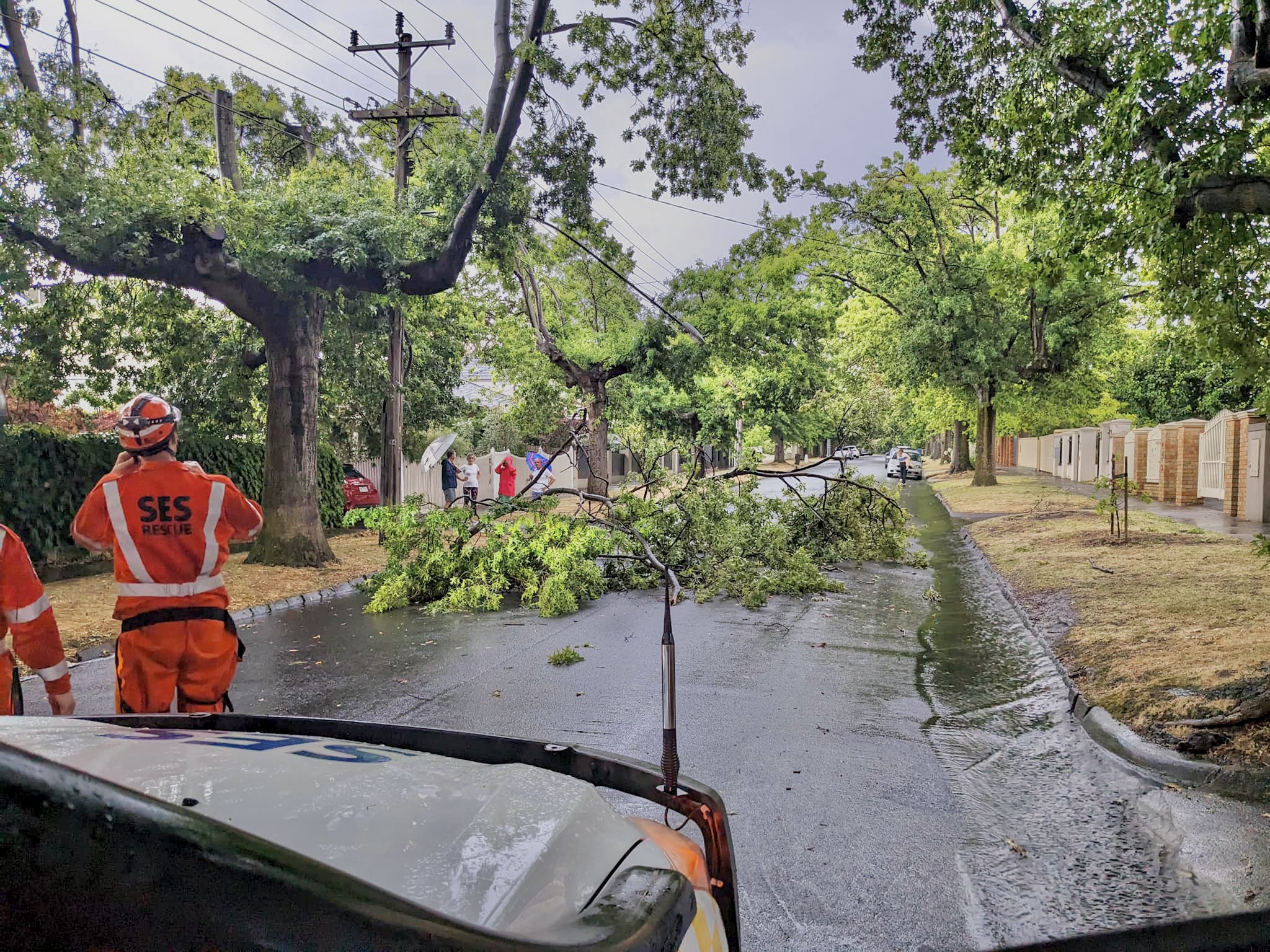 VICSES Malvern Unit volunteers attending a request for assistance, Wednesday, 18 January
Victoria State Emergency Service (VICSES) volunteers received 233 Requests for Assistance (RFAs) in the 24 hours to 10:00am on Wednesday.
The widespread nature of the weather event saw volunteers activated from every region of the state, totalling 66 units, in response to the severe weather.
Across regional Victoria we saw 99 RFAs received by our volunteers, with 38 units activated (excluding metro Melbourne). Echuca (10), Marong (10), and Rochester (7) were the busiest units. Bridgewater on Loddon was the most affected suburb statewide (including metro Melbourne), with 8 RFAs received.
Most calls in regional Victoria were for downed trees (72) and building damage (16).
Our busiest volunteer units included VICSES Maroondah (12 RFAs) and Malvern Units (12) in metro Melbourne, as well as the VICSES Echuca Unit (10), along the Murray.
Most RFAs across the state were for trees down (173) over roads, where they pose a significant hazard to commuters, including debris across the road and impacting powerlines.
We ask that people always treat fallen powerlines as live even when they are broken. Stay clear of anything they are in contact with, including tree limbs or pools of water.
With the majority of calls in the last 24 hours being for downed trees, and gusty conditions set to continue over saturated ground, further tree falls are possible in coming days , with those trees already compromised during recent storms being more likely to fall.
Accordingly, we ask that you don't camp or park under trees in periods of high winds or during storms.
This latest summer storm is a reminder to communities that early preparation is the best defence against storm damage.
Tie down loose outdoor items which can become projectiles in strong winds, like trampolines and furniture.
If you live in a flood-prone area and you know that you need to prepare your home, check out your local flood guide to ensure you understand your flood risk.
Given the likelihood of continued summer storms, our volunteers are asking Victorians to drive to conditions, to plan ahead, to download the VicEmergency app, and to set up a watch zone for their destination.