Busiest year on record, Kimba Wall launches WOW Day campaign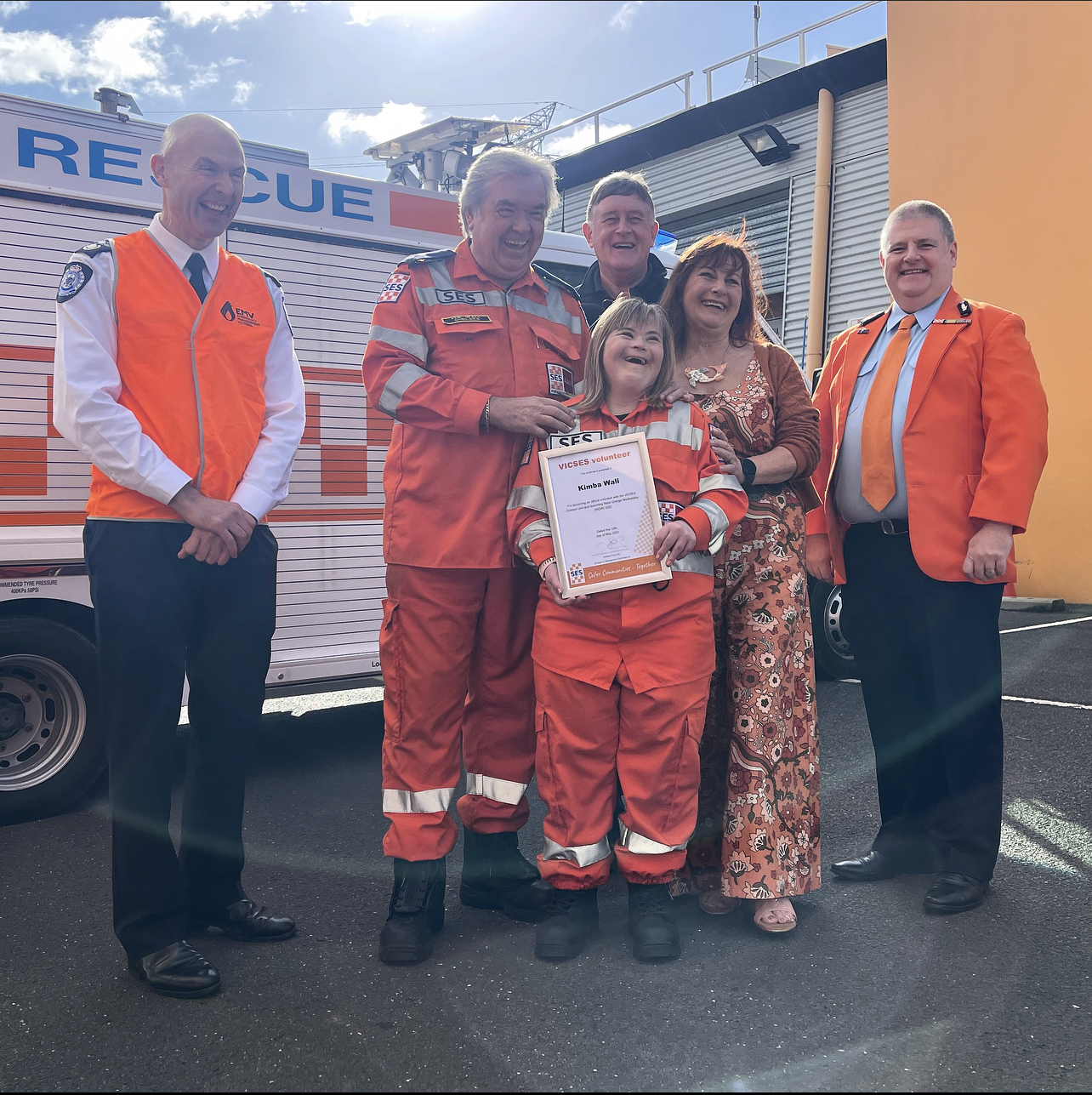 Kimba at VICSES Malvern Unit today with (L-R rear) Andrew Crisp, Phill Wall, Stephen Griffin, Mary Ann Wall, and Tim Wiebusch.
Wednesday 18 May is Wear Orange Wednesday (WOW) Day, a national day of thanks dedicated to the SES volunteers across the country.
Held annually during National Volunteer Week (16-22 May), WOW Day encourages the public to dress in orange as a show of thanks for the invaluable contribution and commitment SES volunteers make to local communities.
During the busiest year in VICSES history, our volunteers supported local communities throughout the State, during flood, storm, landslide, road rescue, searches, and rescue events. In the last year, VICSES volunteers responded to over 46,000 requests for assistance, including:
Storm assistance (35,636)
Flood response (3,657)
Road Rescue (1,156)
Assisting partner emergency service agencies (2,998)
The busiest volunteer units were Frankston (2,343) Lilydale (1,998); and Emerald (1,971).
Among our heroic volunteers to thank this WOW Day, is VICSES Chelsea Unit's newest recruit, and one of our agency's first official volunteers to be recruited with Down's Syndrome, Kimba Wall.
At 32 years old, Kimba's life has always been filled with music and performing. When Kimba was only 7 years old, she became the first young person in Australia with Down's Syndrome to be used as a model for a national retailer, being Target.
Over the next few years, Kimba continued to break down many stereotypes and prejudices, continuing her career through singing, modelling and acting as part of print and TV advertisements and commercials. Kimba has paved the way, and continues to show the world that a disability will not stop her from doing what she loves most.
Acting as an unofficial mascot for the VICSES Chelsea Unit for over 10 years now, Kimba is now an official volunteer and will be presented with her volunteer certificate, on Sunday 15 May, to help acknowledge her, and the work of our thousands of SES volunteers across the country this WOW Day.
As a VICSES volunteer, Kimba is looking forward to working with the team across an array of tasks, including; community engagement, fundraising, event management support and various other jobs suited to her abilities, just going to show, there is a role for everyone at VICSES. She has recently successfully completed her training and assessment as a supervised Crew Member.
Kimba is so proud to now wear the Orange uniform of the SES, her positive approach to life has always resulted in positive inclusion by those around her, not simply acceptance, and never tokenism, but joy, at the enrichment she brings to the lives of the people she touches.
Kimba and the crew at Chelsea SES are simply a perfect fit, and proof that everyone has something to add to the overall worth of any organisation.
To help celebrate WOW Day, Victorian landmarks will be 'flooded' in orange on Wednesday, including the Melbourne Town Hall; AAMI Park; Bolte Bridge; City Link Sound Tunnel, and the Melbourne Cricket Ground (MCG).

Remember to share a message of thanks to VICSES volunteers this WOW Day by posting on Facebook or Twitter and use the hashtag #ThankyouSES.
If you want to be a part of the action, learn new skills and serve your community, visit www.ses.vic.gov.au/volunteer.
To read more stories about the culture at VICSES, click here.
Quotes attributable VICSES CEO, Stephen Griffin:
"As an agency, VICSES is committed to being an inclusive organisation, full of diversity and differences. It is critical that we reflect the communities we serve, and we continue to work with and improve the skills of all our members."
"It's also vital we continue to encourage Victorians to join us. There is a role for everyone at VICSES, with roles suiting a wide variety of people with different backgrounds and skills."
"Wear Orange Wednesday is an opportunity for the public to say thank you, to all the volunteers who sacrifice their time to help the community rain, hail or shine."
Quotes attributable VICSES Chief Officer, Operations, Tim Wiebusch:
"Our volunteers are the backbone of VICSES. We are so proud of the hard work, commitment and dedication they bring to their role day in and day out."
"I am so proud of Kimba, and all that she stands for in this sector. Her eagerness to serve her community as a volunteer, and her positive outlook in life, truly inspires me. I can't thank Kimba enough for all she does and for what she represents as our first official member with Down's Syndrome".
"This Wear Orange Wednesday, Victorians can collectively thank the thousands of volunteers across the state for all of their tireless work, 24 hours a day, 365 days a year."
Quotes attributable VICSES Chelsea Unit member, Kimba Wall:
"I am so proud to wear this uniform and to be a part of the orange family, and I am so looking forward to this fantastic adventure, WOW!"
Quotes attributable VICSES Chelsea Unit volunteer, Phil Wall (Kimba's dad):
"As a 19-year volunteer with VICSES, I have never been prouder. Kimba has done a great job with her training, and as a parent, it's a great thing that our kids can still surprise us after 32 years."
"Kimba has absolutely earned her place in the SES Chelsea Unit."
View related articles on WOW Day.
To read more stories about the culture at VICSES, click here.