Yesterday, a service was held at the Victoria Police Academy to remember fallen emergency service workers on the thirteenth anniversary of the September 11 terrorist attacks on the United States of America.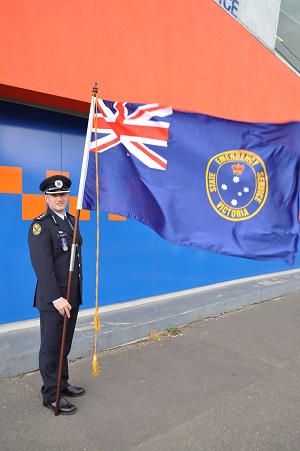 During these attacks more than 90 countries lost citizens which resulted in 2,977 deaths. 411 of these were emergency service personnel including firefighters, police officers and paramedics.
State Operations Officer David Tuček represented the Victoria State Emergency Service as a flag bearer during the service.
"It was an honour to represent VICSES volunteers and staff in observing the sacrifice made by emergency workers during the 9/11 attacks. To recognise the commitment and dedication shown by emergency service workers on a daily basis in Australia and all over the world is a humbling experience. The performance of Amazing Grace by the Sunbury Choral Association and Victoria Police Pipe Band in particular was mournful yet uplifting. "