Animal rescue 'part of the job' for Narre Warren duo
A rash of animal rescue calls over the last month has left volunteers marvelling at the enterprising animals, finding their way into the tightest of spots.
As our furry and feathered fellow Victorians have become trapped, prompting requests for assistance, Victoria State Emergency Service (VICSES) Narre Warren Unit volunteers Bryce Wickham and Amy MacDonald have been there to help.
Earlier this month at a property in Clyde North, owners reported what sounded like a rat inside their wall. On arrival, the crew of two volunteers performed an inspection of roof tiles, vents and damaged pipes as they had been trained to do. Finding no entry points to the newly-built property, the volunteers came up empty but the residents pointed them to the laundry, where they said the sound could still be heard. With the owners and crew, standing whisper-quiet, they could hear the scratching.
With the owners' permission, the volunteers drilled a hole in the cavity, feeding through a borescope inspection camera; donated by a member of the public. Using the scope, they confirmed it was actually a small bird. Having used a plaster saw to make a small incision, the bird moved towards the light and the volunteers, using an old towel, put the bird in a cage and released it outside, where it flew away to the nearby wetlands.
On 11th October, in Narre Warren South, an elderly couple were alarmed to hear screeching and yelling from below decking installed along an exterior wall. Having called the local council, they were advised to ring VICSES. The couple directed the volunteers to the spot from where they thought they could hear a sound. Using a torch and and the trusty inspection camera, Amy and Bryce found five kittens abandoned by their mother. The residents agreed to let the volunteers unscrew the decking to release the kittens before reassembling the decking. The volunteers brought the litter to the local vet to be fostered.
On Tuesday last week, at Cranbourne, a house cat became trapped in a wall cavity between two pillars. The intrepid feline had been crawling through an old air-conditioning vent, becoming stuck when an old cloth dropped over the cavity as the kitty passed through.
This time, the volunteers tried to coach the cat standing up so they could grab it by using toys and a sandbag. Having had little success, the concerned owners agreed to let the volunteers make the cavity a little larger, so they could reach in and pluck the cat from the enlarged cavity.
While VICSES volunteers are highly-trained emergency responders, responsible for flood; storm; earthquake; tsunami; and landslide events in Victoria, as well as providing the largest road crash rescue capability in the state, our community-minded volunteers are always willing to help. Sometimes this involves assisting with animal rescue incidents.
Quote attributable to Bryce Wickham:
"It is enjoyable to help others who are unable to figure out how to help their pets. Animals are like humans; they need a helping hand in life."
"I'm still mystified by the bird in the wall cavity. Who knows how it got in there? It was a new house and everything was fastened tight."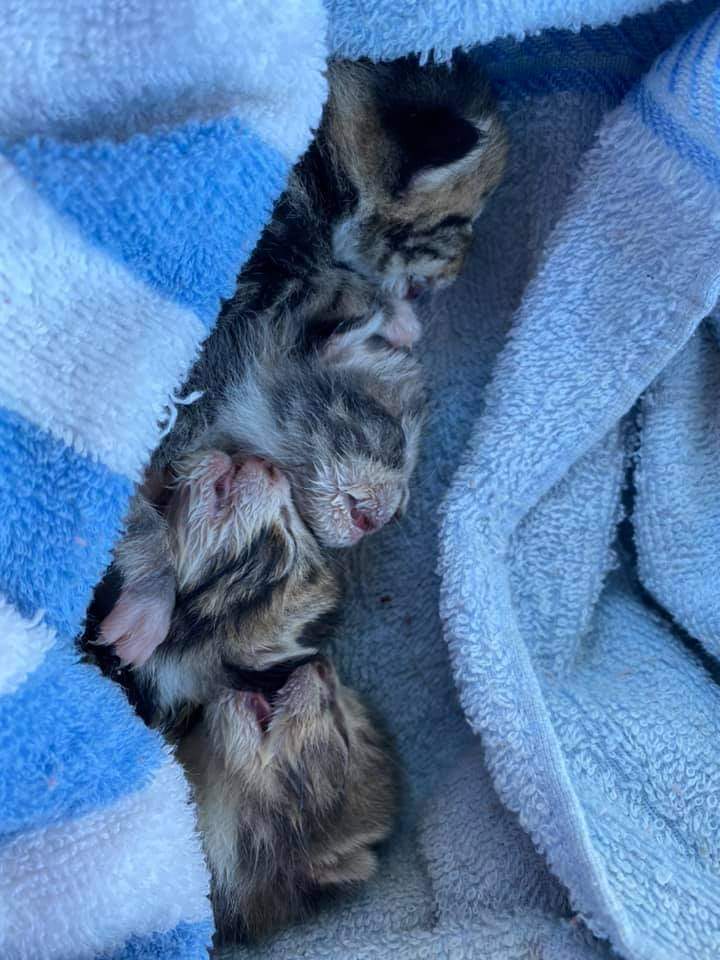 Kittens rescued by VICSES Narre Warren volunteers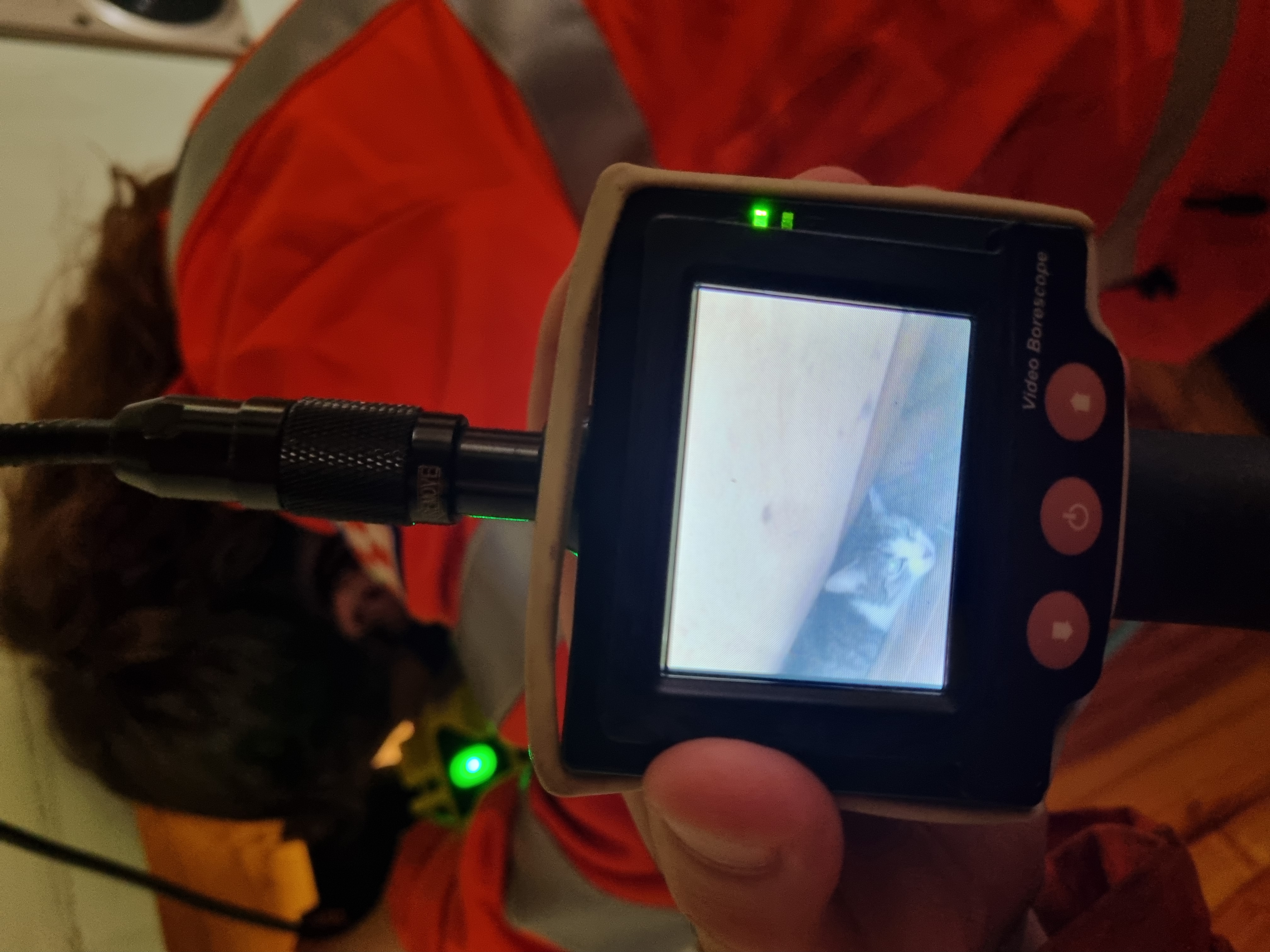 Cat trapped in cavity, visible on borescope camera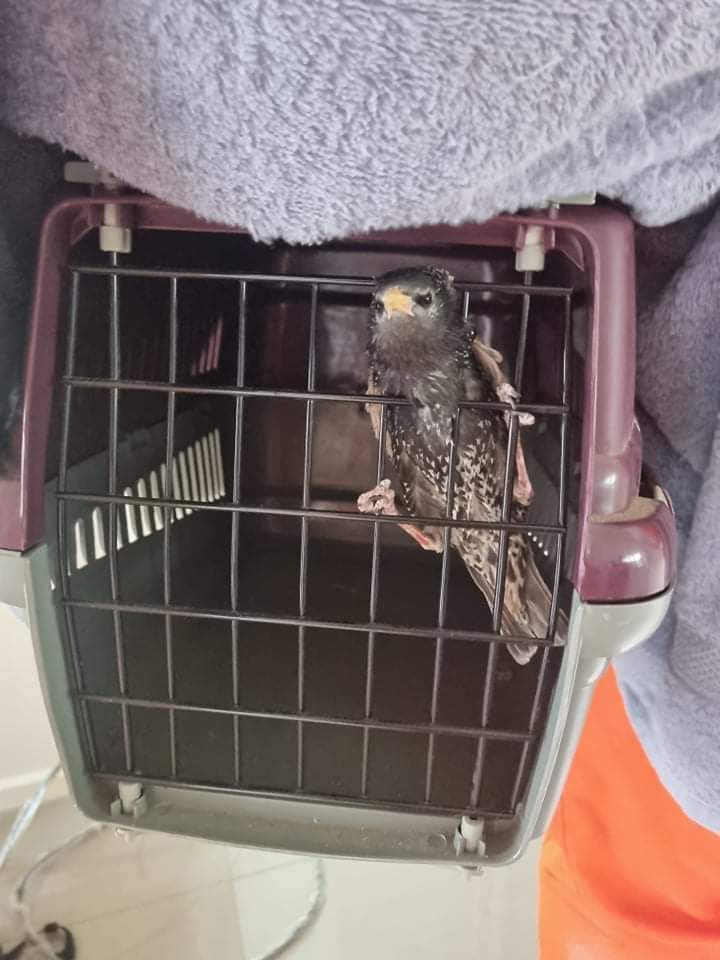 Bird mysteriously trapped in new home, being brought outside by VICSES Narre Warren volunteers