Bride-to-be waits as volunteer performs rescue
Last Friday morning, volunteer from the Victoria State Emergency Service (VICSES) Tallangatta Unit, Zachary West, was about to get married.
As Zachary got dressed for his big day at a farm property in the verdant Tallangatta Valley, his pager went off. It was an emergency call to assist an ambulance crew at Granya Road in Bullioh, about ten kilometres away.
With his unit twice the distance in Tallangatta, Zachary knew they wouldn't be able to respond as quickly as he could. With the ceremony not due to start for another three hours, Zachary took his dad - a fellow VICSES volunteer of 25 years - and went in the car to assist; still half-dressed, sporting a white shirt, tan pants, and boots.
Arriving to the scene, they found Ambulance Victoria and Victoria Police attending to a motorcyclist who had come off her bike, and had wound up in a ditch nearly four metres off-road.
VICSES volunteers accredited in Road Crash Rescue response are specially trained in casualty handling, practicing regularly.
Once they had put on the appropriate personal protective equipment and clothing, the two men assisted paramedics by carefully extracting the injured motorcyclist from the ditch, on to a spine board, and into the waiting ambulance.
In the end, seven VICSES volunteers from Zachary's unit were also on scene, with a further four from the VICSES Wodonga Unit to assist in the rider's rescue.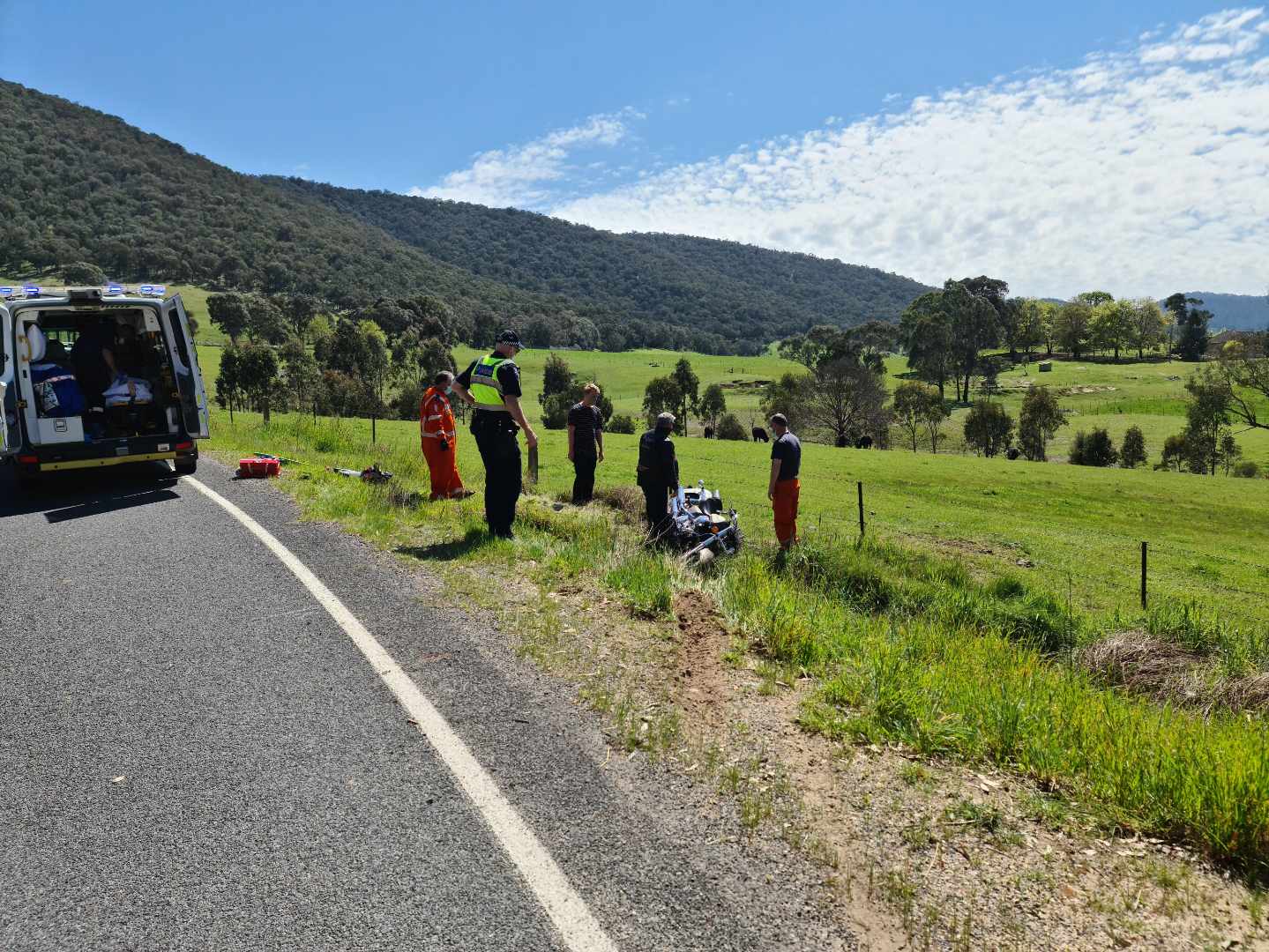 VICSES Tallangatta Unit volunteers, Victoria Police and Ambulance Victoria at Bullioh
VICSES Tallangatta Unit, Deputy Controller, Service Delivery Zachary West:
"The unit location to the scene was at least a twenty kilometre drive, we were within ten kilometres. It was a priority job and, I felt, hard to ignore."
"A couple of people were like, "where the hell did you go?!" My partner gently nudged me in the direction of my room to continue getting ready and then, without another hitch, we got hitched!"
To read more stories about our work in Road Crash Rescue (RCR), click here.