Lorne volunteer and friend to all, wins youth award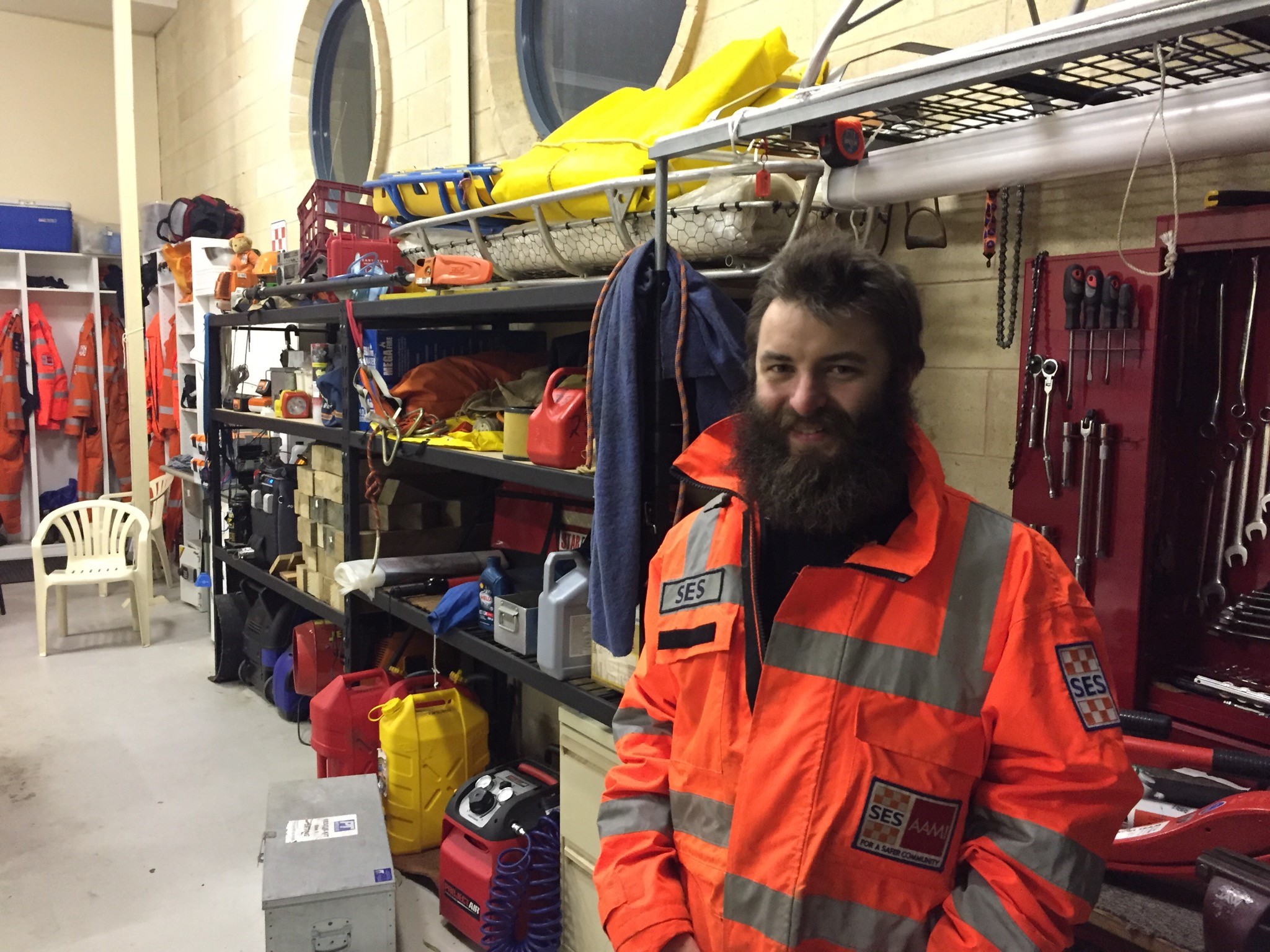 Victoria State Emergency (VICSES) Lorne Unit volunteer James Staley [pictured above] has received a 2021 Surf Coast Youth Award, for his work with VICSES.
James was announced as a joint winner of the community award for his dedication and commitment to his work as a VICSES volunteer, having attended over 100 requests for assistance since joining in 2018.
"Because I have a disability and can't read and write, getting a job has been really hard. But since joining VICSES I have a purpose, and that purpose is to help people," says James, who has a form of autism.
Not having his drivers' license also doesn't hold James back from helping his community, regularly riding his bicycle to the unit to respond to calls for help, day or night.
"I nominated James for this award because he makes more responses to callouts than anyone in the unit, and this despite not having a driver's licence," says VICSES Lorne Unit Controller, Geoff Bird.
"He's also quite a personable young fellow; he likes a chat, and he does as many courses as he possibly can," says Geoff. "The team is pretty supportive of him, knowing his capabilities, and his enthusiasm really rubs off on the rest of us.
"Some of us have been in the unit for 30 or 40 years and get a call in the middle of the night and though you sometimes think, gosh, I can't be bothered, but you know James is already down there!"
"He's also the current holder of the Camel Award for the most callouts in a year," Geoff points out. "This is an award we give within the unit, and is named for a much-loved past controller at Lorne."
"I coached James to come along but he didn't have the confidence at first," says Wayne Bryant, who started volunteering at the VICSES Lorne Unit shortly before James joined, and works with him outside of the organisation.
"After I persuaded him he took to it like a fish to water," says Wayne. "He's been really good. He knows how to operate all the technology; the radio; he remembers all the rules and procedures.
"This is despite the fact he can't read or write but, intellectually, he's a very smart guy."
"I'm not surprised to hear that someone like James is thriving and winning awards at VICSES," says Darren Hedley, Senior Research Fellow at the Olga Tennison Autism Research Centre, who has been working with employers since 2015 to hire more people on the autism spectrum. "We've got research to support that autistic people have excellent productivity," he says, "so creating the right environment for their particular strengths to come out really is the way to go."
"In teamwork, neurodiversity brings different solutions to problems," says Darren. "There's something unique about people on the spectrum; they are able to see an issue in a different way, bringing new solutions people haven't considered."
While shocked at receiving the award, and very grateful, James also thanked VICSES for what the organisation has done for him. "It's really good to help people," says James. "You learn a lot of life skills at the SES. You get to know the cops; the CFA; the ambos; people you don't usually talk to, to come together as a team.
"I had a lot of help in school and from my family," continues James. "I wanted to join the military, but I can't, so this is my way to serve the community. I've pulled people out of a valley and cut trees. You have to get up at 6am or late at night to attend to a tree blocking a road in the middle of nowhere."
"James has changed so much over the last few years," says James' boss Wayne. "Now, he can work well independently. Most tasks I give to him he can take it on himself and he is so precise and exact.
"He's got a strong sense of social justice and he's as truthful as the day is long."
A celebration was held at the Wurdi Baierr Stadium in Torquay last month to recognise James and other young people for their contributions and achievements in the arts, community, environment and sport.