Volunteers simulate road crash rescue for future rural doctors
Victoria State Emergency Service (VICSES) Bendigo Unit volunteers and the Australian Medical Students' Association have together staged the Rural Rescue Challenge earlier this month, to provide road crash simulation training to medical students interested in rural healthcare.
Over the course of the weekend, VICSES Bendigo Unit volunteers conducted five simulation training sessions during the annual event.
Attended by approximately 100 medical professionals, the Rural Rescue Challenge promotes recruitment of future doctors in rural parts, with Bendigo set as this year's location.
Starting the weekend off with some theory, VICSES Bendigo Unit Controller Jason Hague explained in detail the critical, and often lifesaving role that VICSES volunteers play during a Road Crash Rescue (RCR) incident. He also briefly talked to the different aspects of a VICSES volunteer and the varying roles our volunteers play, as first responders.
On Sunday, together with the young medics, the volunteers worked to perform simulated rescues in a Rural Rescue Challenge environment, through several different scenarios. This included a food truck explosion; grandstand collapse; major food poisoning, and a motorcycle rollover.
In a real life scenario, and day to day, most VICSES volunteers work closely with Ambulance Victoria paramedics but, in their absence, rural VICSES volunteers often rely on their training to provide a road rescue: ensuring a plan that assumes a spinal injury, and addresses other hazards like glass management.
According to the Australian Institute of Health and Welfare, 20% of Australians living in non-metropolitan areas are unable to access a GP, with a further 60% unable to access specialist care, making recruitment of doctors in rural areas one of the most important challenges in healthcare. This means VICSES support for the Rural Rescue Challenge is more crucial than ever and, by providing our volunteers' experience and knowledge, these future rural doctors can work more effectively with our volunteers to ensure better patient outcomes and care.
Quotes attributable to Sophie Keen, President, Australian Medical Students' Association:
"I can't thank VICSES enough; the volunteers at VICSES Bendigo were such a wonderful group of people to work with over the weekend. It's so important that medical students understand the full spectrum of healthcare delivery. We run the Rural Health Summit annually to expose students to the opportunities and challenges available to them in rural medicine, including delivering emergency medical care in the bush."
"Doctors are not usually experienced with RCR and extraction so, while don't expect them to do it by themselves, if they're working as rural doctors they will need to know how to work with VICSES volunteers and partner agencies, to streamline communication and better manage the emergency situation."
"The talk with Jason on Saturday made clear to students, particularly the junior ones, how quickly and calmly you need to act in an emergency. This is part of good communication, because you have to be able to work well with everyone: VICSES; Victoria Police; Ambulance Victoria and nursing staff, to save time and to save patients."
Quotes attributable to VICSES Bendigo Unit, Controller, Jason Hague:
"It was a valuable opportunity to share what we do with the rural doctors o the future, because if you are not involved in paramedicine or work in an emergency department you don't necessarily learn about VICSES, and the role we play in healthcare as first responders."
"On a personal note, I'm a primary school teacher and I ran into a former student, who I taught a long time ago, who was in the simulation as a second year medical student; which gave me great pleasure to see."
Quotes attributable to VICSES Bendigo Unit, Volunteer, Chantelle Stronghilis:
"It was interesting to see a range of students. They're all medical students from different universities, from first to fourth years. The first years were quite shy and timid, but then the fourth years took on the leadership roles."
"They weren't aware of the wide range of jobs that we do. They didn't even know that VICSES is made up of volunteers. For them it was a big eye-opener; they didn't know what to expect so we were happy to explain and teach them. There's going to be people screaming and sirens, and you're going to have to be heard, so we tried to show them how they could make use of us, to get the best outcome for the patient."
Quotes attributable to VICSES Bendigo Unit, Volunteer, Darren Masters:
"It was a good experience, Most of the people seemed to be first or second year university students so their practical experience was low, it was a good opportunity to pass on some of our knowledge around casualty handling techniques; splinting techniques; and advice on the best approaches to take in a real RCR scenario."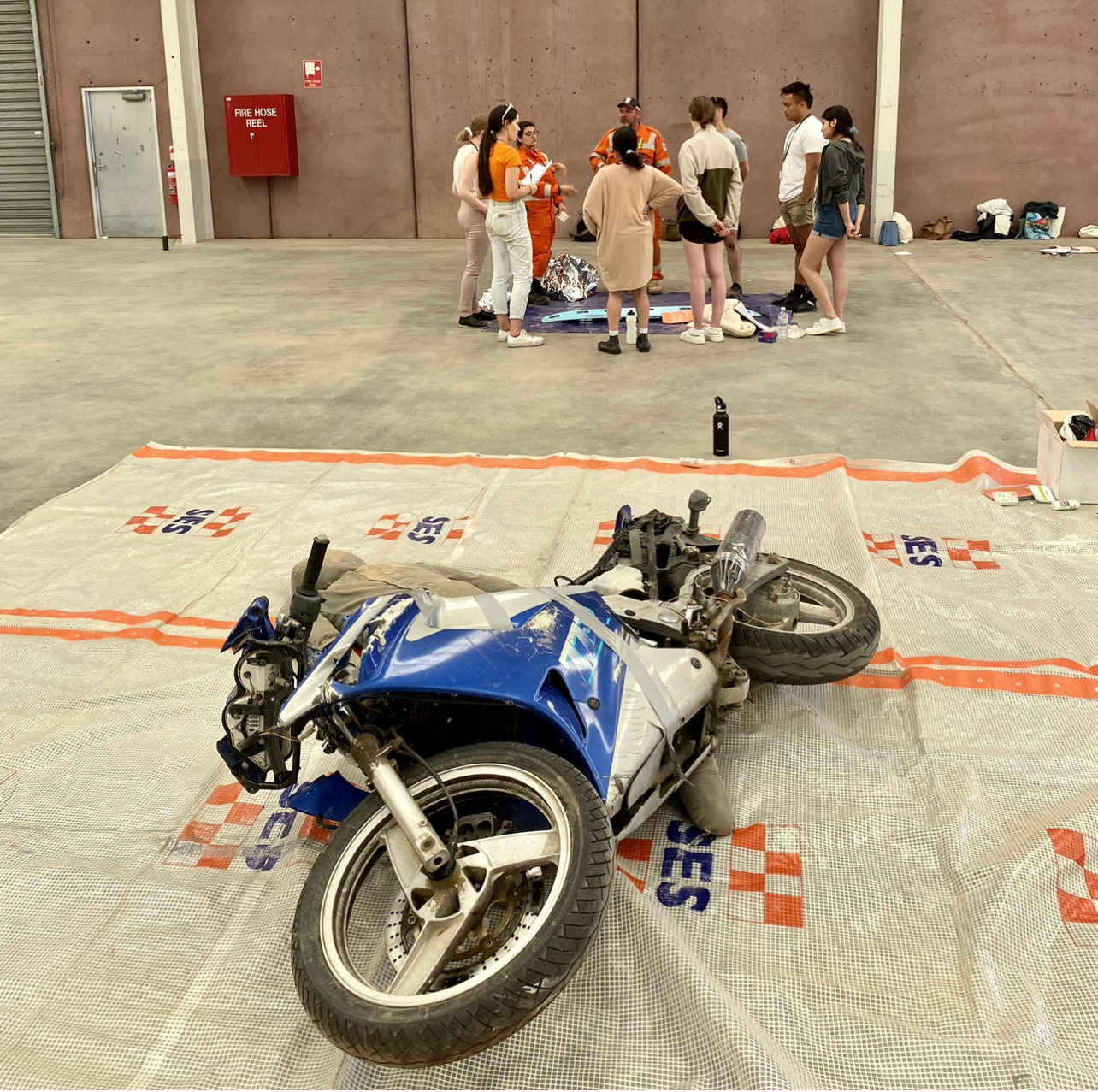 The quad bike simulation stage at Rural Rescue Challenge 2021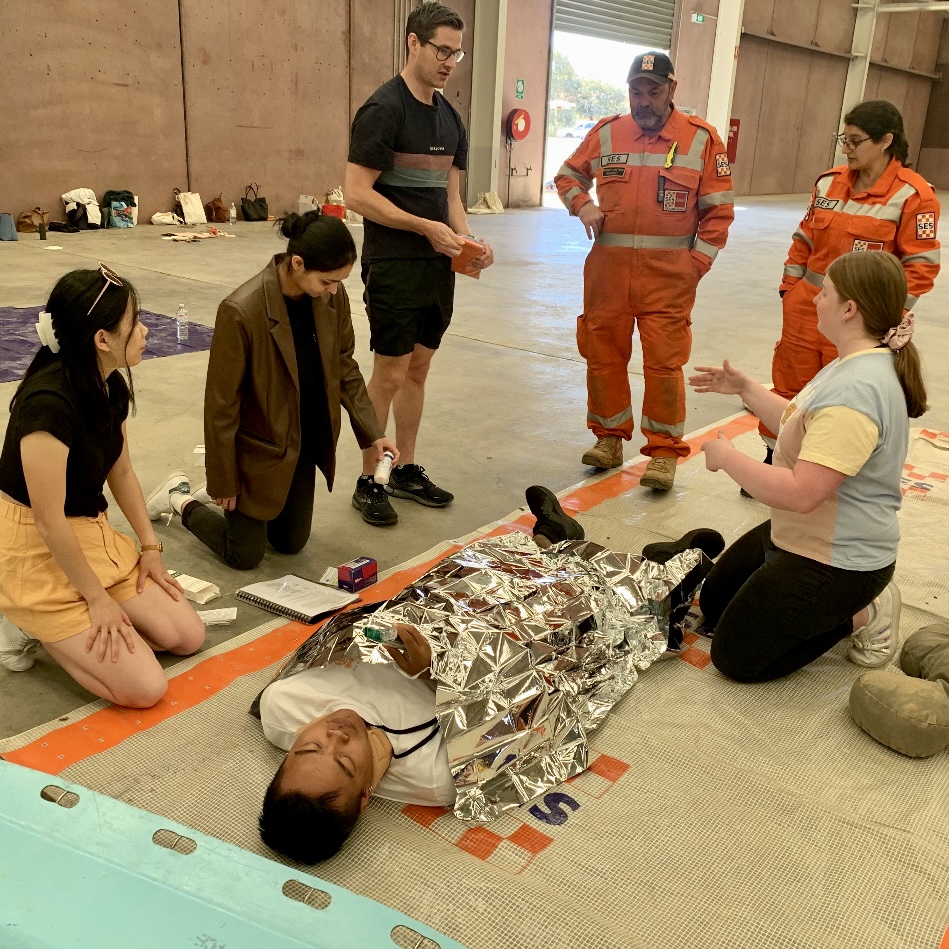 Student medics and VICSES Bendigo Unit volunteers