SES rescue demonstration at Scienceworks
Victoria State Emergency Service (VICSES) Port Philip Unit spent last weekend displaying rescue techniques, all in the name of science!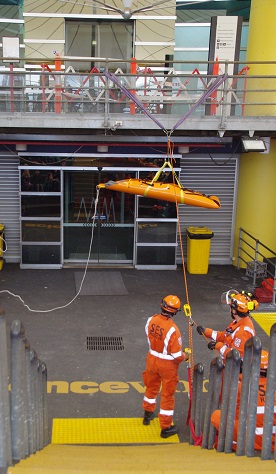 Scienceworks current temporary exhibition Rescue focuses on the science behind the emergency service, so it was only natural that they asked SES volunteers to come along one weekend to demonstrate some rescue techniques to a live audience.
Over two days, the team demonstrated the Vertical Z Pulley System which displayed how it's possible to rescue people who are trapped either below or above a steep or vertical drop. They also took part in an evacuation stretcher activity.
The activities were extremely well received by Scienceworks visitors, staff and volunteers. The VICSES crew were described by Scienceworks as being both extremely professional and interacting well with all the audience members.
VICSES will be back at Scienceworks on Thursday 2 October along with other emergency service organisations for Community Safety Day. The day will consist of displays and demonstrations with each emergency response team showcasing their safety messages. Local community members, schools, businesses and other agencies will be encourage to build community safety partnerships with their local emergency service organisations.
Rescue will be running at Scienceworks until the 5 October 2014. For more information please visit the Scienceworks website.