SES responds to wild weather
Victoria experienced a wild and windy day yesterday following a severe weather warning that was issued from the Bureau of Meteorology (BoM) for damaging and destructive winds.
The destructive weather began in Warrnambool early Tuesday morning before traveling across the state. Over 24 hours, SES received 3200 calls for assistance with the peak occurring around midday on Tuesday as the winds hit Greater Metropolitan Melbourne. As of Wednesday morning, there were still around 300 jobs outstanding.
The majority of calls to SES were to assist with trees down and building damage. These report included roof damage, fallen trees on roads, houses and cars and quite a few reports of unsecured items such as trampolines and garden sheds becoming flying projectiles.
Taskforces from across the state have teamed up to help the Melbourne crews clean up after the wild day. These teams included member from SES, Country Fire Authority (CFA) and Department of Primary Industries (DEPI).
Storm surge was also an issue for coastal areas as strong winds and large waves making beaches unpredictable and unsafe. SES advises that coastal areas and riverbanks should still be approached with caution. Boardwalks and paths could be washed out, sandy areas may be eroded and piers and jetties should be avoided until assessment and further advice.
A second severe weather event is expected to hit Victoria on Friday. SES recommends home owners prepare by securing outdoor items, parking under shelter and staying up to date with current conditions by visiting the BoM's warning page.
For SES assistance, call 132 500. For life threatening emergencies, call Triple Zero (000).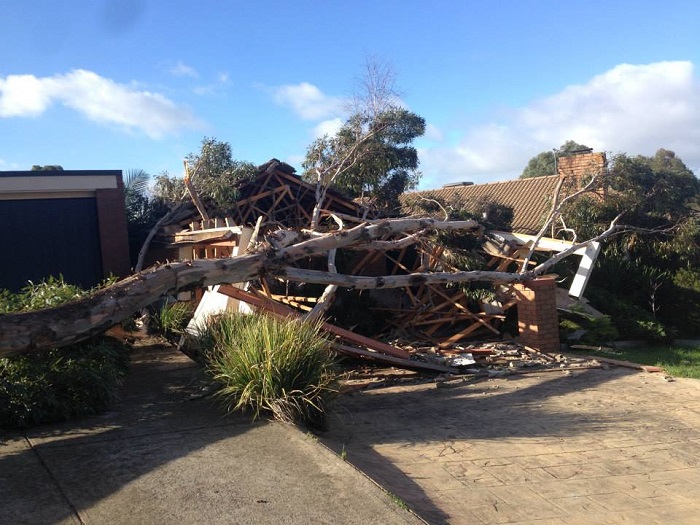 Photo courtesy of Victoria SES, Sunbury Unit