Surge volunteers make their mark in busiest week for VICSES
A pilot surge volunteer scheme has commenced at Victoria State Emergency Service (VICSES), with VICSES Monash, Essendon, Northcote (including Heidelberg) and Malvern Units participating.
The initiative has kicked off in Central region across greater Melbourne, in areas with no Country Fire Authority (CFA) volunteering opportunities and long waiting lists to join VICSES as a volunteer. The surge volunteer scheme meets this demand for hands-on experience through supervised, support roles in large-scale operations. When their community needs them the most, they can be deployed to triage jobs.
Surge volunteers could make a valuable contribution to large-scale emergency response and recovery efforts by following up on calls from the public; identifying the most urgent requests; providing accurate and timely information; and, liaising with partner agencies and power companies.
VICSES surge capacity offers a pool of talented volunteers that can be dispatched anywhere in the state, as needed, so local units can release operationally trained volunteers to go out in the field. The surge volunteers are still individually attached to units, so they create a pool of candidates for more permanent opportunities, as members retire or move on from VICSES units. Surge volunteers are also provided training in First Aid, and Workplace Health and Safety.
Around twelve months in the making, this pilot scheme followed from around 2,000 enquiries over the summer period last year which required an innovative approach to manage the influx of people wanting to join VICSES. Administering the scheme has been an investment by VICSES into a pilot, so that other units can eventually potentially engage with the surge volunteer program.
Surge volunteers Hannah, 25, and Dylan, 19, from VICSES Malvern Unit worked triaging calls at VICSES Frankston Unit last week, and were pleased to have hands-on experience they had been waiting for, over the course of several lockdowns.
If you live in the response area for VICSES Monash, Essendon, Northcote (including Heidelberg) and Malvern Units, and would like to apply as a surge volunteer, register your interest: https://www.ses.vic.gov.au/join-us/volunteer
Quote attributable to Malvern Unit Controller Philip Munslow:
"If a unit has a surge capacity; if their operational members become low there are a number of surge members who can step in and have a reasonable understanding of the range of tasks involved, the way the organisation functions in an emergency; command and control."
"Some of these members are learning new skills they will have for the rest of their lives."
"What we are looking for is a willingness to help others, previous volunteering experience; compassion, desire. They can choose their pathway through VICSES whether it's search and rescue operations, road crash rescues, safe working at heights, land-based swift water rescue, or boating operations."
Quote attributable to VICSES surge volunteer, Hannah McIvor:
"It was really fun to get out there and see how it is, especially with COVID our training has been virtual or pushed back but it was great to be able to get out there and help people, it was really fun."
"I think that most of us in the surge just want to be able to help when we can. I'm a full-time law student so when exams come up, I don't want to let people down but I do want to help especially in big storm events when you need more hands on deck."
"Yesterday I helped out in the radio communications room, calling power companies about getting power lines switched off; council to deal with the trees they manage, and ESTA to confirm completed jobs."
"It was really fun. Because we have gone to Malvern maybe three times, so we hadn't met until yesterday but it was really good. In the afternoon, Sam hopped on the truck and we were on our own for a bit which was fun. We had the hang of things by then."
Quote attributable to VICSES surge volunteer, Dylan Tomlinson
"I learned a lot in the morning, teaching me how to use all the systems to triage calls that were coming in. We already had some training at home about triaging, so it was good to apply those skills and consolidate them."
"The surge is going to be a great role for people who can't commit as much time as other VICSES volunteers, because it's a lot of work training once a week and being on-call a lot, whereas the surge you have the opportunity to give back to community even if you don't have a lot of time, or you're very busy with work."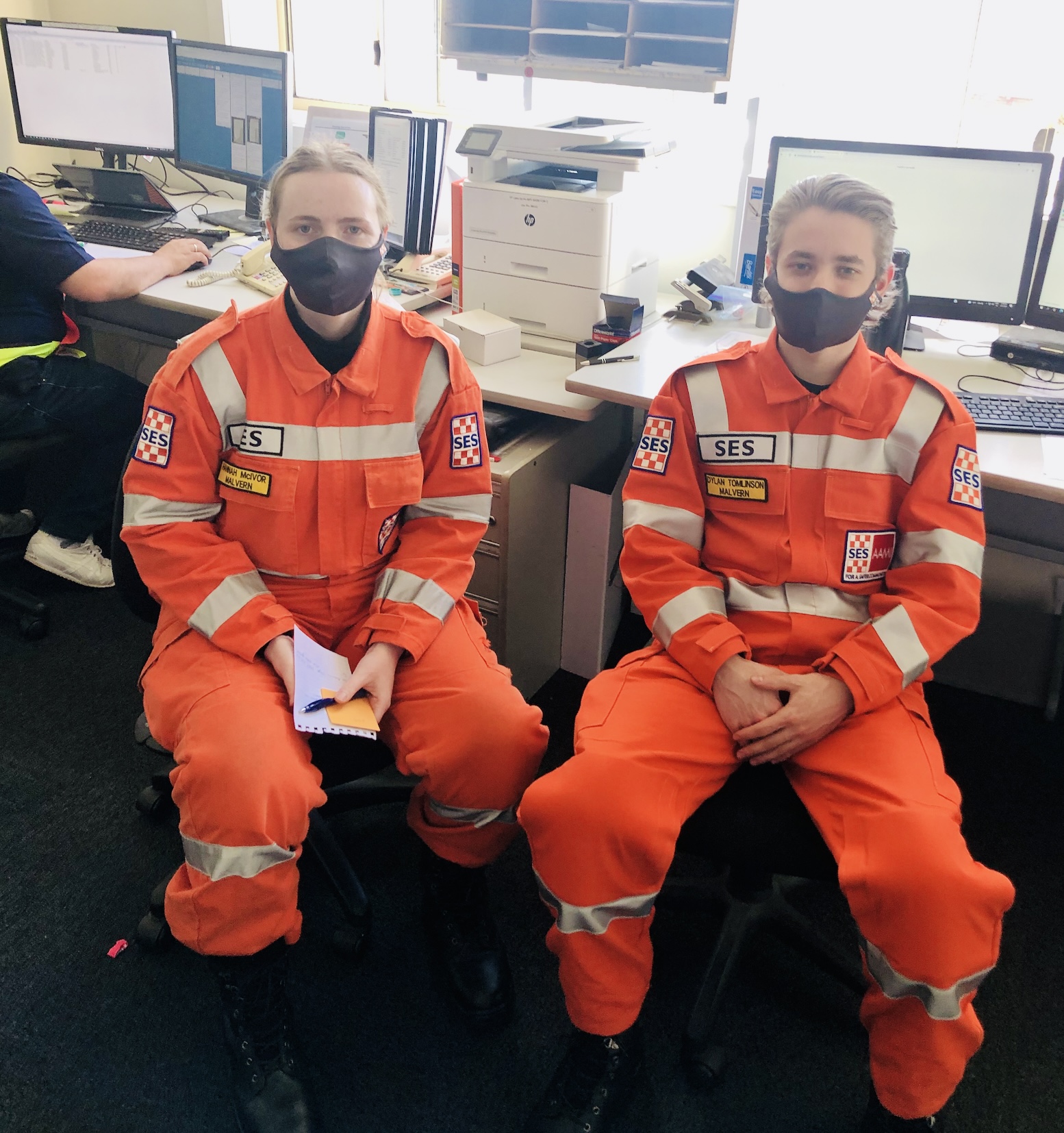 Hannah, 25, and Dylan, 19, working as surge volunteers at VICSES Frankston Unit