Volunteers achieve new heights
At the Victoria State Emergency Service (VICSES), our volunteers train diligently to perform a wide range of tasks necessary during emergencies. From road crash to search and rescue strategies; safe working at heights, and driving emergency vehicles, our world-class instructors deliver training that keep our volunteers and the community safe.
However in recent times, our most essential role during this period of intense storm activity, has been working at heights. Though during the pandemic, the face-to-face nature of training for Safe Working At Heights (SWAHS) - and the system of ropes used - meant that many volunteers have had to wait before completing the required working at heights training.
With pent-up demand for training left over from lockdown colliding with the busiest period in our history, finding time for assessments hasn't been easy. To lend a hand, trainers at Central Region provided a two-day course last weekend to seven volunteers, from three VICSES units, who formalised their SWAHS qualification.
What is SWAHS?
SWAHS and its rope-system are not the first option volunteers will take when assessing a job; if it's safer to do it inside the house, or work from a ladder, they will do this instead.
But when they need it, every VICSES truck contains a SWAHS kit which includes slings; an industrial descender; 50m and 100m ropes; working lines; carabiners, and rockers to connect the harness to the working line.
To use the system you need a minimum of three people to operate it, along with two suitable anchor points like a sturdy tree, man-made anchor or truck. The anchors should be able to take the weight of the operator, and any force they need to apply. The weight limit of a SWAHS system is 250kg.
SWAHS is usually deployed where there is building damage or where roof tiles or skylights have blown off, or are cracked, or where a downed tree has made contact with a building.
The volunteers were exposed to multiple, common scenarios of working at heights which they will encounter as they assist their communities.
Seven candidates from VICSES Narre Warren Unit, VICSES Pakenham Unit and VICSES Monash Unit attended the weekend of training, and all passed their assessments with flying colours.
As we move into a confirmed La Niña period, we may see further storm and flood activity throughout the state, which will create a need for these valuable skills. Our volunteers are ready.
Quotes attributable to VICSES Monash Unit Volunteer, Kevin:
"Before SES I was afraid of heights but after the last two years, I've got used to it."
"There was a lot of hands-on activity and very minimal theory involved, which I prefer. We had to learn to trust our equipment, and how to create active support in the working line for it to be effective."
"The training was useful because the trainers will let you know if you make a mistake during the training phase, so when you are out in a real world job, you have that knowledge."
VICSES Monash Unit, Deputy Controller Training, Jenny:
"The trick to SWAHS is to ensure there's no slack in the working line. This provides us with the best control possible whilst working on a roof"
"Theory is important for understanding the principles and safety aspects of the SWAHS system. There's no substitute for getting on a roof and actually performing the practical skills. So it's great to be back doing face to face training and assessments."
"I'd never been up on a roof before I joined VICSES, so when you're watching the volunteers go from being hesitant to getting up on a roof and seeing them progress throughout the course, it's wonderful to see. Some start by crawling on their hands and knees, but by the end of the course they trust the SWAHS system and know how to make the equipment work for them."
Quote attributable to Regional Trainer, Central Region, Alex Zdziarski:
"It went really well. Central Region supports our volunteer units with training and assessments, whether units do not have in-house trainers, or they have been so busy responding to operational requests over the last few months."
"Thank you to the Country Fire Authority (CFA) for allowing the use of their Bangholme facility, which includes a rooftop prop for our volunteers to use as part of their training and assessment."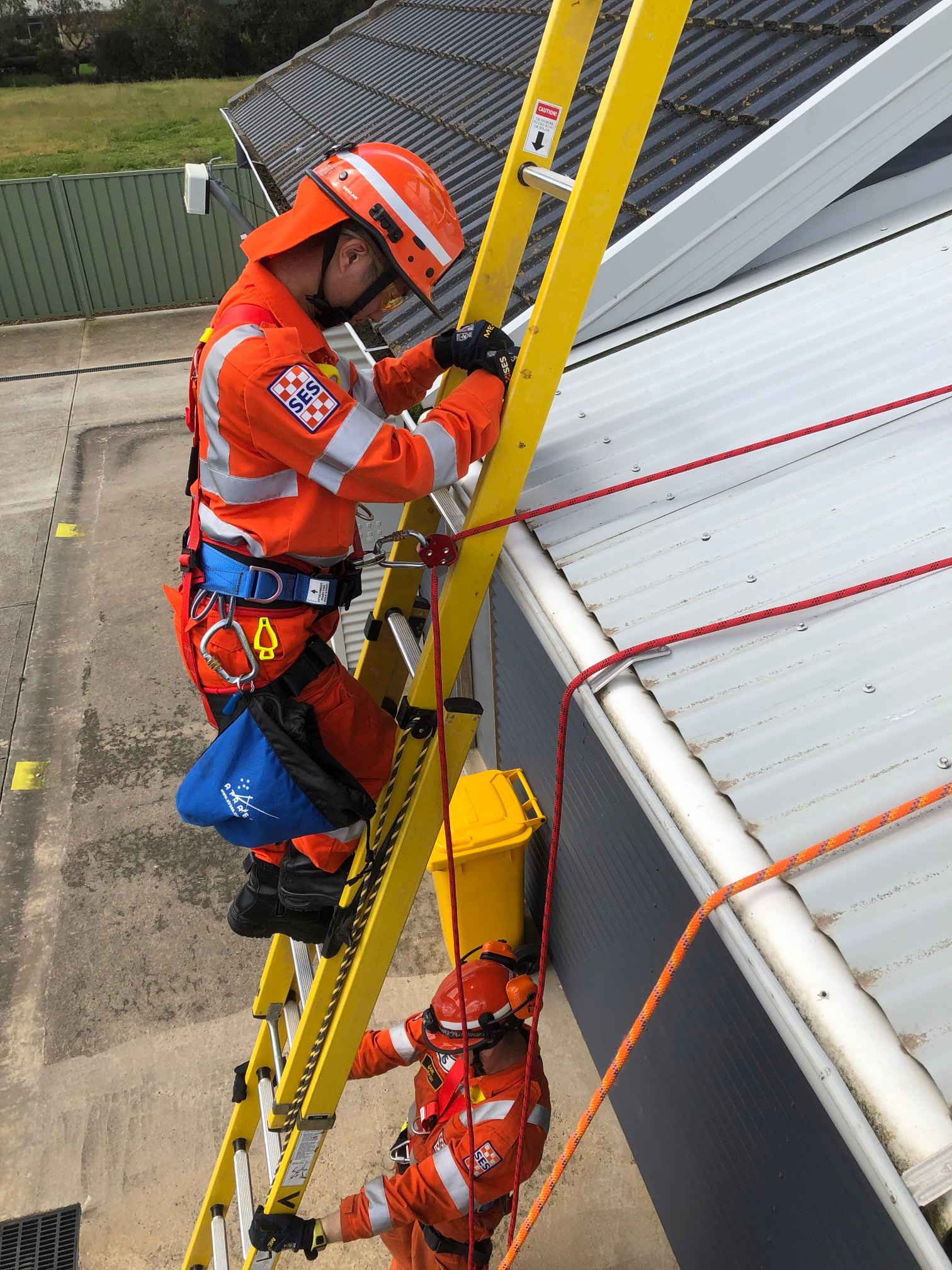 VICSES volunteers using the SWAHS system