VICSES volunteers urge hikers to use emergency markers amid dramatic scenes
Victoria State Emergency Service (VICSES) Stawell Unit volunteers assisted Ambulance Victoria with an injured hiker on the Pinnacle in a dramatic rescue over the weekend. Receiving a call to assist at around 1.30pm on Saturday, the six Stawell volunteers were already monitoring another other rescue being performed by volunteers at VICSES Horsham which, if upgraded to a high-angle rescue, would have necessitated their presence.
Fortunately, the six volunteers were able to quickly dispatch in three four-wheel drives and locate the patient a hundred metres from an emergency marker, which are dotted throughout the park.
Meeting paramedics and police at Halls Gap, the volunteers then drove along an emergency access track to walk the final section to reach the patient; about a 45-minute walk. The volunteers brought a paraguard - a small collapsible stretcher - in case the air ambulance was assisting the Horsham volunteers with their rescue elsewhere.
Luckily, the air ambulance was available to assist with the volunteers providing GPS coordinates to show their location. On the approach, the helicopter lowered a paramedic on a winch over the location, performing initial treatment, before the helicopter flew back for another pass to pick up both paramedic and patient.
The VICSES Stawell volunteers returned to their unit around three hours later, at 4.30pm. At the same time VICSES Horsham volunteers completed their rescue, which had taken place at nearby Mount Arapiles.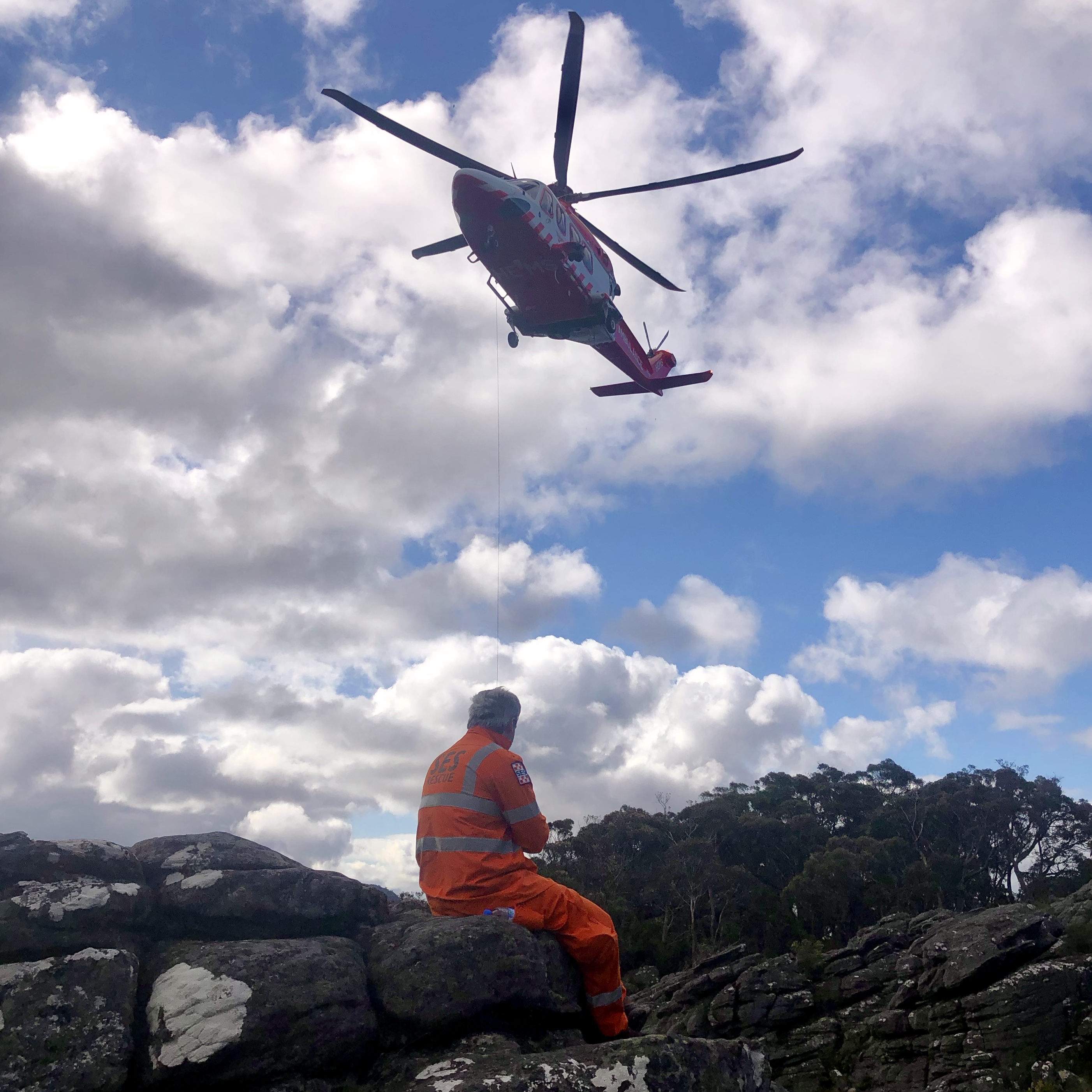 VICSES Stawell volunteer watches as air ambulance winches the patient
Quote attributable to VICSES Stawell Deputy Controller Brody Stewart:
"Emergency markers give us an exact location of the patient. This allows us to affect a quicker response and rescue of the patient than we would otherwise be able to do."
"Our volunteers are responsible for most of the northern end of the Grampians National Park. This area contains Halls Gap which is where all the tourists go, with the Pinnacle being a real draw. The Pinnacle itself has three separate walking track going into it, so these emergency markers mean we don't have to explore all of the tracks to find and assist hikers."
"Often though, people don't use them and we really need them to use them if they're going up there."