Flood information for the Ararat Rural City Council, encompassing local flood guides for Wickliffe and the Ararat Rural City Council Municipal Flood Emergency Plan.
Ararat Rural City Council History
Ararat Rural City has a history of flooding including a significant flood event in January 2011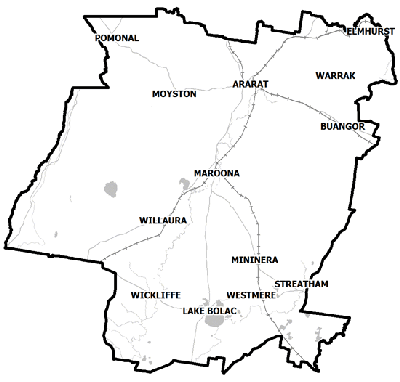 which impacted the township of Wickliffe and vast extents of rural areas resulting in extensive damage.
The January 2011 flood event is the largest event recorded at Wickliffe since 1920 when gauged records began. The 2011 floods occurred after four days of heavy rainfall on an already wet catchment.
During this flood:
It took approximately 24 hours for water to travel from the Ararat gauge to Wickliffe

Residents were evacuated

The Glenelg Highway was closed for two days

Eleven houses were inundated above floor level including the Wickliffe Hotel
Wickliffe Local Flood Guide
Are you at risk of flood?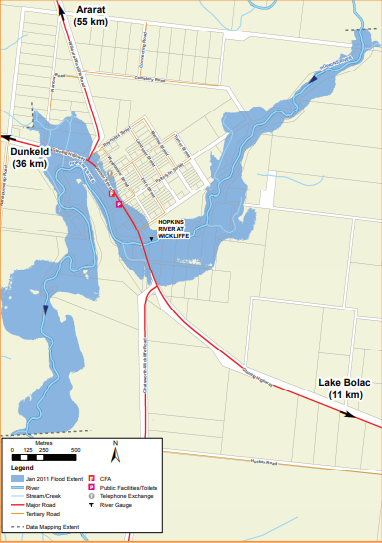 The area which influences flooding in Wickliffe includes the western upland area near Ararat, the
flat plains between Ararat and Wickliffe and the east fall of the Grampians National Park eastern ranges.
The Hopkins River begins north east of Ararat, then flows south through Wickliffe to the ocean near Warrnambool. Wickliffe generally floods due to high rainfall upstream.
When flooding occurs in Wickliffe, homes, businesses and buildings in Walker Street, between Floate Lane and Chatsworth-Wickliffe Road, are most at risk.

Floodwater rises very quickly in Wickliffe and can remain high for a number of days before receding.

The map to the right shows the extent of the January 2011 flood of the Hopkins River in Wickliffe, which measured 5.89 metres on the Wickliffe Gauge.
About Flood Guides
Communities can use local flood guides to identify and better understand their local flood risk. They include information about: flood history, how to prepare & respond to floods and who to contact.
Contact Information
Local VICSES Units
Ararat VICSES Unit:
85 High Street,
Ararat, 3377
Municipal Flood Emergency Plan (MFEP)