Flood information for the Bass Coast Shire Council, encompassing local flood guides and a Municipal Flood Emergency Plan.
Bass Coast Flood History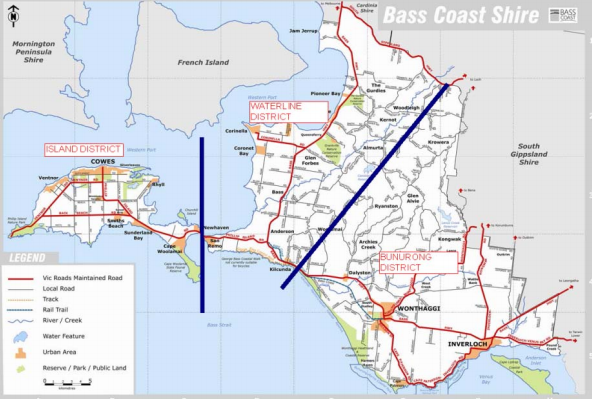 Bass Coast Shire Council has a history of flooding including significant flood events in July 2007 and May 2012 which impacted the townships of Wonthaggi, Kilcunda and Dalyston and cut several major roads.
Flooding usually occurs as a result of prolonged moderate to heavy rain across Shire.

This includes successive cold fronts, often during winter and spring, that brings periods of rain that wets the catchments and primes them for flooding from further fronts.

Bass Coast Local Flood Guide
Are You at Risk of Flood?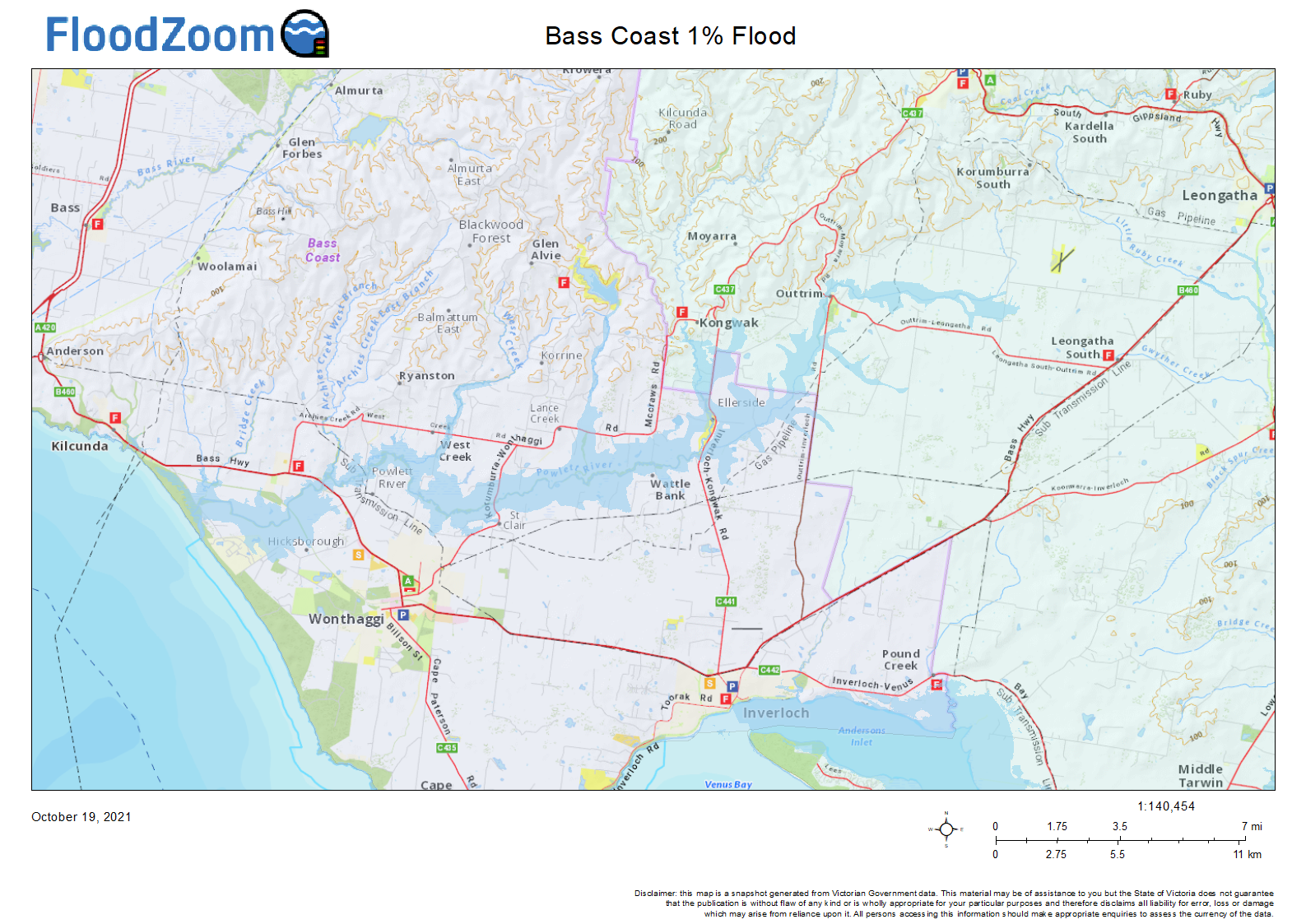 There is little recognised riverine flooding risk in Bass Coast with the majority of impact being too low lying rural land and roads. Riverine flooding can cause isolation when access/egress roads are cut by flood waters.
Prolonged moderate to heavy rain often leads to flooding within the Shire and generally occur as a result of moist warm airflow from Northern Australia bringing moderate to heavy rainfall over a period of 12 hours or more following a prolonged period of general rainfall. The period of general rainfall "wets up" the catchments and (partially) fills both the on‐stream dams and the natural floodplain storage. These combine to increase the runoff generated during the subsequent period of heavy rainfall.
Successive cold fronts, often during winter and spring, during winter and spring, that bring periods of rain that wet up the catchments and prime them for flooding from a further front or complex low pressure system that is perhaps slower moving and / or brings heavier rainfall.
A low pressure system (often intense and known as an 'east coast low') that develops within eastern Bass Strait or over the Tasman Sea and directs moist air for a period of 12 hours or more onto West Gippsland. The lifting that occus as it travels inland reults in heavy rain and possible flooding.
The earlier stages of an east coast low, as a low pressure system moves from the west and
deepens over Bass Strait, tends to result in the heaviest rainfall over the catchments of the streams that flow through Bass Coast.
Short duration, high intensity rainfall (usually associated with thunderstorms) can also cause localised flooding along overland flow paths and within urban areas if the capacity of the stormwater drainage system is exceeded. Such events, which are mainly confined to the summer months, do not generally create widespread flooding since they only last for a short time and affect limited areas.

Flooding from these storms occurs with little warning and localised damage can be severe. High intensity rainfall associated with thunderstorms (ie average rainfall rates of more than 35mm/hour for 30 minutes or more or 17mm in 30 minutes) is likely to lead to flash flooding, across the urbanised parts of the Shire.
Blocked or capacity impaired stormwater drains can also lead to overland flows and associated flooding: the drain surcharges and excess water flows above ground.
High tides on top of storm surge associated with an extra low pressure system and on‐shore winds, can exacerbate flooding within the coastal areas of the Shire or create areas of flooding in and around the drainage network.
Due to the proximity of Bass Strait to the coast and Western Port, rises in coastal ocean levels may reduce the capacity of the waterways and storm‐water drains to discharge runoff, while extreme storm events can cause backflow to the point where water surcharges back above ground around the drainage pits and channels.
About Flood Guides
Communities can use local flood guides to identify and better understand their local flood risk. They include information about: flood history, how to prepare & respond to floods and who to contact.
Contact Information
Local VICSES Units
Inverloch VICSES Unit:
Bear St, Inverloch
Phillip Island VICSES Unit:
125/127 Settlement Road,
Cowes, Victoria 3922
San Remo VICSES Unit:
Davis Point Road,
San Remo, Victoria 3925
Wonthaggi VICSES Unit:
319 White Road,
Wonthaggi, Victoria, 3996
Municipal Flood Emergency Plan (MFEP)