Flood information for the Baw Baw Shire Council, encompassing local flood guides and a Municipal Flood Emergency Plan.
Baw Baw Flood History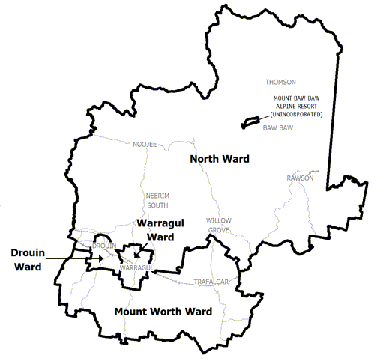 Baw Baw Shire Council has a history of flooding, including significant flood events in May and June of 2012 leading to a number of roads being cut and properties being isolated.
Baw Baw Shire experiences both riverine and flash flooding events, mainly in Warragul, Trafalgar, Walhalla and on the Moe River Flats between Yarragon and Moe.
Most residential flooding occurs in townships along the Princes Freeway (Highway) corridor, including:
Warragul

Drouin

Drouin South

Trafalgar

Yarragon
Longwarry local flood guide
Are you at risk of flood?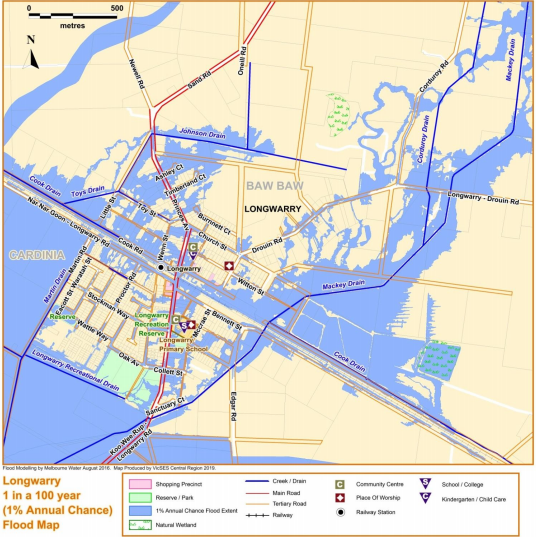 Longwarry is at risk of both flash flooding and flooding from the local drainage network ifthe capacity of the drains is exceeded.
Flooding does not occur from the Tarago or Bunyip Rivers. Flash flooding occurs when the amount of rainfall from a storm is greater than the capacity of the existing drainage system to carry it away, resulting in water pooling in lower lying areas.
Often flooding happens when the ground is already saturated and cannot absorb any more water.
Even a small amount of additional rain will flow over land and into properties in low lying areas of Longwarry, especially near Mackey, Corduroy, Martin and Johnson Drains.
These areas are more regularly affected by short duration flash flood events, where water cannot drain away fast enough.
Properties along Bennett Street aren't connected to the storm water network, so the water from these properties runs directly onto the ground. Water travelling from Drouin and down Mackey Drain is often the cause of Longwarry flooding in the centre of town.
Flooding from the drain network is caused by a combination of long term rainfall, high soil saturation and the rivers already being full. Longwarry is in a natural floodplain, so it could flood from local drains overtopping their banks from rainfall upstream, with minimal to no rain having fallen in the town itself.
There is no warning system such as flood gauges in the drains, so the best way to prepare for possible flooding is to keep an eye on official forecasts and warnings for the West and South Gippsland weather district.
The maps above shows the impact of a 1% flood in the Longwarry area. A 1% flood means there is a 1% chance of a flood this size happening in any given year.
Moe River Flats Local Flood Guide
Are you at risk of flood?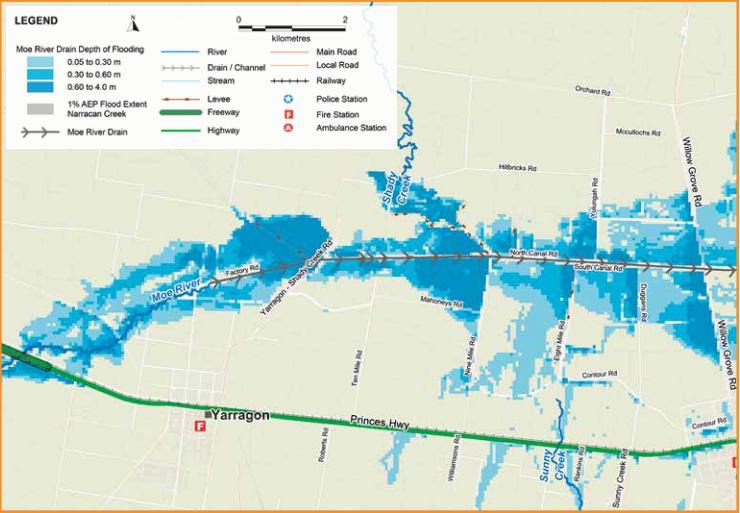 The Moe River Flats experiences flooding on a frequent basis, with breakouts from the Moe Riveroccurring when the river flows exceed the channel capacity and flooding becomes widespread.
Flood water is unable to return to the drain because of the levees and water levels in the drain being higher than the surrounding land.
During significant flood events, the Moe River can exceed capacity and water can remain for extended periods of time in the Moe Flats area, causing property access issues, and damage to roads and farms.
There are many septic tanks and farm chemicals stored in farm sheds which may be inundated by flood water making it unhygienic or even toxic.
Trafalgar Local Flood Guide
Are you at risk of flood?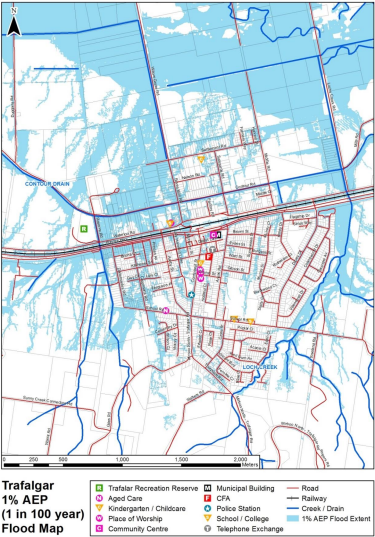 The older parts of the township south of the Princes Highway are largely free from significant flooding, even in larger flood events, with water only pooling in localised lower lying areas.
New development to the east of the township is largely flood proofed by the fill levels and internal drainage layout.
Some of the most significant flooding starts just south of the Princes Highway and stretches from Dodemaides Road through to Ashby Street. It can reach up to 0.8 metres deep. Alto Motors has flooded up to the front door in the past.
Water has broken out of the waterway channel and flowed west along the Princes Highway, eventually flowing over the road around the location of the new wetland feature inside the Strzelecki Views estate. This occurred in the 2012 flood event.
The Princes Highway can also be affected between Yarragon and Trafalgar by runoff from the hills to the south exceeding the capacity of culverted drainage lines on the sides of the road. Lois Court, December 2016.
Run off from the steep hills behind the town can sometimes combine with that from the township, overwhelming the drainage system. In major floods, water flow breakouts over the Princes Highway can occur between Reserve and Seven Mile Roads.
Warragul Local Flood Guide
Are you at risk of flood?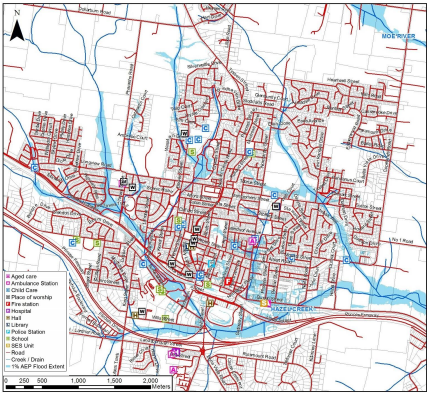 Flash flooding can occur in Warragul in local waterways and from overland flows after intense rainfall.
Urban stormwater flooding is likely to occur within 30 minutes of heavy rainfall, because the local drainage systems become overwhelmed and can't carry excess storm water away, resulting in water pooling in naturally low lying areas.
Hazel and Spring Creeks start to rise within 6 hours of heavy rain. Roads and parkland along these creeks can be flooded with fast flowing and deep floodwater.
A number of residential and commercial properties are at risk of flooding in Warragul from overland flows, flash flooding and riverine flooding.
Three retarding basins have been constructed in Warragul to try to reduce the impacts of flooding on developed areas adjacent to Hazel and Spring Creeks. These are located near Tarwin Street, in Brooker Park and near Landsborough Road.
Many major roads through Warragul are likely to be closed during flooding to avoid further water damage to properties and to ensure the safety of residents.
The map shows the expected impact of a 1% flood in Warragul. A 1% flood means that there is a 1% chance of a flood of this size occurring in any given year, sometimes referred to as a "1 in 100 year" flood.
The main issues are caused by drivers ignoring road closure signs and driving through water affected roads. It is unsafe and unnecessary to drive through roads with water over them.
About Flood Guides
Communities can use local flood guides to identify and better understand their local flood risk. They include information about: flood history, how to prepare & respond to floods and who to contact.
Contact Information
Local VICSES Units
Warragul VICSES Unit:
160 Queen St,
Warragul, Victoria

Erica VICSES Unit:
1A Lehmann Ct,
Rawson, Victoria
Municipal Flood Emergency Plan (MFEP)