Flood information for the Benalla Rural City Council, encompassing local flood guide and a Municipal Flood Emergency Plan.
Benalla Flood History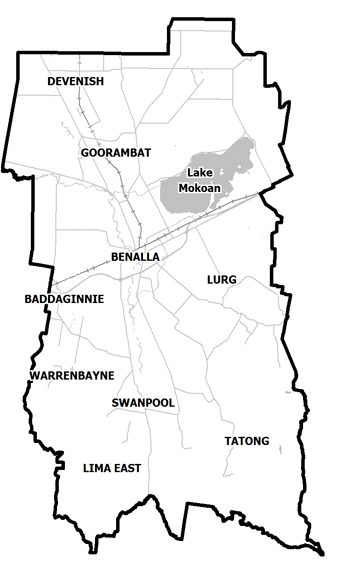 The Rural City of Benalla and its surrounds are at significant risk of flooding. Historically Benalla has been impacted by major flooding affecting businesses and residence. For example, in October of 1993:
1,500 people evacuated from their homes

500 houses and businesses flooded or cut-off

5 bridges damaged or destroyed, roads cut

400 km rural fencing & farm machinery damaged

Telephone services, power, sewage and water supplies damaged and interrupted
Benalla Local Flood Guide
Are you at risk of flood?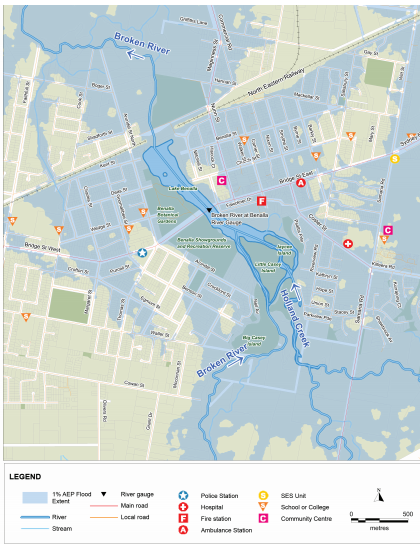 Benalla has a history of flooding that has impacted people, homes, businesses, farms, and livestock since European settlement in the late 1800's - well before official flood records began.
Big floods have affected the area in 1870, 1916, 1917, 1918, 1921, 1924, 1933, 1954, 1966, 1974, 1975, 1981, 1993 and 2010. The "Big Flood of 1993" caused significant damage to homes and businesses as well as important community buildings and infrastructure. The total damage is estimated to be about $38 million in 1993 dollars.
Benalla township lies close to where the Broken River and Holland Creek join. Either waterway can bring flooding into the town from the hills in the upper catchments.
The Broken River catchment collects rainfall from as far away as Swanpool and Lake Nillahcootie to the Mansfield area. Holland Creek's catchment collects rainfall from Molyullah and Ryan's Creek to the Tolmie side of the Alpine National Park. So take notice if heavy rain falls in these areas.
Floods in Benalla vary depending on where and how much rain has fallen, which waterway is flooding, if they are flooding at the same time and if more than one peak (highest water level) arrives in Benalla at the same time.
Regardless of where the rain falls, flooding can follow within hours, giving residents no or limited time to act. During big floods, many areas of Benalla can experience extensive damage to property and infrastructure.
Even if your property will not flood, you may be indirectly affected by flooding as roads may be closed and power, water, sewage and telephone services may be cut off, turned off or damaged and the shopping district significantly impacted.
About Flood Guides
Communities can use local flood guides to identify and better understand their local flood risk. They include information about: flood history, how to prepare & respond to floods and who to contact.
Contact Information
Local VICSES Unit
Benalla VICSES Unit:
1 Samaria Road,
Benalla, Victoria.
Municipal Flood Emergency Plan (MFEP)