Flood information for the Boroondara City Council, including a local flood guide and Municipal Flood Emergency Plan.
Boroondara Flood History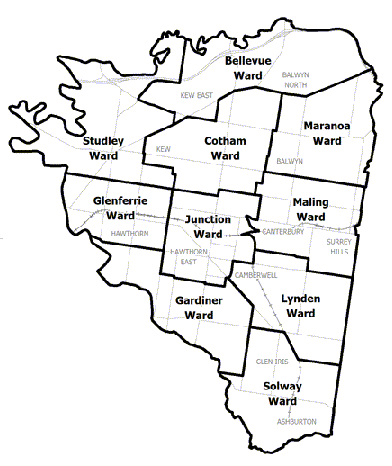 The major waterways within the catchment are the Yarra River and Gardiners Creek.The headwaters of both these waterways are outside of Boroondara and flooding in the waterways is in part the result of the larger upstream catchments.
There have been several historical floods in Boroondara since its settlement. Large flood events have been the result of either large regional or localised rainfall.
Flooding from regional areas is typically from the Yarra River or Gardiners Creek. Localised flooding occurs from rainfall events when the amounts of run-off exceeds the capacity of the underground drainage system and established overland flow paths.

Historically, several major floods have affected people living in this area, such as:
In December 2016, Glen Iris was one of the worst hit suburbs after a severe storm that caused flash flooding, closing roads and causing delays in train services across the city

SES received over 1200 calls for assistance

In February 2011, 146 millimetres of rain fell within 15 hours, leading to a flood that measured 5.6 metres on the Gardiners Creek Gauge. This resulted in the flooding of properties on Gardiner Parade, Glen Iris and the Solway Pedestrian Bridge being washed away

In both the 2004 and 2006 floods, the Ashburton train station had water up to the platform.
Glen Iris Local Flood Guide
Are you at risk of flooding?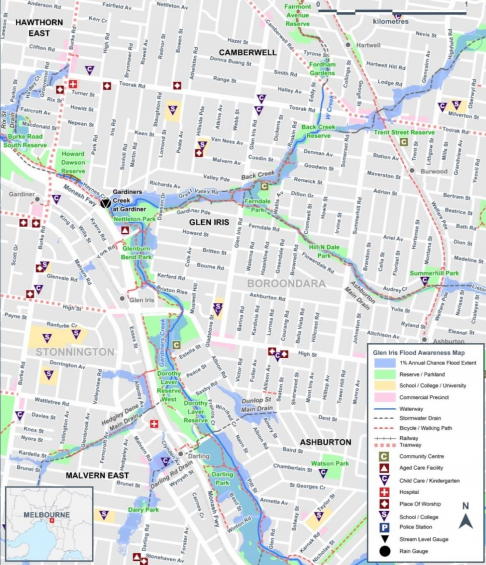 This area is prone to flooding during heavy rainfall events that can result in road closures andeffect private properties.
This page provides an overview of the risk of flood and includes information that can help you to be more prepared in case of an emergency.
The flood guide focusses on the suburb of Glen Iris that is located on both sides of the Gardiner Creek in the local government areas of Boroondara and Stonnington, approximately 10 kilometres south east of Melbourne's Central Business District.
Waterways in Glen Iris include Gardiners Creek, Back Creek and storm water drains that discharge into Gardiners Creek, including the Ashburton Main Drain and the Burwood Main Drain.
Within Glen Iris, flash flooding is the primary concern. This is due to the increased urbanisation of the area which means that there is less exposed soil to absorb excess water during heavy rain events. This water then runs off towards lower lying areas and can result in the main drains or creeks being overwhelmed. Flash flooding can occur with little warning, only lasts a short time but can leave severe localised damage.

Community Infrastructure that may be impacted by flood waters include:
Sections of Gardiners Creek trail

Scouts Hall on Saxby Road, Glen Iris

Eric Raven Reserve, including Glen Iris Community Hall

Burke Road South Reserve on Sinclair Avenue, Glen Iris

Dorothy Laver Reserve
Hawthorn Local Flood Guide
Are you at risk of flood?
Hawthorn and Hawthorn East are prone to flooding during heavy rainfall events that can result in road closures and effect private properties.
Gardiners Creek is the prominent watercourse in the area, flowing from the east through the municipalities of Whitehorse and Monash.
High intensity, short duration rainfall events can cause flash flooding in and around the local residential roads, while prolonged rainfall may see Gardiners Creek flood.
The area sees moderate to slow water movement as floodwaters make their way along the flat recreational reserves that sit on the banks of Gardiners Creek.

The adjascent map shows the expected flooding during a 1% flood event in Hawthorn and Hawthorn East. A 1% flood means that there is a 1% chance of a flood of this size occurring in any one year.
About Flood Guides
Communities can use local flood guides to identify and better understand their local flood risk. They include information about: flood history, how to prepare & respond to floods and who to contact.
Contact Information
Local VICSES Unit
Malvern VICSES Unit:
293 Tooronga Rd,
Glen Iris, Victoria.
Municipal Flood Emergency Plan (MFEP)