Flood information for the Buloke Sire Council, encompassing local flood guides for Charlton, Donald, Culgoa and the Buloke Municipal Flood Emergency Plan.
Buloke Flood history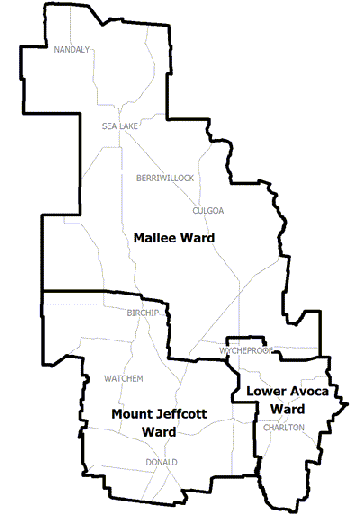 Buloke Shire Council has a history of flooding including a significant flood event in January 2011 which impacted the townships of Charlton, Donald, Wycheproof and Culgoa and vast extents of rural areas resulting in extensive damage.
The flood warning systems for the areas within Buloke Shire Council are in the process of being improved. The lead time to respond to a flood event may be limited. All households and businesses at risk of flooding should develop an emergency plan and be aware of their flood risk.
Households and businesses should refer to their Local Flood Guide or Buloke Shire Flood Emergency Plan for more information.
Charlton Local Flood Guide
Are you at risk of flood?
Charlton has experienced recent major flooding including September 2010, November 2010 and January 2011. In January 2011 nearly all of the town was flooded including houses, businesses, the ambulance, police and fire stations, the hospital, aged care facility, maternal health centre and the primary and secondary schools. During major floods, major roads such as the Calder and Borung Highways, the Charlton-St Arnaud Road and the Boort-Charlton Road and many other smaller roads are closed.
Historically, Charlton has been prone to flooding with other major floods occurring in 1909, 1939, 1956, 1983, September 1988, June 1995 and September 2016. The size and timing of prior floods as well as the density of crops and pasture on the floodplain all influence how a particular flood behaves. The river channel has limited capacity at Charlton and downstream of the town. Flooding is further influenced by overflows from and into the Yeungroon Creek. This can cause flooding from the south. Within town, the grid network of streets acts as the main flow paths of floodwater.
Donald Local Flood Guide
Are you at risk of flood?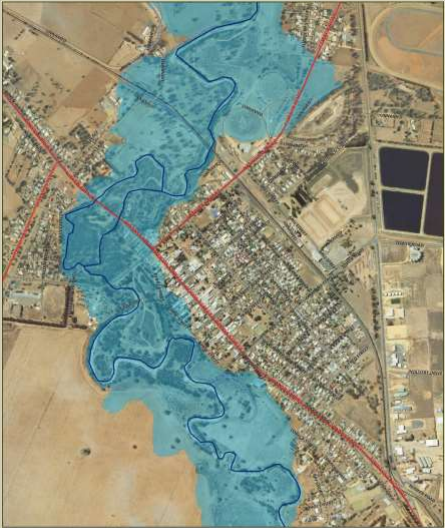 Donald is on the Richardson River and since 2010 the town has flooded four times, with the last major flood occurring as recently as January 2011. Other past significant floods have occurred in 1909, 1918, 1956, 1975 and 1992.
As a result of past work to reduce the impact of flooding, fewer areas of the town are at risk than in the past. However, in a major flood a number of homes and businesses would still be at risk, particularly along the banks of the Richardson River, where there are several homes, properties and businesses.
Areas at risk include:
Residences in Byrne Street, Elizabeth Street, Borung Highway, Sproats Lane and Hammill Street

Donald Showgrounds

Donald Caravan Park

Donald Swimming Pool

Donald Motor Lodge

Johnson-Goodwin retirement village.

The Richardson River has the potential to rise very quickly only a few hours after the start of heavy rain and remain high for 24 to 36 hours. In addition, Donald is also prone to flash flooding.

Flash floods happen so quickly and can be so fast moving that there may be no time to warn you. When it will arrive or how deep it will be cannot usually be predicted. In this area, flash flooding may only last a few hours but can have a huge impact on affected areas. During a flood within the region, the township of Donald may become isolated and/or experience a loss of power or water for a period of time.

The map to the right shows the January 2011 flood extent in Donald. Flood Watches and Flood Warnings for the Richardson River and Wimmera Basin apply for Donald.
Culgoa Local Flood Guide
Are you at risk of flood?
The Avoca River is within the North Central Catchment Management Authority management area. The Avoca River, Lalbert, Back and Tyrrell Creeks all received significant flows during January 2011. These flows caused flooding in numerous regional communities across Victoria including Culgoa. Generally, the Tyrrell Creek is reported to flow every 3-4 years.
The waterway experiences long dry periods with local residents reporting no flow between the late 1930's until the flood observed across the state in 1956.
Anecdotally, Tyrrell Creek witnessed flows in 1960, 1964, 1968, 1973, 1974, 1975, 1988, 1992, 1995/96 with no flows observed until the January 2011 event and 2016.
About Flood Guides
VICSES has developed Local Flood Guides to explain local flood risks for communities at risk. This includes advice for communities on how to prepare and respond to flood events and who to contact in the event of a flood.
Contact Information
Local SES Units
Birchip VICSES Unit:
89 Cummings Avenue,
Birchip .
Wycheproof VICSES Unit:
381a Broadway,
Wycheproof.
Municipal Flood Emergency Plan (MFEP)