Flood information for the Campaspe Shire Council, encompassing local flood guides for Echuca and Rochester and the Campaspe Municipal Flood Emergency Plan.
Campaspe Flood History
Campaspe flood history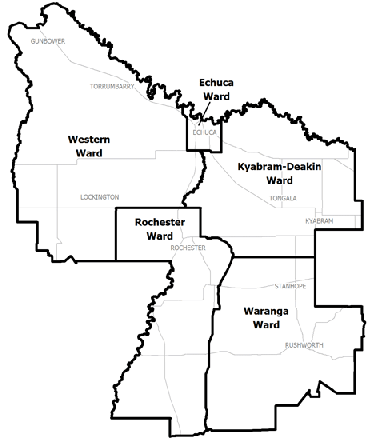 The Campaspe Shire Council has a history of flooding including a significant flood event in January 2011 which impacted the townships of Rochester and Echuca and vast extents of rural areas resulting in extensive damage.
For example, the January 2011 flood was the worst in Rochester and Echuca's recorded history, where 80% of Rochester and its surrounding rural areas flooded.
Since the 2011 flood the North Central Catchment Management Authority have undertaken extensive flood surveying and mapping for the township of Rochester, to access your property specific information from the flood study, visit www.nccma.vic.gov.au/flood-eye
Households and businesses should refer to their Local Flood Guide or Campaspe Shire Municipal Flood Emergency Plan for more information.
Echuca Local Flood Guide
Are you at risk of flood?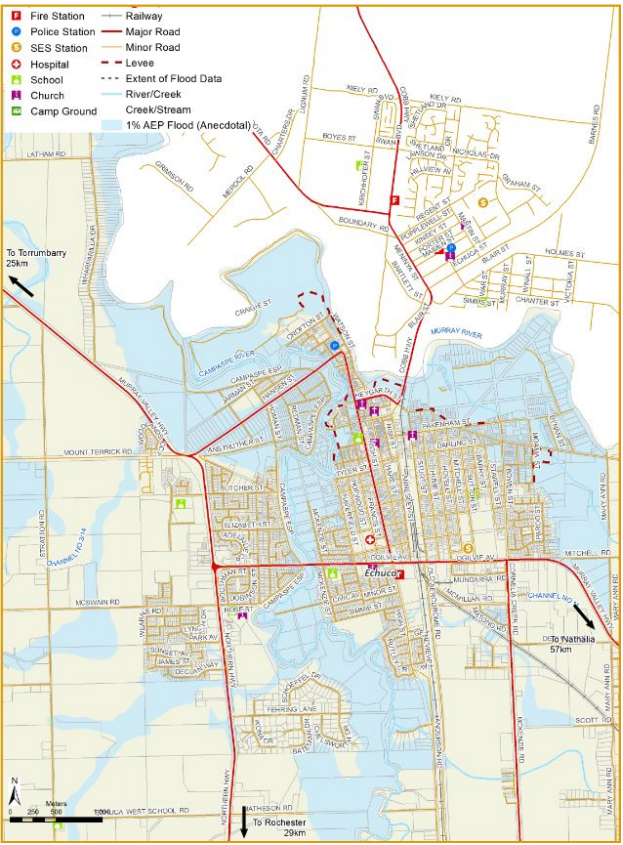 With three main rivers either bordering or near the township, Echuca and its surrounding areas are vulnerable to cross country overflows of water because of the flat nature of the local countryside.
There have been more than 16 significant floods since 1867 in the Campaspe Shire, caused by overflows from the Campaspe, Murray and Goulburn rivers.

Flooding can occur on one river or be caused by a combination of all three rivers. Historically the worst floods are from a combination of the flooded rivers rather than just one.

Up to 300 properties in East Echuca (e.g. Bynan Street and Goulburn Road), parts of Echuca to the West of the Campaspe River and rural areas surrounding Echuca are at greater risk of flooding.
Areas of Echuca to the West of the Campaspe River are located on the natural floodway and are susceptible to flooding from both the Campaspe and Murray Rivers. Flooding can also occur at Echuca Village from the Southern Cross Channel.
Some of the town's levees were constructed at Echuca between 1989 and 1992 to provide some protection to the town's central business district and the water treatment plant from most large floods.

However, no levee is flood proof and parts of the town with and without levees are still prone to flooding. The Echuca Wharf Gauge is measured based on the Australian Height Datum (AHD) which assumes sea level is 0 metres.

The map to the right shows the predicted effects of a flood reaching 95.6 AHD on the Echuca Wharf Gauge.
Rochester Local Flood Guide
Are you at risk of flood?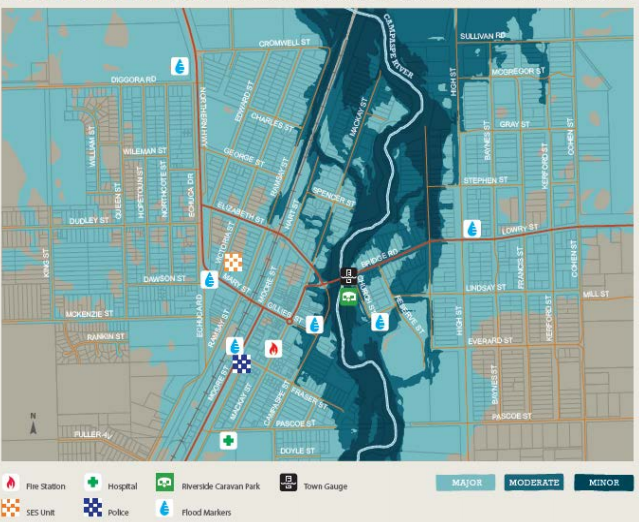 When a major flood occurs there can be a significant number of homes, properties and businesses atrisk of flooding as well as the three schools and other community infrastructure.

The map to the rights shows the Campaspe River flood levels at the town gauge at minor, moderate and major flood levels in Rochester as well as the extent of the January 2011 flood.
About Flood Guides
Communities can use local flood guides to identify and better understand their local flood risk. They include information about: flood history, how to prepare & respond to floods and who to contact.
Contact Information
Local VICSES Units
Echuca VICSES Unit:
290 High St,
Echuca, Victoria

Kyabram VICSES Unit:
4 Kuhle Ct,
Kyabram, Victoria

Rochester VICSES Unit:
5 Victoria St,
Rochester, Victoria

Rushworth VICSES Unit:
4 Barlow Ave,
Rushworth, Victoria
Municipal Flood Emergency Plan (MFEP)
Municipalities can use Municipal Flood Emergency Plans to prepare, respond and recover from flood and storm events.
Flood Emargency Plan for Campaspe
- Updated Feb, 2019