Flood information for Casey City Council, encompassing local flood guide and Municipal Flood Emergency Plan.
City of Casey Flood History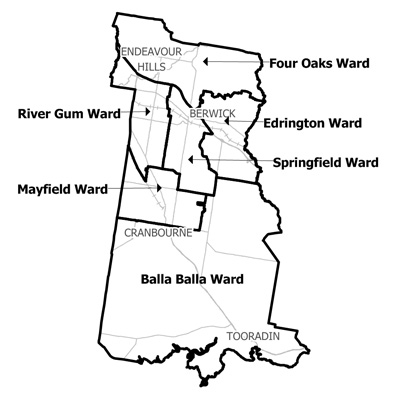 Casey City Council has a history of flooding. there was flooding 2010, 2011 and 2012 that resulted in road closures, damage to public and private property and rehousing of people and animals.
On 4 February 2011, 180 millimetres of rain fell at Lynbrook over a 24 hour period. During floods, a number of essential services are at risk in the City of Casey, including:
The Main Arterial Roads may be closed for some time until the flood waters recede. The following roads have been closed in previous flood events: Heatherton Road, Princes Highway, Hallam South Road, Narre Warren-Cranbourne Road, South Gippsland Highway and Clyde Road

The Pakenham Train Line may be closed due to floodwater at multiple points in Hallam and Narre Warren including immediately east of Narre Warren Station

Access to Casey Hospital may be restricted to four wheel drive vehicles and trucks for a period due to overland flows along Kangan Drive in a flash flood.
Casey Local Flood Guide
Are you at risk of flood?
Approximately 14% of the City of Casey is at risk of flooding, based on flood mapping completed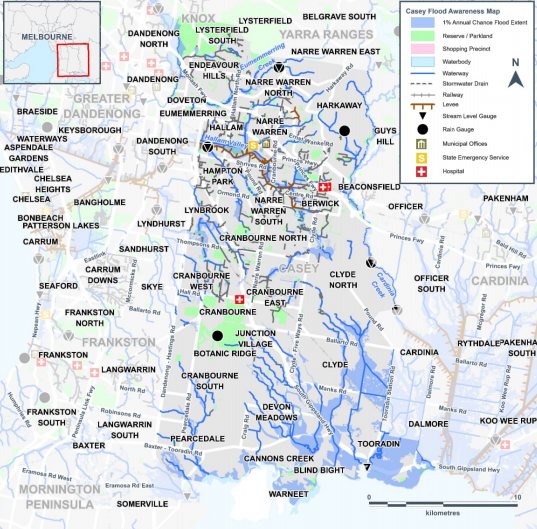 to date, from rivers and creeks overflowing and the majority of the municipality is also at risk of flash flooding.
Major contributors to this flooding include developments that occurred on floodplains and in overland flow paths. Old drainage systems in older areas of the municipality where the drains were designed under old standards are also an issue in some areas as the drainage systems no longer meet the needed capacity because of increased housing density in the area.
In the past 100 years, there have been over 16 floods recorded in the City of Casey. In 2010, 2011 and 2012, floods in the City of Casey resulted in road closures, damage to public and private property and rehousing of people and animals.
Essential infrastructure that may be affected in a flood within the City of Casey include several main arterial roads, the Pakenham and Cranbourne train lines and access to Casey Hospital may be limited to 4WD.

The map to the right shows the areas of the City of Casey at risk of flooding in a 1% flood. A 1% flood means there is a 1% chance of a flood of this size occurring in any one year.
About Flood Guides
Communities can use local flood guides to identify and better understand their local flood risk. They include information about: flood history, how to prepare & respond to floods and who to contact.
Contact Information
Local VICSES Units
Narre Warren VICSES Unit
36A Vesper Drive,
Narre Warren, Victoria.
Municipal Flood Emergency Plan (MFEP)