Flood information for the City of Banyule, encompassing local flood guide and Storm and Flood Emergency Plan.
City of Banyule Flood History
The City of Banyule is approximately 63 square kilometres in size and lies to the north-east of central Melbourne. There are 21 suburbs within the city and the population is approximately 121,000.
The municipality contains or is bounded by a large number of waterways ranging in size from the Yarra River to small unnamed creeks. The three largest waterways are the Yarra River, Darebin Creek and the Plenty River.
Banyule is a flood-prone area. When there is a big storm, it can flood quickly and with little warning.
Salt Creek is one such example and runs in a southerly direction through the centre of the City of Banyule, flowing into the Yarra River at Heidelberg. The creek flows through the suburbs of
Rosanna and Macleod.
Rosanna and Macleod Local Flood Guide
Are you at risk of flood?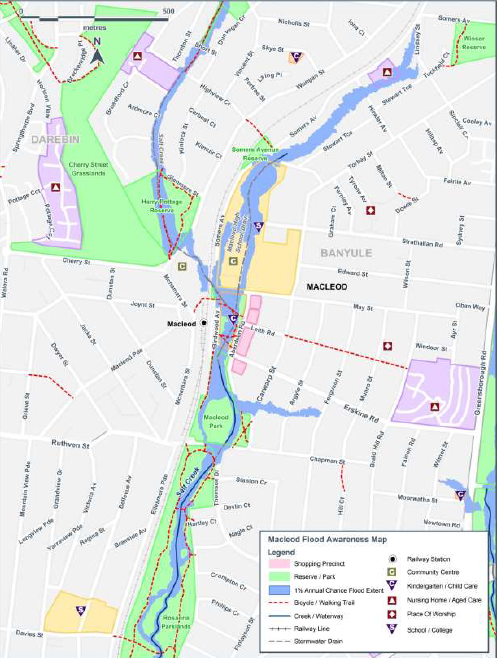 The Salt Creek catchment area is relatively small and water levels rise quickly after short bursts of rain, sometimes causing flash flooding. A number of retarding basins are located along the waterway,minimising the impacts of flooding on the surrounding areas which are mainly residential. Melbourne Water improved the drains along Salt Creek in 1992.
A second pipe was added and a retarding basin was constructed in the Harry Pottage Reserve. Together, these works more than doubled the drain capacity. The Salt Creek pipe inlet structure is considered a critical asset for Melbourne Water. It is maintained and cleaned on a fortnightly basis and pro-actively monitored and cleaned before heavy rainfall events.
The map show the impacts of a 1% flood along Salt Creek. A 1% flood means there is a 1% chance of a flood this size happening in any given year. This map is provided as a guide to possible flooding within the area.
About Flood Guides
Communities can use local flood guides to identify and better understand their local flood risk. They include information about: flood history, how to prepare & respond to floods and who to contact.
Contact Information
Local VICSES Unit
Nillumbik VICSES Unit:
58 Susan St,
Eltham VIC 3095
Municipal Flood Emergency Plan (MFEP)